If you haven't checked out the latest views of Stanley Druckenmiller and George Soros you likely should. Our experience has been that when the greatest investors of our time are simultaneously reaching the same conclusions through independent analysis they are usually correct.
By paying attention to these great investors the rest of us could have avoided the tech bubble, steered clear of the housing collapse and in fact even positioned ourselves to profit from them.
Therefore ignore at your own peril.
The Druckenmiller View - Buy Gold Now
For a 25-year period from 1986 through 2010, Stan Druckenmiller achieved an annualized rate of return of 30%. That is incredible.
Even more incredible, in fact downright unbelievable is that over that period of time he did not have a single down year.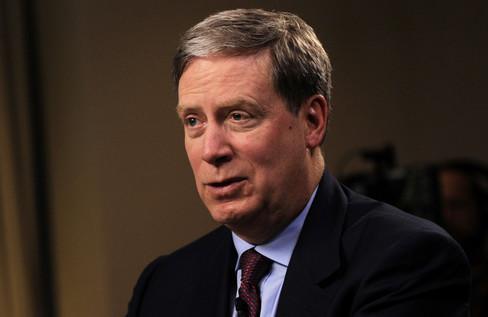 Source of image: Bloomberg
Druckenmiller presented at the Ira Sohn investment conference last month. Given Druck's track record we respect his opinion immensely.
Based on what he said, if you respect his opinion you as an investor in stocks should be scared.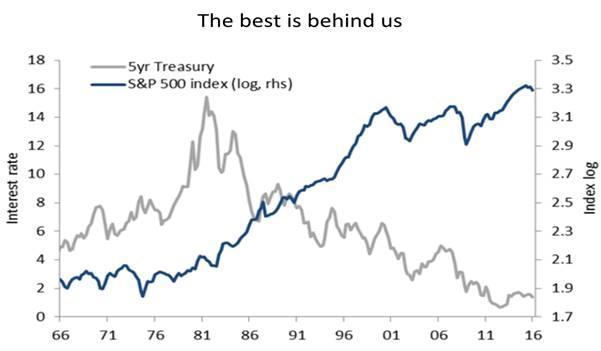 Source: Stan Druckenmiller Ira Sohn Presentation
Druckenmiller's view is that we are at the end of the rope for stocks. Everything that can possibly done to stimulate the stock market has been done.
- Interest rates are at all-time lows
- Those rates have been a wind at the sails of the stock market for 35 years with a non-top rate decline
- Stocks already have very high multiples on a historical basis
- Everyone and everything is leveraged to the neck
At the Ira Sohn conference 11 years earlier in 2005 Stan Druckenmiller argued that the Federal Reserve under Alan Greenspan was fueling a housing bubble that would end badly. If you listened to Druckenmiller then you were glad you did. You would have avoided owning financial stocks into a historic market crash.
At the Ira Sohn this year Druckenmiller said that right now is just like the lead up to the 2008 financial crisis, except that the 2008 collapse would "pale in comparison" comparison to what will happen this time.
His advice on what to do? Buy gold (NYSEARCA:GLD).
George Soros Feels The Same - Says "No" To Stocks, Says "Yes" To Gold
The last time George Soros got excited enough to step back in and get involved in the day-to-day trading at his firm Soros Fund Management LLC was in 2007. What got him interested then was the U.S. housing market which he made a wager against and netted his firm a billion dollars in profits.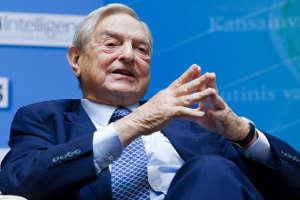 Source: Political Confidential
Today Soros is back again with a very bearish view. His concern stems from China and he told the Wall Street Journal as much in the article linked above:
"China continues to suffer from capital flight and has been depleting its foreign currency reserves while other Asian countries have been accumulating foreign currency. ... China is facing internal conflict within its political leadership, and over the coming year this will complicate its ability to deal with financial issues."
Soros sees China's problems as the catalyst for deflationary pressure that will spread around the world wreaking havoc in all economies. Thrown in his concern over Britain leaving the European Union and he finds himself extremely bearish on the global economy and most stocks.
Like Druckenmiller, Soros currently prefers gold.
They Both See Upside In Barrick Gold
Both Druckenmiller and Soros have taken positions Barrick Gold (NYSE:ABX).
Here at the Superinvestor Bulletin we have had Barrick on our radar for some time after noticing these comments from the Goodhaven Fund about Barrick last year:
Under Chairman of the Board John Thornton, the company has reduced its debt by roughly $3 billion this year, pushed out virtually all remaining near-term debt maturities by at least three to four years (half of all debt comes due in 20 years or more), has sharply cut operating costs (with more to come in 2016), and continues to generate free cash flow even at a price of gold that is nearly 45% below the peak of just four years ago (about $1170 per ounce as of late December2015).

The company accomplished all of this without touching any of its core mining properties, which have, in the aggregate, some of the lowest cash operating costs of any international mining company (expected cash costs, net of by product, of around $550 per ounce of gold in 2016).

Barrick is another company where we believe the market has not yet appreciated the positive governance and structural changes that have occurred in a short time.

Even a modest rebound in gold prices could result in significant appreciation from recent levels.
While we are leery of commodity producers in general we like the look of the double whammy (in a good way) that Barrick has working for it. A steady clean-up of its balance sheet and cost structure while at the same time having a boost from gold prices rising.
The debt reduction that Goodhaven refers to is impressive. From having $13 billion in debt at the end of 2014 Barrick now finds itself with only $9 billion of long term debt.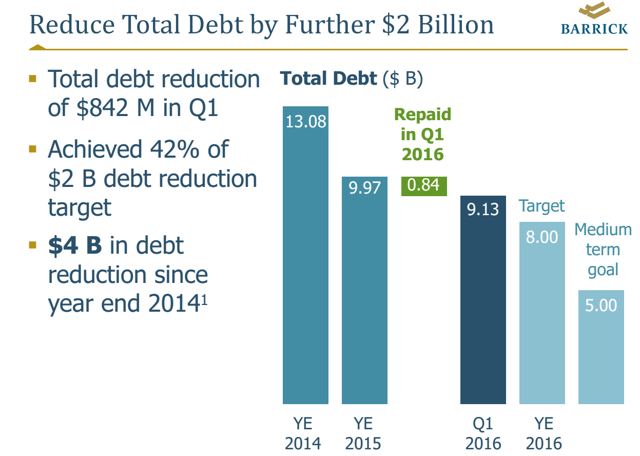 Source: Barrick Gold Corporate Presentation
Just as important as the debt reduction is that it has been accomplished without having to get rid of any of Barrick's core properties.
Those core properties have some of the lowest cash operating costs in the industry. That is crucial when the commodity price drops but also allows for huge cash flow generation if gold prices move as Soros and Druckenmiller believe.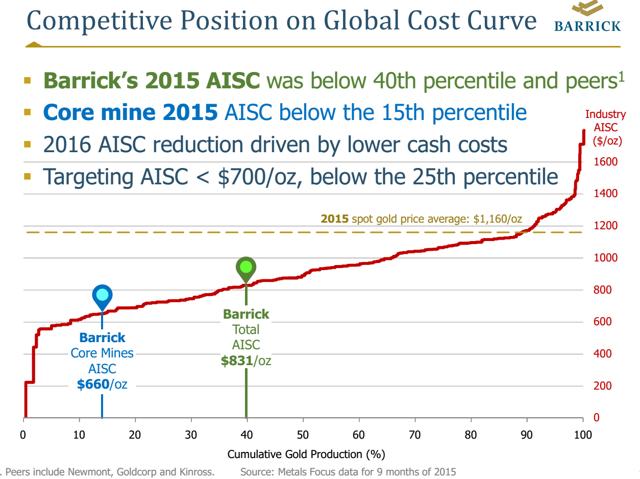 Source: Barrick Gold Corporate Presentation
In the first quarter Barrick's all-in sustaining cost of $706 per ounce quarter was the lowest it has achieved in the last nine quarters, and the total cash costs of $553 per ounce was $89 down year over year.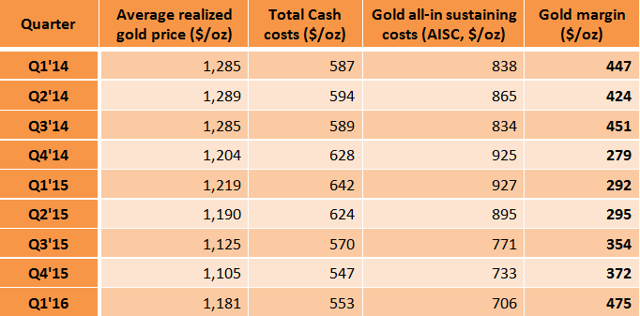 Source: Barrick Gold Corporate Presentation
That has pushed the production margin in the first quarter of 2016 to $475 per ounce which is 70% higher than a year ago.
We are intrigued by Barrick Gold and very much paying attention to the Druckenmiller and Soros conservative positioning. We do however have one idea that we like even more.
From November 2000 until June 2008, when he shuttered his initial fund, "Big Short" legend Michael Burry returned 489% vs. 3% for the S&P 500. For our subscribers, we have just released a 20-page comprehensive report explaining Burry's most recent investment idea into which he has allocated 16% of his portfolio. For just $12 per month, you can get the highest conviction ideas from Burry and other investing greats each and every month. Just follow the link and get started:
Good luck with your investing. Thanks for reading.

Disclosure: I/we have no positions in any stocks mentioned, and no plans to initiate any positions within the next 72 hours.
I wrote this article myself, and it expresses my own opinions. I am not receiving compensation for it (other than from Seeking Alpha). I have no business relationship with any company whose stock is mentioned in this article.