Valeant Pharmaceuticals International, Inc.'s (NYSE:VRX) 5.625% bond due 2021 has increased since the March 29, 2016, article from $79.00 to $85.81, or 8.6%. Meanwhile, the common stock has fallen from $28.87 to $24.14, or a decline of 16.4%. Time to exit the bonds as the safe harbor may be hit by a storm.
Valeant faces a number of headwinds. They have new management that will need to get up to speed. They have regulatory pressure to keep drug prices hikes under control. They have a huge amount of debt and goodwill is far greater than its market capitalization.
Chart Source: Finra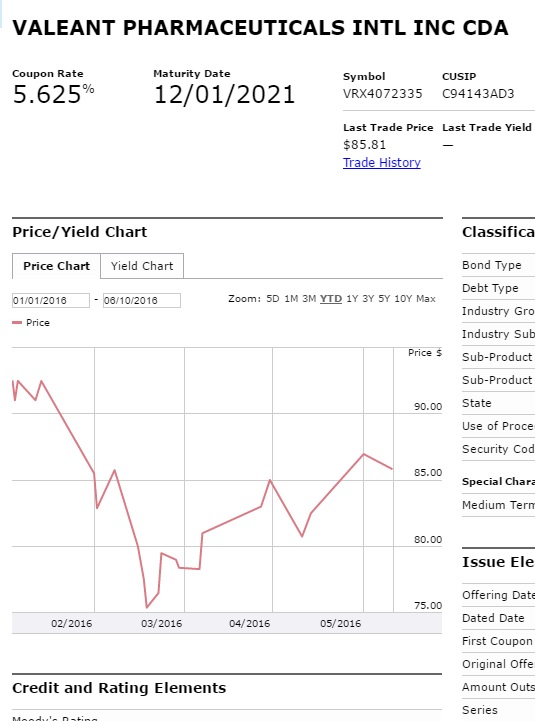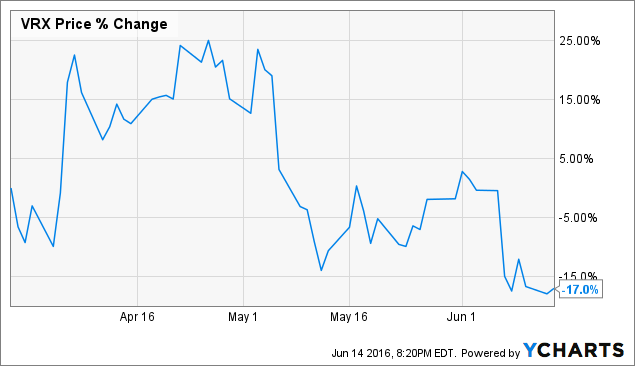 VRX data by YCharts
Pershing Square closed some January 2017 options and opened some January 2019 option positions at the $60 strike price. Might they think the turnaround might require some more time?
The balance sheet of Valeant contains $18.6 billion worth of Goodwill and $31.3 billion worth of long-term debt. The market capitalization of Valeant is approximately $8.4 billion according to Yahoo Finance.
Goodwill Year over Year Growth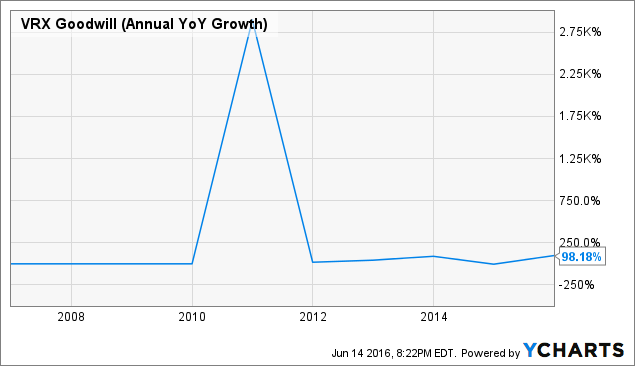 VRX Goodwill (Annual YoY Growth) data by YCharts
The pace of goodwill growth is expected to have seen it peak. In fact, it would not be a surprise to see a write-down in goodwill.
Long-Term Debt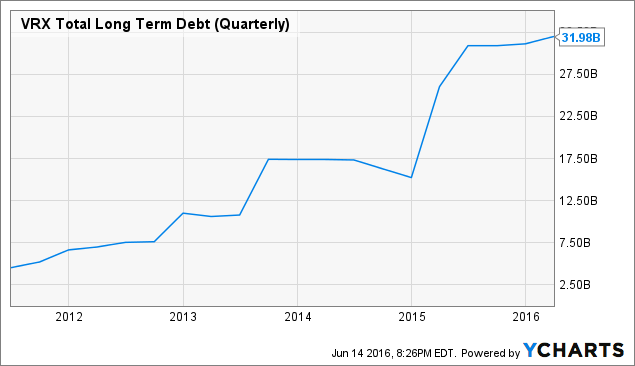 VRX Total Long-Term Debt (Quarterly) data by YCharts
Long-term debt has surged higher. With the higher level of debt comes higher interest expense. And should the federal reserve or the market push interest rates higher, then Valeant may find interest expense taking a greater share of its cash flow.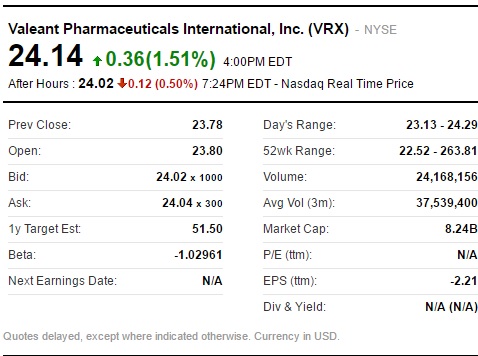 Either the market is grossly undervaluing Valeant or there might be some restructuring and or a write-down in Valeant's future filings. Given the number of shares traded, I would tend to believe the market has it correct, and that Valeant has some headwinds to overcome.
Book Value Metrics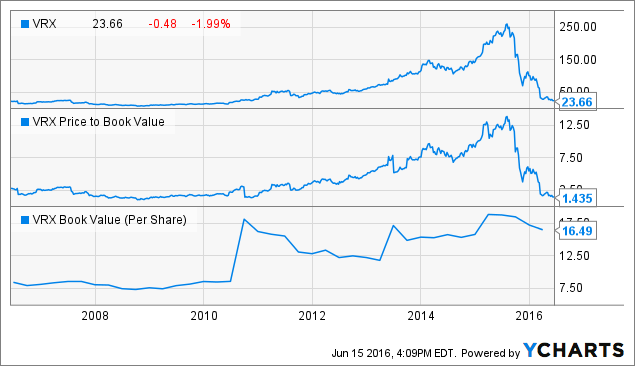 VRX data by YCharts
Goodwill and Intangible to Book Value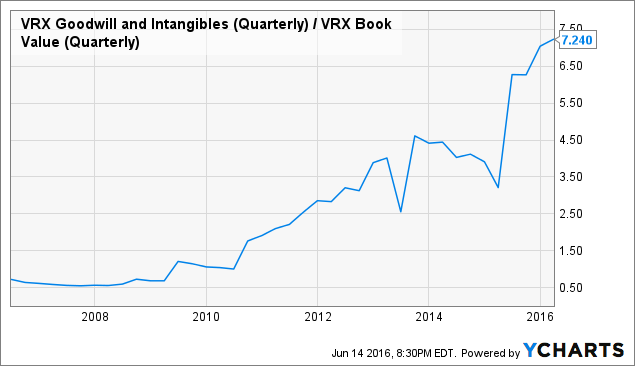 Fundamental Chart data by YCharts
Bondholders might enjoy a higher interest rate than Valeant is currently paying to roll or extend maturities, which will mean less money available for common shareholders. The high levels of debt may keep some investors away from the common stock.
However, there could be a remote chance that Pershing Square would step up to buy the entire firm given the $8.4 billion market capitalization and its much higher cost basis on the shares held. On March 31, 2015, Pershing Square held 19,473,933 shares that were valued at $3.8 billion, or $195.13 per share.
Conclusion:
The high debt level is expected to require a greater portion of cash flow and interest expense is expected to increase as the firms balance sheet contains a large amount of goodwill relative to its market capitalization.
For risk-averse investors, the bonds and common stock of Valeant do not appear attractive. Time to exit or hedge positions for the expected storm. For more risk-tolerant investors, the bonds might provide for some interesting possibilities via restructuring or amended covenants. Expect the common stock to be under pressure until bondholders become more comfortable.
Of course I could be wrong, do you think I am missing something or too negative?
Disclosure: I/we have no positions in any stocks mentioned, and no plans to initiate any positions within the next 72 hours.
I wrote this article myself, and it expresses my own opinions. I am not receiving compensation for it (other than from Seeking Alpha). I have no business relationship with any company whose stock is mentioned in this article.