Bloomberg reported Shell (NYSE:RDS.A) (NYSE:RDS.B) CEO Ben van Beurden's main goal is to surpass Exxon Mobil (NYSE:XOM) as the best performing oil major. Right now, Royal Dutch is pretty far behind. It has consistently underperformed Exxon on a return on invested capital basis over the past ten years: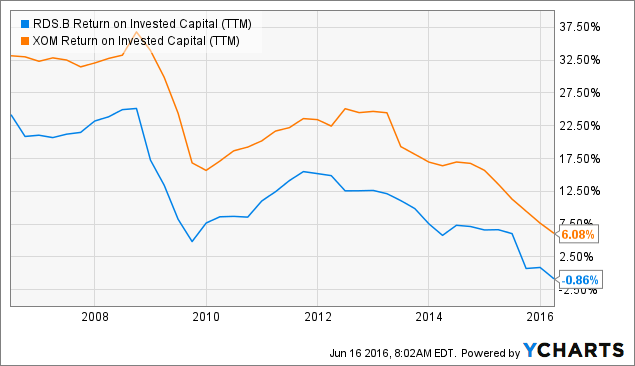 RDS.B Return on Invested Capital (NYSE:TTM) data by YCharts
It's ok if you are a little bit less disciplined and instead grow tangible book value per share really fast. O wait...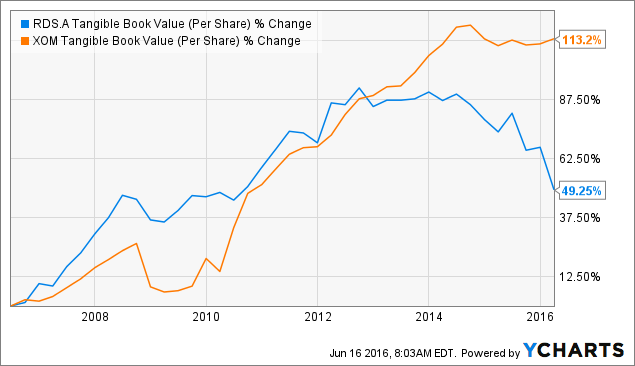 RDS.A Tangible Book Value (Per Share) data by YCharts
Royal Dutch didn't win that prize either. Maybe it increased cash flow per share at a higher rate? That one is pretty close: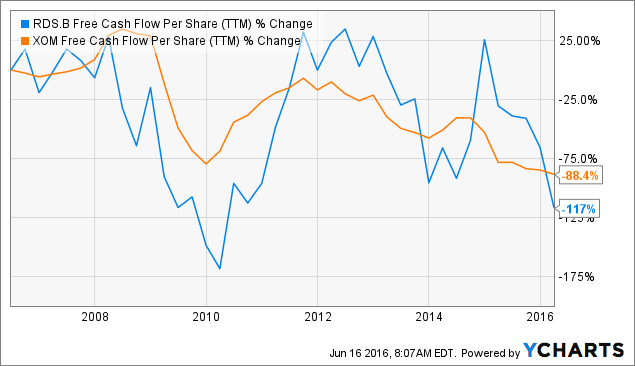 RDS.B Free Cash Flow Per Share (TTM) data by YCharts
As the firm is clearly lagging Exxon Mobil on almost every front over a decade, I'm somewhat skeptical of van Beurden's ambition.
But as an investor I don't really care who is the "best performing" oil major. What matters is, who's stock is delivering the best total return from here on out.
That's where Shell has a real shot of taking the top spot down. Not because it's a better firm but because it is much cheaper on a relative basis: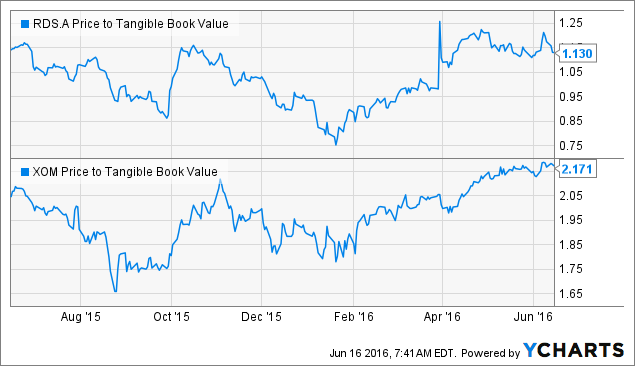 RDS.A Price to Tangible Book Value data by YCharts
The difference between the two is striking. Shell is much cheaper, trading only marginally above its tangible book, because its performance is so much worse than Exxon Mobil. What if it didn't surpass Exxon but at least closed the gap somewhat?
Shell's currently wants to:
Increase FCF per share
Boost RoIC to 10%
Limit CapEx to $30 billion/year
Run a conservative balance sheet
These goals are complimentary to each other. When the amount of CapEx that needs to be spent is lower, its easier to pick high RoIC projects. When CapEx is reduced, it becomes easier to run a conservative balance sheet. By picking projects with a higher RoIC Free Cash Flow per share should also improve.
Shell is giving up ambitious growth targets and focuses on making the most of its current assets. It's not a surprise management has decided to take approach. In my previous article on RDS I already alerted readers to a change in management compensation:
Since 2014 management compensation isn't tied any longer tied to exploration. Compensation is now tied to return on capital. It wouldn't surprise me if that is the catalyst for Royal Dutch to close the gap between it and it's better run U.S. peers on that metric.
It can appear somewhat self serving for management to go on a strategic course that conveniently works out to maximize their compensation. However, the board set the compensation targets for a reason. In this case I believe its actually in the best interest of shareholders for management to maximize their compensation. Chances for a good total return are much better with a disciplined RoIC approach as compared to an expansive reserve maximizing approach.
With a markedly different strategy which more closely resembles Exxon's philosophy it seems reasonable to expect the firm to, at least, close the performance gap a bit. If RDS in fact continues to cut costs and keeps capex below $30 billion I find it fairly convincing it will track much closer to Exxon on a variety of performance metrics.
Given its advantage starting at a much lower price to tangible book ratio, my money is on RDS to show the best total return over the next three years. Ultimately, the only metric that really matters.
Disclosure: I/we have no positions in any stocks mentioned, and no plans to initiate any positions within the next 72 hours.
I wrote this article myself, and it expresses my own opinions. I am not receiving compensation for it (other than from Seeking Alpha). I have no business relationship with any company whose stock is mentioned in this article.