Intro
For my newer readers, be advised that unlike many who trade or write about single name stocks, I approach the issue no differently than I would approach the question of making sense of broader market forces. Namely, I believe one must apply a fundamental, top down approach to break down and understand each driver of value in order to get an informed view of a risk/reward profile. The drivers of value for a single stock's performance (beyond that of the market) can be broken down into three core components: a) an ability to generate a profit and continue operations, b) an ability to safely scale that profitability without incurring excessive leverage, and c) the current market valuations of the company. All three criteria must be solidly met for a company to be what I would call a wise investment.
Company Background
Freeport-McMoRan (NYSE:FCX) is a significant player in the commodities industry, and has been in operations since the early 1900s. The company's most substantial resources are in gas, oil and copper. As world economy's have struggled with economic stagnation, the commodity market has been punished in the last few years, which has certainly had its toll on FCX. After fully recovering from pre 2008 financial crisis, the price peaked in 2011 ~$55 and has since then been in continuous slide to fluctuate near $10. In this time shares outstanding have also increased from 950 million to 1.25 billion as the company has diluted shareholders and raised cash.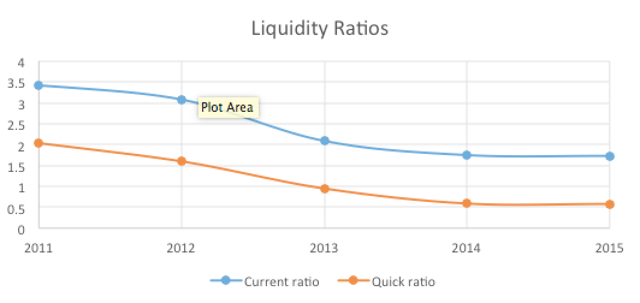 Going Concern and Profitability
Liquidity ratios are some of the quickest and more telling ways to evaluate a company's ability to meet its short-term debt obligations. In FCX's case both ratios have dropped substantially in recent years, with the quick ratio highlighting the most immediate cause for concern. At .58, the quick ratio indicates that most of the firm's current assets are tied up in inventories, quite telling for a basic commodities provider.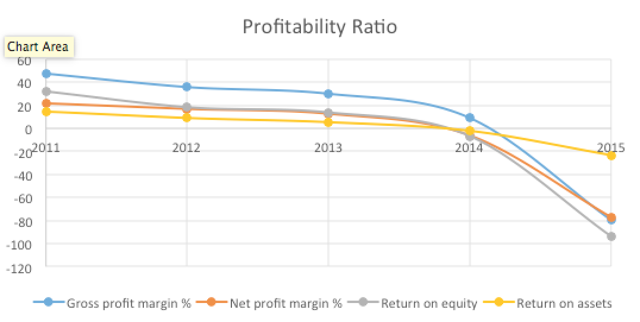 Sadly, profitability do not paint much of a rosier picture. FCX exhibits serious issue as its profitability ratios are mired in a downward trend and has seen profit margins as low as near -80%. Costs of sales for FCX have increased, driving the gross margin negative. Perhaps worse, still R&D expenditures have increased as well, which could theoretically lead to long term benefits, but when coupled with high operating expenses is a clear inefficiency on the part of management of the firm.
Efficiency and Leverage
Accounts receivable turnover indicates how rapidly a company is able to resolve its debt collection and secure its sales income. The better the turnover, the lesser risk associated with receivables. In FCX's case, AR turnover has been fluctuating from 12 to 15 in the last 5 years, while inventory turnover has increased from 2.99 to 5.62 in last 5 years, one sign that inventory has been effectively managed. That said, one need not look too far to find yet another warning sign, as total asset turnover (which indicates how much revenue is generated for each dollar of assets) is quite unfavorable, and has dropped from ~.7 to .3 in recent years.
The real red flag though is the massive levels of debt FCX has. At a time when many companies are swimming is excess capital and issuing buybacks (shrinking shares outstanding), FCX is not only increasing shares outstanding but rapidly increasing debt, and its debt to equity has grown to 2.5, meaning the firm has some serious interest burdens to overcome to climb out of their current situation.
Valuation
On the valuation front, FCX is currently trading around a 21x forward 2016 P/E Ratio, quite rich even assuming analyst expectations for earnings come in as expected (which is to ignore the evidence of a systemic bias to the contrary). As recently as 2015, FCX paid dividends while actually incurring a net loss and considering its cash flow position looking forward, with free cashflow as a percentage of sales actually turning negative.
Conclusion
The company has undertaken some recent steps to try and avert the downward slide in profitability and share price: it sold a 13% interest in Morenci for $1B and signed a contract with Quaterra for a copper project. Carl Icahn's entrance has given some investors some hope of a rallying cry. The notorious activist investor has been focused on cutting operational spending by ~30% and slashing jobs. Investors should be wary, however, of forgiving FCX's glaring warning signs merely because of Carl Icahn's presence. His recent activist position in CHK in 2012 has still not come to fruition, and his position in the company has seen massive drawdowns in the interim.
Given the evidence: warning signs in liquidity about going concern, increasing debt, signs of mismanagement with rising operating expenditures, declining cash flow and earnings, a questionable ability to cover dividend payments, and relatively high P/E valuations looking forward, FCX looks far from a good option, even within the struggling commodities sector. For investors looking into gaining exposure to the sector, there are far healthier and better valued options.
Thank you for reading. Please remember to comment and click "Follow" at the top of this article for more stock and alternative asset analysis as well as macroeconomic and asset allocation commentary.
Disclosure: I/we have no positions in any stocks mentioned, and no plans to initiate any positions within the next 72 hours.
I wrote this article myself, and it expresses my own opinions. I am not receiving compensation for it (other than from Seeking Alpha). I have no business relationship with any company whose stock is mentioned in this article.