Clearance Sale in Aisle 5
Sometimes stocks fall into the bargain bin. When their dividends go up as their prices go down, they make nice income plays while prices are low, and provide capital gains as they recover. This is only if the business can cover the dividend, and is sustaining any growth the company needs to accomplish. Otherwise these companies are probably not worth holding long-term.
As a value and income investor, these low prices and higher yields attract my attention. When a business sustains its dividend and leaves room for growth, a dividend cut is unlikely, which alleviates that source of downside. I've been researching some brick-and-mortar retailers with those characteristics, which I'll share here. Best Buy Co. (NYSE:BBY), GameStop Corp. (NYSE:GME), and Williams-Sonoma Inc. (NYSE:WSM) seem to fit well into the above analogy. Of the three, I'm backing WSM partly because it has doubled its dividend since 2011, and has room to grow it further.
Looking at Williams-Sonoma
I'm going to start with the smallest dividend first. WSM's forward dividend yield is only 2.9%, but its payout ratio is only roughly 40%, which indicates room for growth.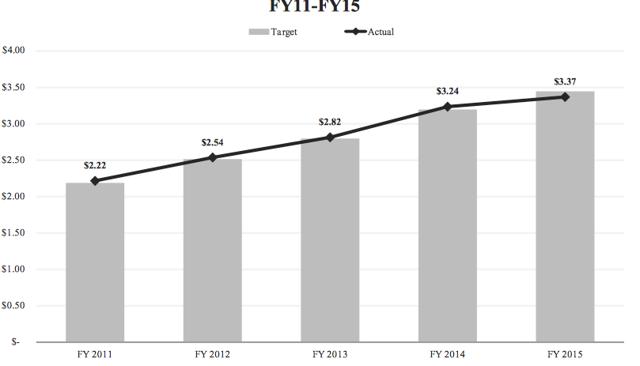 Source: WSM
EPS since 2011 have grown from $2.22/share to $3.37/share, with 2016 estimates bottoming out at $3.41/share. At the current share price of $51.42, WSM trades for at most 15.1 times projected earnings. Not only does WSM predict earnings growth during 2016, to continue its previous trend, the company is also planning on doing the same for its dividend.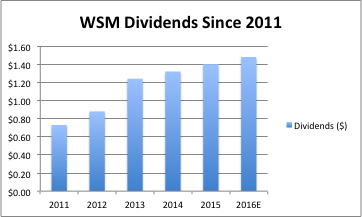 Source: WSM
With the forward annualized payout of $1.48/share, WSM has more than doubled its declared dividends since 2011. But a dividend can come under pressure if a company has a lot of debt. WSM currently has no long-term debt on its balance sheet, although $100 million in borrowing under a credit revolver. This is offset though by nearly $100 million in cash and cash equivalents, which it can use for any necessary developments. Additionally the company repurchased $41 million in shares last quarter, and plans to continue its repurchase strategy.
Is it Really the Best Buy?
BBY's dividend of 3.8% is at the payout ratio 55% of the company's fiscal year 2016 earnings. This payout also indicates room for some growth, although perhaps not as much growth unless the company continues growing. While the company's dividend is growing thanks in part to a special dividend declared during the most recent quarter, annualized Q1 2017 earnings of $0.69/share represents an increase over the previous year's earnings.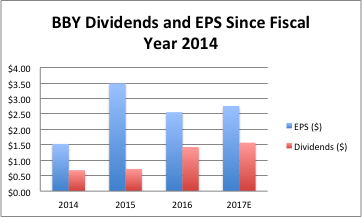 Source: BBY
The current price of $29.17 places BBY at trading at only 10.6 times projected earnings. As for debt, BBY holds $1.3 billion in long-term debt. However BBY holds $1.8 billion in cash and cash equivalents, which more than offsets its debt load, with plenty of room for other expenditures.
Will Your Bucks Stop Here?
GME has a forward yield of 5.8%, a payout ratio of 38% of 2015 earnings. There seems to be lots of room for growth with this payout, plus the 40% decline from the company's 52-week high has boosted the yield. Despite the fears of Wall Street, GME's diluted earnings have increased since 2013.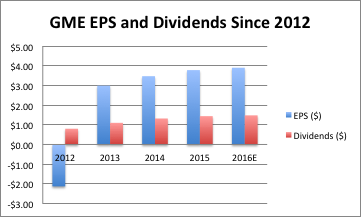 Source: GME
The dividend payouts have consistently increased since then as well, although the increases have slowed. At the low-end earnings guidance of $3.90/share during the full year, GME is trading at only 6.7 times forward earnings. Long-term debt totals $812 million, while cash and cash equivalents reach $474 million, plenty to sustain the company's dividends and growth plans even in the event of a cash flow absence.
Final Thoughts
There are several brick-and-mortar retailers with higher than normal dividends, brought about by price declines. Yet earnings estimates are rising, while dividends are comfortably sustained by current and future earnings. Since these stocks have declined to near 52-week lows, they seem like bargains from my perspective.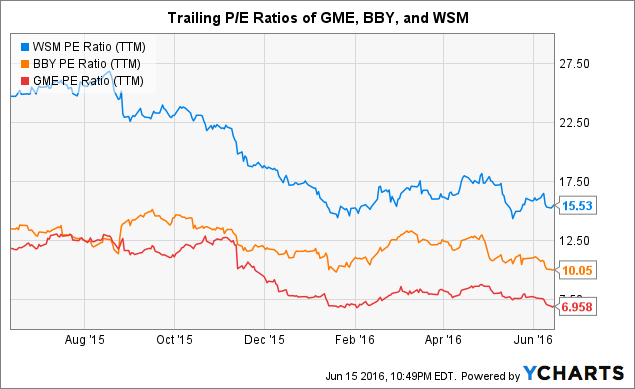 WSM PE Ratio (NYSE:TTM) data by YCharts
GME has the largest dividend and the lowest P/E, but WSM is my choice since it has the smallest absolute value of debt, with the most consistent earnings growth. Whichever reasons an investor might choose one of these undervalued retailers, all three have sustainable dividends and low prices, which should in time lead to significant upside.
Author's Note
I am always on the lookout for high yet sustainable dividends. If you're looking for the same, please hit the "Follow" button by my name at the top of the article, and hopefully you'll get some good ideas for value and income stocks.
Disclosure: I am/we are long WSM.
I wrote this article myself, and it expresses my own opinions. I am not receiving compensation for it (other than from Seeking Alpha). I have no business relationship with any company whose stock is mentioned in this article.
Additional disclosure: I am neither a certified investment advisor nor a certified tax professional, and do not claim to be either. The data presented here is for informational purposes only and is not meant to serve as a buy or sell recommendation. Investors and potential investors should do their own research and make their own decisions. In the event that an investor or potential investor does not feel qualified to make such a buy or sell decision on their own, they should consult a certified advisor that they trust or feel comfortable with. Investing may involve losses, including potential loss of principal. The author relies on external links for some information that may have appeared on this perspective. These external links, although believed to be accurate, have not been verified independently. Therefore the author is unable to guarantee their accuracy.