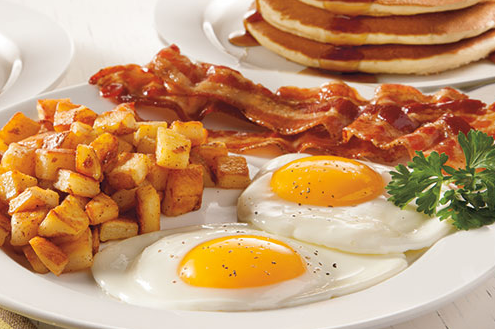 You can add Bob Evans (NASDAQ:BOBE) to the growing list of restaurants that have been unable to keep up with labor market pressures and shifting consumer tastes. BOBE has seen its shares well off of recent highs and after the FQ4 report, the stock was pummeled yesterday. BOBE has seen some broad-based weakness in its recent results and its guidance for fiscal 2017 was less than inspiring so if you own the stock, what do you do now?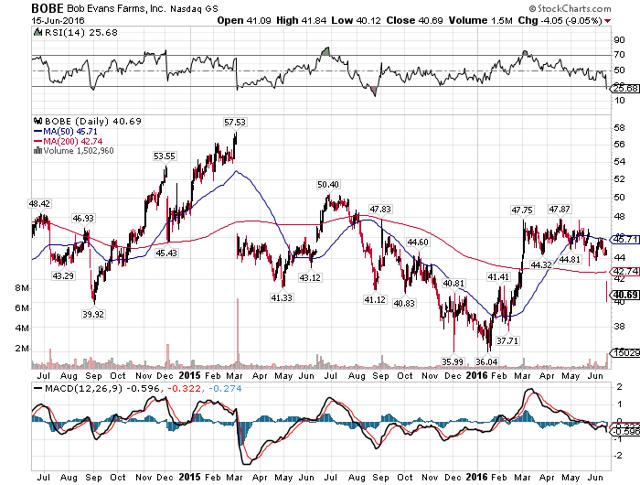 There are plenty of restaurants of late that have been unable to turn the tide of poor results. Increased labor expenses have been a big factor but apart from that, some chains simply aren't staying relevant with consumers. Those chains that are have continue to produce great results but BOBE is not one of them and FQ4 was yet more evidence of that.
Comp sales fell 3% for the quarter but the trend was progressively worse throughout the quarter, seeing a -5% comp in April. BOBE plans to fix this later this summer with a menu redesign and while I applaud the effort, time will tell if it works. BOBE is set to focus more on value with its new menu and that is something that could certainly come in handy. BOBE is not a cheap place to eat considering the breakfast-heavy focus of its menu. That almost certainly has something to do with the company's recent struggles so perhaps a focus on value will drive some traffic. At the same time, BOBE has to be careful to preserve margins as failure to do so can be even more costly than lost sales.
On the other hand, the company's prepared foods business is actually performing quite decently as it posted a 1.1% gain in sales in FQ4. Volume was way up but ASP was way down, netting to the 1.1% gain but the loss in ASP was due to a mix shift away from lower margin sausage products and into higher margin - but lower priced - side dishes. This move is still favorable for BOBE as it can use all the margin dollars it can get after the restaurants posted an operating loss in FQ4. And with the expansion of the company's production capacity in the side dish business, I expect we'll see some additional growth here in the coming quarters. And in particular, if mix continues to move towards the higher margin items, revenue losses will be moot. What is important is margin dollars, not top line sales numbers.
BOBE's guidance for this year wasn't great and certainly implies there is further weakness on the horizon from the restaurant business' perspective.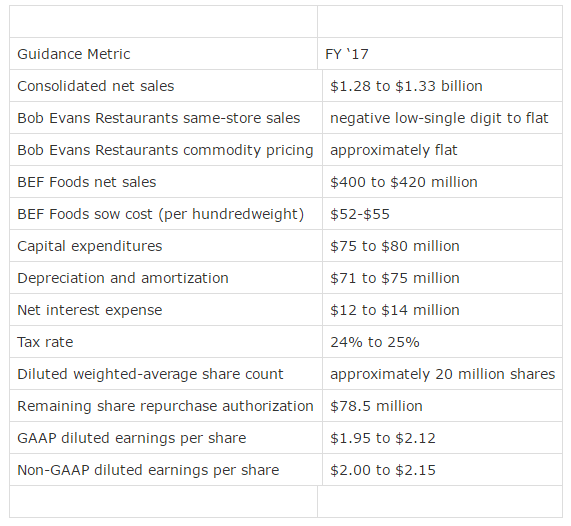 Comps are going to come in flat to negative again on top of FY2016's negative result. That's certainly not what bulls were looking for and is undoubtedly a big reason why the stock was crushed yesterday. On the bright side, the company's debt reduction efforts have yielded a lower interest expense and as it continues to monetize its once-vast real estate portfolio, we should continue to see that number decline.
And speaking of that effort, it is worth noting that BOBE has returned a lot of cash to shareholders in the recent past due to a drastic balance sheet transformation. BOBE has been heavily indebted for a long time, as seen in this chart, but work is being done against the total debt number to reduce BOBE's interest expense and increase flexibility.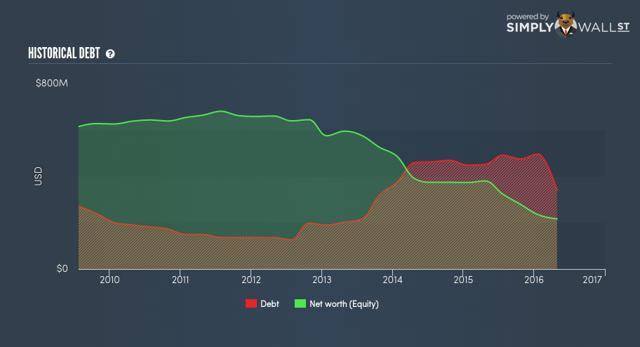 Source: Simply Wall St.
BOBE still has a high amount of debt but it is working towards lowering its burden as it focuses on capital returns. BOBE's chosen strategy is to monetize its real estate portfolio via sale-leaseback transactions, of which it has done almost $250 million. BOBE has used this money to pay down some debt but also return lots of cash to shareholders, as we'll see now.
BOBE spent $171.5 million on share repurchases in FY16 and on a market cap in the $800 million range, that is gargantuan. The company reduced the float by a high-teens percentage in that time frame and also paid down a sizable amount of debt. On top of that, BOBE still pays a better than 3% dividend as it continues to return cash that way as well. Of course, the repurchases aren't sustainable as BOBE doesn't have the real estate or balance sheet firepower to continue that pace of repurchases. If it did, I reckon it would have taken itself private but it doesn't so for now, the bulk of capital usage will likely be debt reduction and of course, the dividend.
Even after the beating yesterday BOBE is still going for 19.4 times forward earnings. That is a steep price to pay for a company whose main source of revenue is continuing to see weakness not only on the top line but in margins as well. BEF is performing nicely and as I mentioned, the capacity expansion should help out a lot. Revenue growth is going to be hard to come by as the restaurant business sees flat comps at best and the prepared foods business sees a mix shift to lower priced items. If margins can pick up that will help but at 19+ times earnings, BOBE is already priced for strong growth. In fact, it is priced for too much growth as investors and analysts are building in 14% EPS expansion next year. Remember that BOBE has used most of what it had available to buy stock so we aren't likely to see a huge boost there. That means revenue and margin growth will have to supply the fuel for the move higher in EPS and right now, there isn't really any reason to think that will happen.
That said, the company's dividend is strong at about 3% and it has the cash to support it for the foreseeable future. And right now, that's the only reason I can think of to own this stock. Even near its lows it is still expensive so I certainly would not buy this stock for capital appreciation; there are simply too many headwinds including the PE itself and the fundamental weakness in the restaurant business. You can do worse than a 3% yield but for me, I'd just pass. I think you'll be able to get BOBE cheaper in the future as the multiple compresses; I don't believe the market has taken into account the headwinds BOBE faces.
Disclosure: I/we have no positions in any stocks mentioned, and no plans to initiate any positions within the next 72 hours.
I wrote this article myself, and it expresses my own opinions. I am not receiving compensation for it (other than from Seeking Alpha). I have no business relationship with any company whose stock is mentioned in this article.