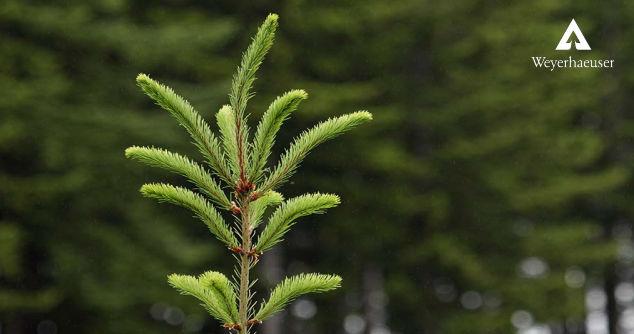 About a year ago, Weyerhaeuser Co. (NYSE:WY) was one of three major forest owners in the United States, and its business was made up of four major operations. As WY heads toward the completion of a key asset sale, it looks like a completely different company. That's good in many ways, but could pose some risks, too.
Nothing to see here
At one point, WY competed for investor attention with Plum Creek Timber, Rayonier (NYSE:RYN), and Potlatch Corporation (NASDAQ:PCH). All at least reasonably large U.S. Timber owners, and over time, all four wound up as real estate investment trusts, or REITs. Each company had positives and negatives, including things like the location of their timberland and business diversification.
However, WY announced that it was acquiring Plum Creek in late 2015 in a deal that was completed in February. That not only took out a competitor, but it massively increased the size of WY's portfolio. It also augmented the REIT's timberland exposure in areas where it was a relatively smaller player. Potlach and Rayonier are now very distant competitors, with just 1.4 million and 2.7 million acres of timberland, respectively, compared to WY's roughly 13 million.
Weyerhaeuser's expanded portfolio does, indeed, provide more diversification on the timber front. It can serve just about any North American market and international ones. That's a big plus from the merger. But the Plum Creek acquisition isn't the only change that's taken shape in recent years.
Getting out of pulp
The other big change is that the company is selling its pulp business to International Paper (NYSE:IP). This follows along the same path as Potlatch, which spun off its pulp business in late 2008, and Rayonier, which spun its pulp business off in mid 2014. So, in some ways, WY's move to streamline shouldn't be a surprise.
But the pulp business is an interesting one because demand tends to be fairly steady. Pulp is used in everything from diapers to cigarette filters. During the financially led 2007 to 2009 recession that devastated the U.S. housing market, fibers was a bright spot. In fact, when Rayonier spun off its fibers assets, the company's CEO chose to head up the fibers business instead of the timberland business. That's an interesting statement to say the least.
And WY isn't done yet. It's still looking at alternatives for other non-timber businesses it owns.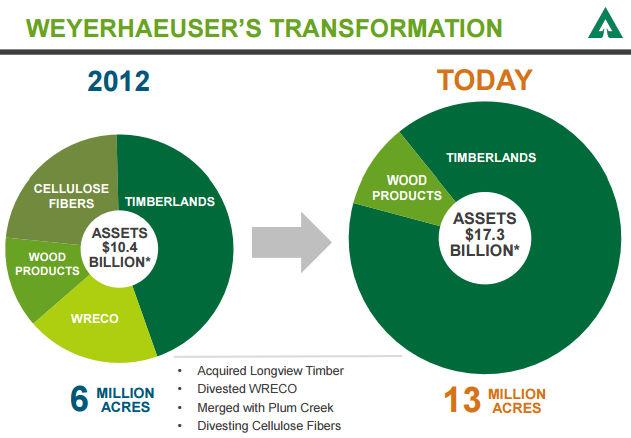 What is it now?
The end result of all of the moves WY has made is that it will be mostly a timberland and lumber company. Pretty much a pure play, which is something that investors often prefer. And on that score, all these corporate moves make a lot of sense.
But there's a lot less diversification at WY today and that's a potential risk investors need to keep in mind. Timberland and lumber companies are highly reliant on the construction market. Essentially, most of the trees that get cut down get used to build things. And some of the land WY owns gets sold, and usually is used to build houses.
So, yes, WY is becoming more of a pure play timberland company, but that means the top and bottom lines are also likely to be more volatile. After all, timber is a commodity with prices that change with supply and demand. Sure, WY can quickly adjust how many trees it cuts down, but that doesn't change the impact on its results of reduced demand or a weak pricing environment.
If you are looking for a timber company you have to look at Weyerhaeuser, it's the 800-pound gorilla in the space. But make sure that you understand the risks inherent in the business model that WY is perusing. I'm not saying that WY is going down the wrong path, just that it is quickly becoming a different company than it was just a few short years ago.
Disclosure: I/we have no positions in any stocks mentioned, and no plans to initiate any positions within the next 72 hours.
I wrote this article myself, and it expresses my own opinions. I am not receiving compensation for it (other than from Seeking Alpha). I have no business relationship with any company whose stock is mentioned in this article.