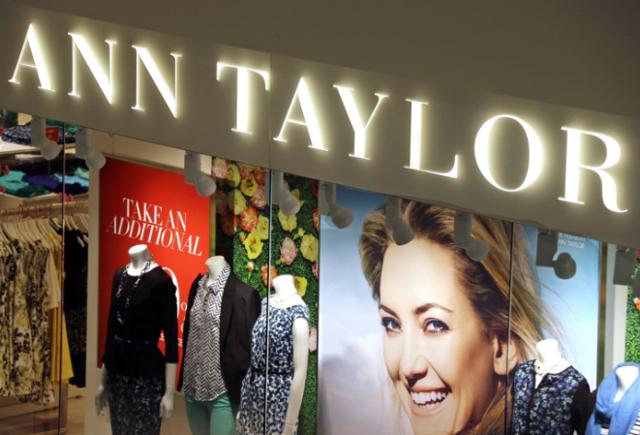 Ascena Retail Group (NASDAQ:ASNA) has been in free-fall for the past couple of years. The company's conglomerate approach to apparel retail hasn't worked particularly well as broad-based weakness in apparel spending has hit ASNA hard. It also added a sizable acquisition to its portfolio of brands with the ANN purchase, adding Ann Taylor and LOFT to ASNA's already-huge stable of brands. But investors haven't yet given ASNA the green light on its roadmap as shares continue to languish at their lows. FQ3 results weren't particularly well received as guidance was reduced, but with ASNA at just seven bucks, is there some room for bulls here?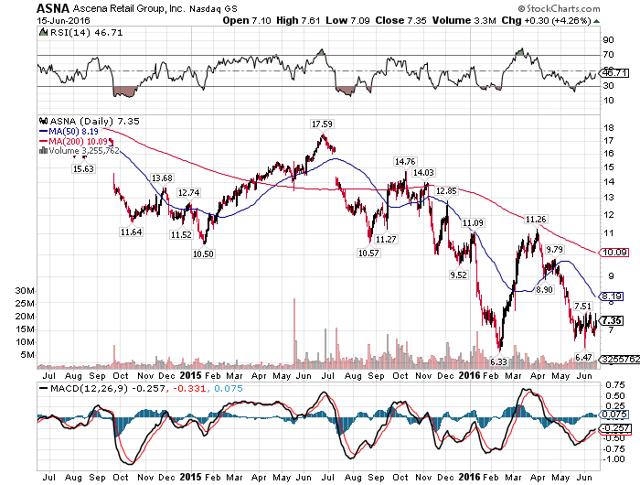 The acquisition of Ann clouds Ascena's results a little, but the company presented its financials with ANN included as though it was part of ASNA last year. Unfortunately for ASNA, the acquisition of ANN has been very expensive (it always is), and challenges at its legacy brands were too much to overcome. On an ongoing basis, including ANN, ASNA reported a 5% drop in consolidated comp sales as Justice led the way down at -11%. All of ASNA's brands reported comp sales losses (!) with some worse than others. But if one just looks at the comp sales results, it is pretty easy to understand why the stock is going for the price of a fast food meal.
On the plus side, the efforts to turn around Justice as well as reduce the reliance on promotions led to a very strong performance from gross margins in Q3. Gross margins moved up a whopping 320bps in Q3, and those gains were organic; they were not driven by the ANN business. That's tremendous and while Justice's comps were cringe-worthy, the fact that the sales weakness is being made up with margin gains is actually quite encouraging. The problem is that when a retailer moves away from a promotional strategy, you never really know how customers will react. But, to its credit, so far, so good.
Unfortunately, much of the margin gains were wasted on higher selling and distribution expenses. The company's expenses were roughly flat against last year, but on a percentage of sales basis, the dreadful performance of its comps meant that those expenses deleveraged. That hurt overall profitability despite the strong product margin performance, a disappointing result to be sure. On the bright side, ASNA is confident of hundreds of millions of dollars in synergies with ANN over the next few years, so that should certainly help. But ASNA has a very serious top-line problem it needs to figure out.
ASNA's guidance for the rest of the year was predictably dire as reductions were visible in a few places.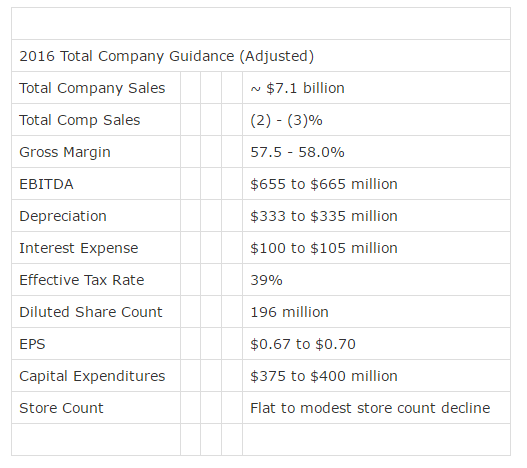 EPS didn't suffer too badly, but still saw a roughly 10% decline in what analysts expected prior to the report and guidance reduction. The company's comps are still of great concern to me because there are so many macro headwinds ASNA can do nothing about and the fact that it is trying to turn around Justice with a non-promotional strategy. What will happen next year is still an enormous variable, and that is where my concerns remain. I love the additional margin the strategy is producing, but I'm concerned we don't yet know where the bottom is for comps.
At just 8.8 times next year's earnings, ASNA is very cheap. I recognize there are lots of reasons not to buy this stock, but should management's guidance for cost savings with the ANN integration be believed, it could see significant leverage on its cost base in the next year or two. That would be enough to boost operating margins from their current very low levels to more respectable levels in the high-single digits, for instance. There is a long road between here and there, but the future could be much brighter for ASNA if it can stabilize comps and realize those forecast cost savings.
At today's valuation, I think so much bad news has been priced in that the risk is now to the upside. In addition, the stock seems to be making a double bottom in the $7 area; so if that holds, we could see at least a knee-jerk rally to $10 or $11. But the pieces are in place for ASNA to succeed in growing earnings over the next few years; the variable is whether or not it can do so. At today's prices, however, I think the risk of ASNA failing is already priced in, so I like it here.
Disclosure: I/we have no positions in any stocks mentioned, but may initiate a long position in ASNA over the next 72 hours.
I wrote this article myself, and it expresses my own opinions. I am not receiving compensation for it (other than from Seeking Alpha). I have no business relationship with any company whose stock is mentioned in this article.