Par Pacific Holdings, Inc. (NYSEMKT: PARR) is buying an 18,000 bbl/d regional oil refinery in Wyoming for $271.4 million. PARR already owns an oil refinery in Hawaii and natural gas operations in Colorado. With this new refinery and improving natural gas prices, PARR is considered a strong BUY.
Background History
Par Pacific is the old Delta Petroleum that went bankrupt in 2011. Since Kirk Kerkorian owned 33% of Delta many thought that he would he would be able to keep the company out of bankruptcy. Wrong. The common stock was cancelled under the re-organization plan. Sam Zell's fund and funds associated with Whitebox Advisors LLC owned much of Delta's debt and received stock in a new company called Par Petroleum. (Name was changed to Par Pacific Holdings in 2015) Currently, Zell owns 30.9% and Whitebox 20.0%. When the company emerged from bankruptcy in 2012, the new common stock started trading around $10 per share.
Their core holding when they emerged from bankruptcy was natural gas production in Colorado. In order to take tax advantage of the huge NOL, they bought an oil refinery in Hawaii and then added 80 "76" brand gas stations. Last November, they issued 3.5 million shares at $22 per share to raise additional cash to increase their investment in Laramie Energy LLC.
Current Holdings
Their natural gas production operations are via a 42.3% holding in Laramie Energy LLC that was increased in March from 32.4% with an additional $55 million investment by PARR. (Note: they do not consolidate Laramie's financials on their statement.) Laramie Energy bought $157.5 million natural gas properties in the Piceance Basin of Colorado in March. It remains to be seen if they got a bargain.
Laramie Energy is projecting 130-140 MMcfe/d at year-end 2016 and they have hedged 90% of their expected gas production through 2018. As natural gas prices continue to increase it will enable Laramie to hedge further out. The local price is at CIG, which increased $0.14 on 6/15/16. (To get local hub prices use this link.) The 2015 average selling price was $2.47 Mcf plus a gain on hedges of $0.33. This was down from 2014, when the average price was $4.35 plus a hedge gain of $0.36.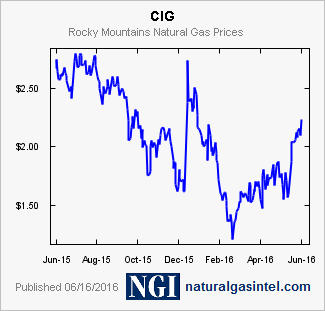 Year-end 2015 proved developed natural gas reserves were 202,164 MMcf and undeveloped 210,042 MMcf. The number of net natural gas wells was 188 (581 gross wells).
PARR owns the largest oil refinery in Hawaii with a rated capacity of 94,000 bbl/d and the other refinery in Hawaii is a 54,000 bbl/d owned by Chevron (NYSE: CVX). In 2015, 47.7% of the crude came from North America and 33% from Asia. The refined products included 26.2% gas, 44.1% distillates, 22% fuel oil and 4% other. The crack spread, however, is not impressive with the average of $6.88 in 2015. The high was $8.24 and low was $5.44. The company also owns 91 gas stations, which include many 7-11 stores, on the islands.
Black Elk Refinery Purchase
PARR is paying $271.4 million, which includes assumption of $58 million debt, for a 18,000 bbl/d refinery in Newcastle, WY. Because of the location in western Wyoming near major oil fields, the crack spread is extremely impressive with an average of $18.23 for the last three years. There is not much competition on either the buying and selling side. The other closest refinery is just north of Douglas, WY, but that is a tiny 3,900 bbl/d operation. Most of their refined product is sold to tourists, 70,000 residents of Rapid City, SD, and the Ellsworth Air Force base.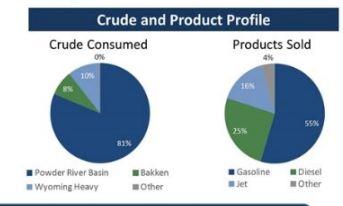 Included in the purchase is the 140 mile Thunder Creek crude oil gathering system, which also has a connection to a crude oil pipeline from the Bakken field. This gives the refinery strong leverage to buy crude cheaply. Other local pipelines are also included in the purchase.
My biggest worry is that the Ellsworth Air Force base could be closed. In 2005, it was saved from being closed and now there is some new talk that it could be closed. The base buys products from this refinery via a direct pipeline, which is included in the sale. In addition, the local economy would suffer as the population drops. This is major possible negative.
To finance this purchase, PARR is issuing $50 million in a rights offer to existing shareholders, issuing $100 million in a privately placed 5-year convertible notes, and borrowing an addition $65 million. The final details are still pending.
The refinery is expected to generate $40 million EBITDA and the various other assets, including the pipelines are expected to generate $10 million. This is based upon current forward crack spreads and $5 million in synergy savings. The price seems almost too cheap at 5.5x EBITDA. The company expects after the July closing that there will be immediately accretive earnings per share.
PARR needs to continue to make additional purchases of profitable energy related companies to use $1.4 billion in NOL to offset income and therefore, not pay income taxes. Even after adjusting for any new shares outstanding from this refinery purchase, the NOL per share is almost $27. Given the current tax rate of 35%, this would save almost $9 per share in taxes. (To get a more accurate value, the present value of these future tax savings needs to be used.)
Conclusion
Par Pacific Holdings is a textbook case of where creditors in a bankrupt company get all the equity in a new company (original shareholders getting nothing) and have to buy additional profitable operations to be used to gain from NOL because their original bankrupt assets do not generate enough taxable income. I am expecting the same outcome for Linn Energy (OTCPK: LINEQ) and Ultra Petroleum (OTCPK: UPLMQ). These NOL are valuable assets to creditors.
I bought shares of PARR on the announced refinery purchase. The purchase price is lower than I would expect, but there is the issue about a possible closure of Ellsworth Air Force Base. It remains to be seen if the additional investment in Laramie Energy was a smart move. It closed in March, but most of the negotiations occurred prior to the warm winter and extremely low natural gas prices.
The people involved in PARR are smart. Once the issues associated with the rights offer and new convertible note are over, I expect investors will look at PARR as an interesting investment with two niche refineries and a huge NOL. I would rate PARR a strong long-term buy.
Disclosure: I am/we are long PARR.
I wrote this article myself, and it expresses my own opinions. I am not receiving compensation for it (other than from Seeking Alpha). I have no business relationship with any company whose stock is mentioned in this article.