With the recent increase, Flowers Foods (NYSE:FLO) currently has an annual dividend rate of $0.64, which gives them a 3.4% yield on that dividend. The company has increased its dividend on an annual basis for the past 10 years, which should be appealing to any dividend growth investor. With a share price of $18.48, the company is currently sitting 32.33% off of their 52 week highs of $27.31.
The company has proven to be very shareholder-friendly with a 10-year streak of dividend growth. During Q1, the company repurchased approximately 6 million shares, as part of their Accelerated Share Repurchase Plan, which totaled $126 million. The company also paid out $31 million in dividends to its shareholders. The management is very focused on returning value to shareholders, as their track record has shown especially with their latest dividend increase which was a 10.3% increase over the same quarter last year. If we look at their track record, the company has had an average of 13.78% annual increase in their dividends per share over the last 10 years since June 30th of 2006. This is not even counting for the fact that they had 4 different 3:2 stock splits during this same period.
According to the DRIP returns calculator that I used, during the same period since June 30, 2006, if the dividends were reinvested you would have received an average annual return of 10.96%. Even in the slow years that is still a pretty good return. It also showed me that you would have received a 180% total return on your investment.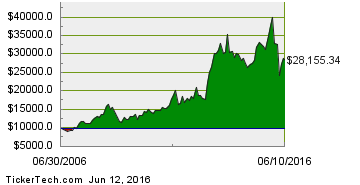 During Q1, the company had sales of $1.24 billion, which is a 5.1% increase year over year, which was driven by the acquisition of their organic bread lines. Cash flow from operations remains strong with a 1.9% increase totaling $121 million. Management has been working very diligently on trying to improve the margins on some of their key products. The strategy that they decided to use works something like this. They reduced their promotions on their core breaded items while they also increased the price which resulted in a 2.2% increase in realized price while unit volume was down 2.5%.
Management has started working toward growing its organic bread business with the recent acquisition of Dave's Killer Bread and Alpine Valley Bread. With organic bread being the growth engine behind fresh packaged goods, which shows a 23.6% growth year over year, it was a smart decision to convert their Tuscaloosa facility over to a completely organic facility so that they could meet the demand of the growing market and to lower their production cost.
They plan to try and drive sales moving forward by setting up product displays tied with upcoming summer family movies. In their snack cake business they are introducing new products and packaging such as minis, limited time flavors and single-serve packaging options.
Over the past few years the company has been steadily acquiring great companies and brands, like in 2012 when they acquired Lepage Bakeries, Inc. or in 2013 when they acquired Wonder from Hostess. The company's latest acquisition of Dave's Killer Bread and Alpine Valley Bread just shows me that they are continuing to make good solid investments to help grow the company's value while still returning capital to shareholders through dividends.
On June 3rd, Chairman of the Board George E. Deese, exercised a stock option for approximately 739,000 shares in a transaction with the company. Consequently, his direct ownership increased from 2.67 million shares of Flowers Foods common stock to 2.84 million shares. Who would know better about the forward outlook of the company? Someone on the board or some white collar executive would have a great insight to the direction that the company is headed in. I always like to see executives that are so confident in their company that they are increasing their share count.
Flowers Foods operates in the Consumer Goods sector, but more specifically being the Food industry. The industry contains some very household friendly brand names like General Mills (NYSE:GIS), Kellogg Co. (NYSE:K) and many more. As a whole the industry has an average dividend yield around 2.49%, according to dividend.com, while Flowers Foods is sporting a nice yield closer to 3.5%. Although being in this non cyclical industry, the company is one of the superior companies with a core business based around bread.
This company is a great investment for anyone who is looking for a great long-term play. It is a non-cyclical company that has showed good returns over the past 10 years. I think that the company will just continue to grow through organic growth as well as making smart acquisitions. There are only good things ahead for this company.
In conclusion, Flowers Foods is proving to be a great company with some strong core brands. It is a non-cyclical company that is currently looking to grow profit margins. The company is growing their business in a way that is positive for long-term investors. The financials look positive and show an upward trend in the growth of the business. The company is an industry leader that stands out from the rest when it comes to their core products and brands. With a history of 10 years of dividend growth, they are positioning themselves to be able to continue this streak for many years to come.
Disclosure: I/we have no positions in any stocks mentioned, and no plans to initiate any positions within the next 72 hours.
I wrote this article myself, and it expresses my own opinions. I am not receiving compensation for it (other than from Seeking Alpha). I have no business relationship with any company whose stock is mentioned in this article.