One stock which we think divides opinion more than most is McDonald's (NYSE:MCD). Some believe it has peaked and is on a slow decline, others believe that the fast food titan has a lot more growth ahead of it. We fall into the latter category, and remain bullish on McDonald's long-term future. Whilst we admit that wage inflation is a key headwind that the company will have to tackle, we think the industry will overcome it.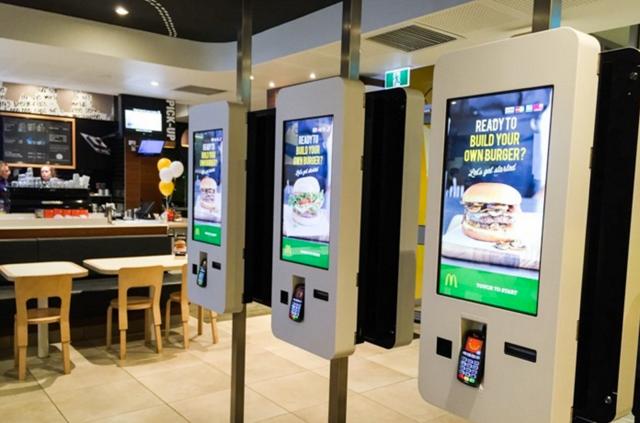 The proposed increase in the US minimum wage to $15 per hour will undoubtedly hurt companies like McDonald's which have a great number of employees earning the current minimum wage. In fact, Ed Rensi, former president and CEO of McDonald's USA, has stated that an increase of the minimum wage to the proposed level would wipe out all the profit of independently-owned franchises. According to Rensi, currently the typical franchise shifts $2.6 million worth of food and beverages, leaving them with $156,000 in profit. We feel few franchisees would be willing to keep operating if this profit were erased. But will it?
Price increases are the most obvious way to counter a gradual rise to the minimum wage. But we all know consumers loathe price increases. If a company gets it wrong and increases it just a touch too much, it may feel the backlash from consumers very suddenly. McDonald's is known for its value, so if you take that away it risks losing one of its biggest attractions. But with wages rising, we feel most consumers will accept, and perhaps even expect, a price increase of some kind.
But price increases are not the only way in which McDonald's can combat wage inflation. Wendy's (NYSE:WEN) and Panera Bread (NASDAQ:PNRA) are two other companies which are faced with the same headwinds. Both have responded with self-ordering kiosks which are likely to mean a reduced workforce and lower labor costs. In many ways, the people the wage rise is designed to help, may ultimately cause more harm as "robots steal their jobs" as many media outlets have put it.
We feel the development of self-ordering kiosks and mobile ordering is a great way to boost margins and lower labor costs. In our opinion, $15 per hour for taking an order is quite steep and works out to be around $30,000 a year for full time workers. Fitting all stores with self-ordering kiosks will be a sizable investment, but in the long-term the savings will be extraordinary. Whether these kiosks will be enough to cut labor down by 30% as some have suggested, is the big question. But it will definitely be a start to making the restaurants more efficient in our opinion. McDonald's and its management team have faced a good number of headwinds through the years and have always overcome them. We feel confident they will do the same with this one also.
So as far as we are concerned there McDonald's is still a great long-term investment. The price may admittedly be on the high side presently, but we expect those with long investment time horizons to see above average returns over the next decade as the company steps up its growth in China, Hong Kong, and South Korea. It has recently revealed that it plans to increase its footprint in the region by 1,500 restaurants within the next five years, up from approximately 2,800 restaurants today.
As well as this, the strong performance of its all-day breakfast continues to impress us. We see it as less of a short-term boost, and more as a sustainable long-term advantage. Management appears confident that it will be key to bringing in new customers, as well as existing customers more often. Other restaurant chains will fight back strongly against it, but we expect McDonald's will continue to dominate the space.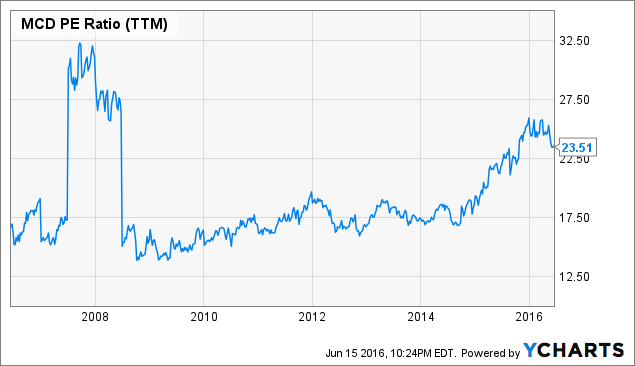 Does all this justify paying 23 times earnings? Whilst we would be far more comfortable with the shares trading at 18 times earnings, it is worth acknowledging that it is still trading at a discount to peers Yum Brands (NYSE:YUM), Starbucks (NASDAQ:SBUX), and Darden Restaurants (NYSE:DRI), which are trading on trailing price-to-earnings ratios of 27.2, 32.7, and 25.6, respectively.
Following a solid first quarter which saw the company beat on both the top and bottom lines, we expect full year earnings to come in at $5.57, compared to the consensus estimate of $5.55. This will be a rise of almost 12% from last year's earnings per share of $4.98, thanks to strong comps fueled by its all day breakfast and the introduction of its new value platform.
For now, we feel the market is willing to pay 23 times earnings for McDonald's stock. Which based on our full year forecast gives us a target price of $128.11. Whilst this is only a 4.7% return from the current price, we do see earnings growing at a similar rate next year, which should provide strong returns in addition to its almost 3% dividend yield.
Disclosure: I am/we are long MCD, SBUX.
I wrote this article myself, and it expresses my own opinions. I am not receiving compensation for it (other than from Seeking Alpha). I have no business relationship with any company whose stock is mentioned in this article.