Global capital market revenues dropped 22% y/y and totaled $24bn in 1Q16 - the lowest 1Q result since the 2008-2009 financial crisis. Although capital market conditions have deteriorated over the past year, they are slightly improved from the first quarter, with the FICC (Fixed-Income, Commodities and Currency) division being a particular strength.
Within the FICC, the High-Yield segment has seen the most q/q improvement with materially increased issuance in high-yield bonds (+139% q/q pro-rated till end May) albeit of a very low Q1.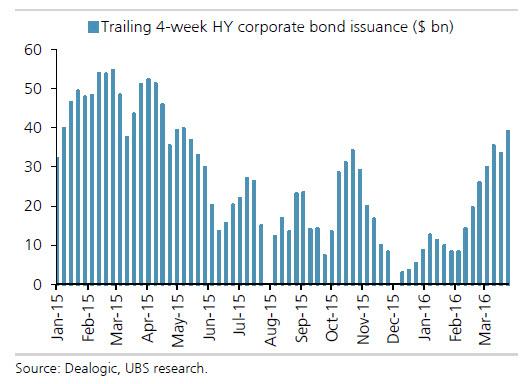 Source: Dealogic, UBS research
Source: JPM

Source: JPM
According to Dealogic and UBS (NYSE:UBS), the distribution of ratings does not suggest a divergence in risk appetites from last year.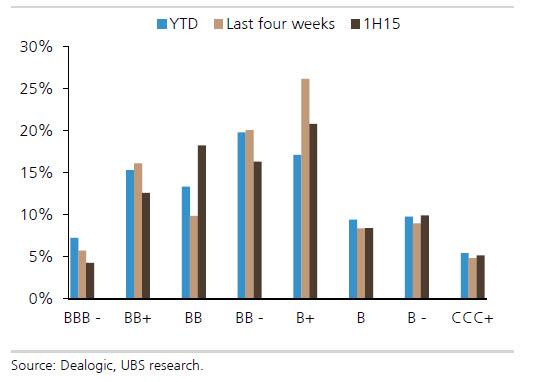 Source: Dealogic, UBS research
The U.S Rates business has also seen some pickup in activity levels as the market has significantly changed its projections for a Fed rate hike since mid-May.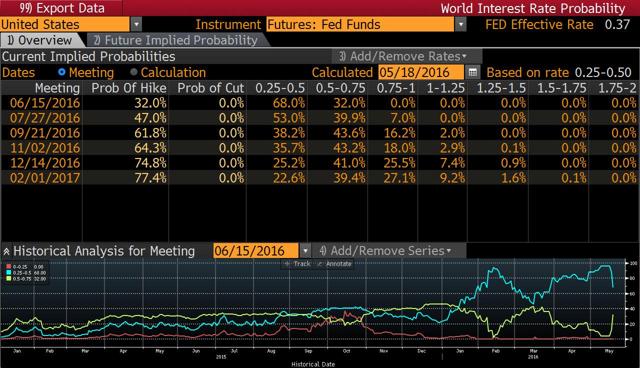 Source: Bloomberg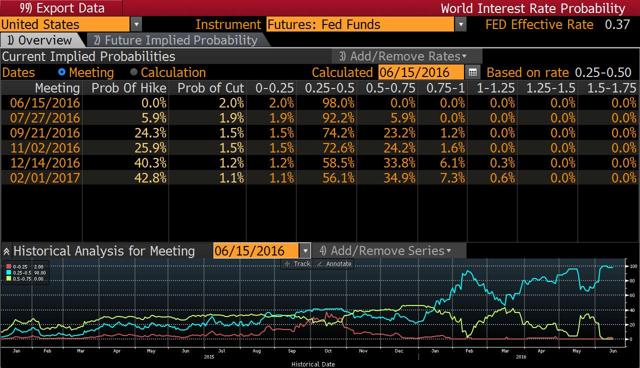 Source: Bloomberg

Source: JPM
Deutsche Bank and Barclays should be the main beneficiaries of better FICC revenue environment
We see the read-across from the above data as very positive for more FICC rate geared banks like Deutsche Bank (NYSE:DB) and Barclays (NYSE:BCS).
Deutsche Bank is traditionally thought of as a play on FICC, given its significant exposure to the segment.
Source: Company data, Bloomberg, Renaissance Research
We expect Barclays to be second most positively geared to better FICC revenue environment as the FICC accounted for 40% of the group's total capital market revenues in 2015.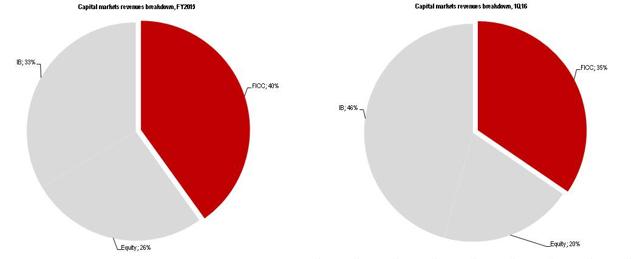 Source: Company data, Bloomberg, Renaissance Research
What do these numbers mean for UBS and Credit Suisse (NYSE:CS)?
The equity capital markets have not recovered as quickly as the High-Yield segment. In derivatives, lower revenues are driven by ongoing weakness in Asia (flow and structuring weak) and seasonal decline in US. UBS and Credit Suisse have large exposure to the equities/equity derivatives division with a significant presence in the Asian region. Hence, we see the read-across from these numbers as negative for both banks.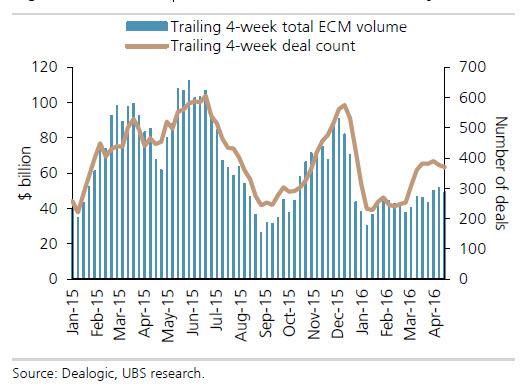 Source: Dealogic, UBS research
Valuation
Deutsche Bank looks fairly valued, trading in line with valuations of comparable peers. Barclays trades at a slight discount to the sector's regression line.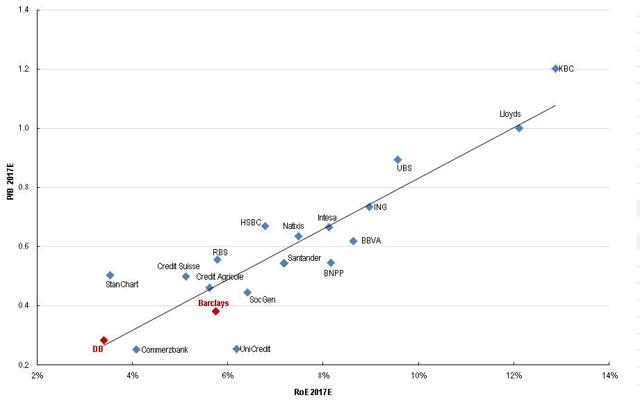 Source: Bloomberg, Renaissance Research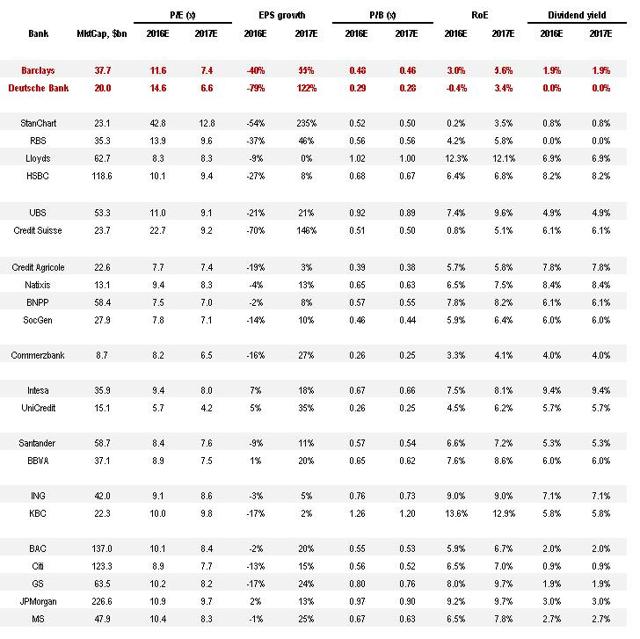 Source: Bloomberg, Renaissance Research
Bottom line
We expect Deutsche Bank and Barclays to post a solid 2Q earnings beat driven by unexpectedly strong FICC. Both stocks should get a decent boost from the results, in our view. Having said that, we are still negative on DB and BCS as their earnings will be under pressure from a low-to-zero interest rate environment, challenging capital markets conditions, structural industry issues and numerous company-specific tail risks. We think 2Q results should provide an excellent selling opportunity for those who are still long Deutsche Bank and Barclays.
Disclosure: I/we have no positions in any stocks mentioned, and no plans to initiate any positions within the next 72 hours.
I wrote this article myself, and it expresses my own opinions. I am not receiving compensation for it (other than from Seeking Alpha). I have no business relationship with any company whose stock is mentioned in this article.