The ride-hailing industry enjoyed enormous amounts of media coverage and investor interest amid the massive funds that Uber (Private:UBER) and Didi Chuxing (Private:DIDI) raised lately mainly from tech giants, automakers and investment firms. The industry is probably at the peak of the hype curve driven by the rising interest in the sharing economy, disruptive technologies (even though I hate that phrase), and autonomous vehicles. If at first Uber attracted worldwide attention as a primary player in the sharing economy and a prime example of a disruptive service, today the rise of the autonomous vehicles segment fuels the hype.
The recent enormous cash injection that both Uber and Didi received ignited investors' imagination about an upcoming Uber IPO that will allow investors who didn't have access to private placements to grab a piece of this emerging giant. Uber is still in a rapid growth mode as it penetrates more markets around the globe and faces multiple local legal disputes and local competitors in the process. Uber's largest competitors are the Didi Chuxing alliance, which includes the Chinese Didi Chuxing, Indian Ola (Private:OLAC) and Southeast Asian Grab and Lyft (Private:LYFT). The Uber-Didi worldwide competition, the legal disputes, and the struggle to penetrate new countries requires an increasing amount of money which Uber has no problem to raise.
While lately many startups experience problems raising money and see their valuation dropped by mutual funds firms' re-evaluation, Uber succeeds to raise billions of dollars in massive funding rounds thanks to rising hype and buzz around the ride-hailing industry, as I mentioned above. Since its inception, Uber has raised almost $15B, as shown in the chart below, and reached an unbelievable valuation of $68B which made it the most valuable VC-backed startup.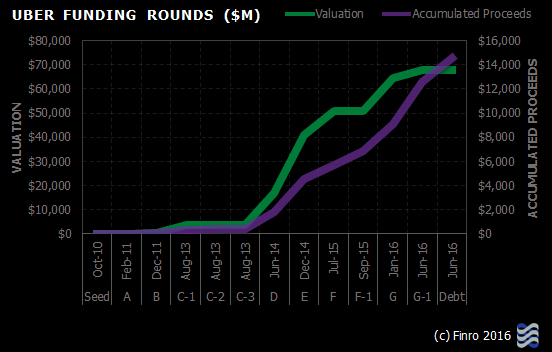 As the hype around the industry is rising, and both Uber and Didi Chuxing face increasing demand for shares, they should take advantage of the bullish sentiment and go public before it fades away. There are plenty of example of companies that didn't go public at the right time, missed their ideal IPO window, and will now find it very difficult to pull a successful IPO. A few examples could include messaging app Line (Pending:LN) that is expected to go public next month but missed the peak of the hype curve of messaging apps a few years back. Dropbox (Private:DROPB) could have gone public a few years back before the commoditization process in the cloud storage market accelerated, and Jawbone was a pioneer in wearable devices but did not monetize that on time.
As the hype around sharing economy and disruptive techs has not faded away completely, and the autonomous vehicle hype has only increased toward the planned massive production in 2020, the demand for Uber shares should not calm down anytime soon. From the investor perspective, those who couldn't participate in the private placing are anxiously waiting to grab a piece of the booming market, and for many, it doesn't matter if it will be Didi or Uber. Uber is reportedly planning to go public in the 2017 - 2018 timeframe, and Didi is reportedly considering a 2017 IPO. In my opinion, the first company to go public will benefit from the larger demand and the greater amount allocated by investors to that IPO. I believe that Uber has a small advantage over Didi as it is a more well-known brand in the US than its Chinese rival. However, the recent investment from Apple (NASDAQ:AAPL) helped Didi close the gap a bit.
Looking at Uber's financials, the company is expected to generate more than $8B in revenues in 2017, which reflects a 9.6 P/S ratio. At that ratio, the company could go public comfortably to remain attractive so the company will receive enough demand to raise a substantial amount of money and allow an attractive exit point for early investors. One more important aspect of a 2017 IPO is that Uber could impact that way on a possible Didi IPO and slightly improve its competitive positioning.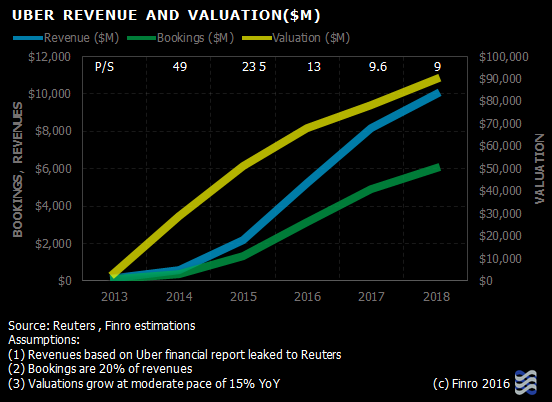 As I mentioned above, there are many examples of companies that missed their IPO window and later regretted it. For Uber in 2017, all is the ideal timing: It is expected to present an attractive revenue multiple, the hype around ride-hailing sector not yet faded, and it is just before the autonomous cars' pick up and potentially before its biggest rival Didi Chuxing goes public so it could enjoy significant demand for its shares. Once the official financials of Uber are published, I will revisit the bullish thesis on an Uber IPO.
Disclosure: I/we have no positions in any stocks mentioned, and no plans to initiate any positions within the next 72 hours.
I wrote this article myself, and it expresses my own opinions. I am not receiving compensation for it (other than from Seeking Alpha). I have no business relationship with any company whose stock is mentioned in this article.
Additional disclosure: The information provided in this article is for informational purposes only and should not be regarded as investment advice or a recommendation regarding any particular security or course of action. This information is the writer's opinion about the companies mentioned in the article. Investors should conduct their due diligence and consult with a registered financial adviser before making any investment decision. Lior Ronen and Finro are not registered financial advisers and shall not have any liability for any damages of any kind whatsoever relating to this material. By accepting this material, you acknowledge, understand and accept the foregoing.