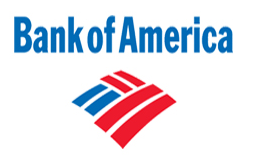 The events of June 15-29th will likely shape Bank of America Corporation's (BAC) future performance for a long time. And fittingly, in this age of the Central Bank domination, its destiny is almost entirely in the hands of the Federal Reserve.
Firstly we had the Fed's Interest Rate decision. We found out last night it will remain unchanged, and therefore so will BAC's bottom line. Then, on 23rd and 29th June, all the big banks will find out how they fared with the Fed's 'stress tests'.
All of this will bring volatility and opportunity. I plan to buy BAC in the next week or so and I will explain exactly where and why.
Interest Rates
The Fed has kept rates unchanged at 0.25%-0.5%. This was widely expected, partly due to the surprisingly poor jobs data released earlier in the month, but also due to the imminent Brexit vote.
Nevertheless, there was a glimmer of hope among BAC investors there would be a raise, and any short term traders taking a gamble will now need to sell and step aside.
This was evident in the price action yesterday (15 June): just before the Fed release, price was up nearly 3%. It closed at +0.22%. These small fluctuations shouldn't worry investors too much. In fact, the mistakes of day-traders can lead to good longer-term investment entries. Day-traders are highly leveraged and need very tight stops. Price can be engineered lower purely to make them capitulate (a stop-run) and after this it will likely bounce back.
BAC investors should take a longer term approach. Although the Fed softened its stance slightly, we should still expect a minimum of one more rate hike this year and three hikes next year.
However, this is not guaranteed: as we keep hearing, any future actions are data dependent. In March of this year all but 1 member expected 2 hikes this year. That number has risen to 6. Median expectations have also fallen from 4 hikes in 2017 and 2018 to 3.
The 38K NFP number for last month may seem concerning, but in isolation is seems much ado about nothing.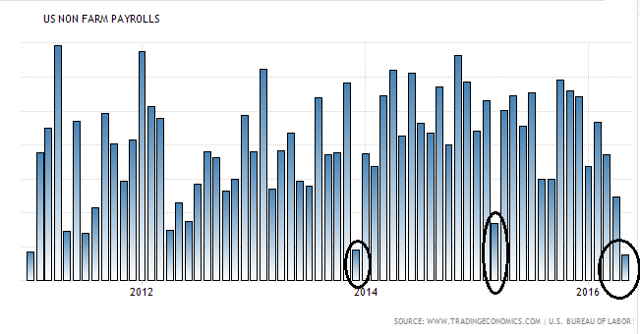 NFP is a blotchy series. Low figures can print in between 2 good months. If the June number is below May's, then it could be real cause for concern. For now, it's just a normal blip.
If it stays reasonably steady, NFP may turn into a sideshow. Inflation could really drive the Fed's decisions in the coming months and years. US inflation rate in April was 1.1%, some way off the 2% target, but the monthly index rose 0.4%, the largest increase in 3 years. And this doesn't seem merely a blip in a noisy series. The trend is up: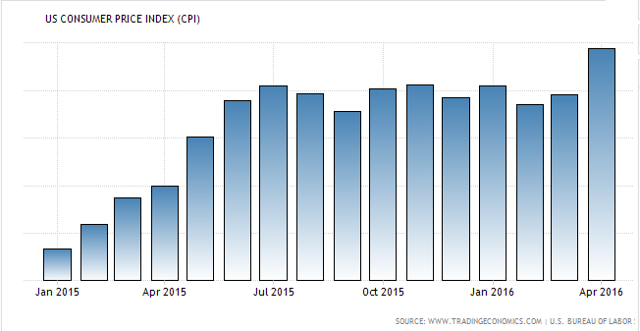 BAC investors should watch NFP, CPI and the inflation rate closely. Barring a change in trend or a series of bad NFP figures, we should expect the Fed to do as it says and raise at least once more this year. Therefore any short term BAC sell-off is a longer term buy.
The stress tests
A 0.25% may be a small step for the Fed, but is it a giant leap for BAC? Well not really: it will certainly help the bottom line, but the giant leap will come from a successful stress test and dividend increase.
On June 23rd the Fed will reveal the results of its annual stress tests. Firstly, banks will be judged on how their capital holds up in a hypothetical recession or market shock. Then, on June 29th, the regulator will tell them if their dividend plans are acceptable.
Compared to its peers, BAC's share price performance has been poor. The rally of 2012-2015 never made it past the 2010 recovery high of $19.4. This is attributable to failing the stress tests in 3 of the last 5 years and failing to increase its dividend from 5 cents a quarter. To mount any sort of rally BAC needs to pass the tests and increase dividends.
How likely is this? BAC passed the last test and CEO Brian Moynihan recently said the company had successfully built its capital, "We have worked hard to get all that work done," he said. "You have a company that's gone from $100 billion in liquidity to $400 billion in liquidity."
Nothing is a given, but it seems likely that BAC will pass the first of the tests on June 23rd. The key is the dividend approval on June 29th. We don't know what is on the table here. Much depends on the strength of BAC's finances, but I will speculate the Fed will at least wish to be accommodating.
An approval will not only benefit BAC, but a bank rally will in turn give confidence to the Fed. It is under pressure to raise rates and will surely want to do as it has repeatedly forecast. It will be hard pressed to do this with the likes of BAC in a strong downtrend and failing its own tests.
Brian Moynihan could be interpreted as subtly asking if the tests are too strict, "People will ask whether this insurance is too large or too small," he said. "Over the next 10 to 15 years people will ask whether we got it right."
I don't want to speculate too much. I want to position myself for a positive outcome without risking too much capital. To do this I use technical analysis.
Entry and exit
There are two potential positive catalysts to drive price higher. Additionally, short term prices are being pushed lower by a driver that is longer term insignificant i.e. traders were badly positioned for yesterday's Fed inaction. Their capitulation will provide a temporary fall which we can capitalize on.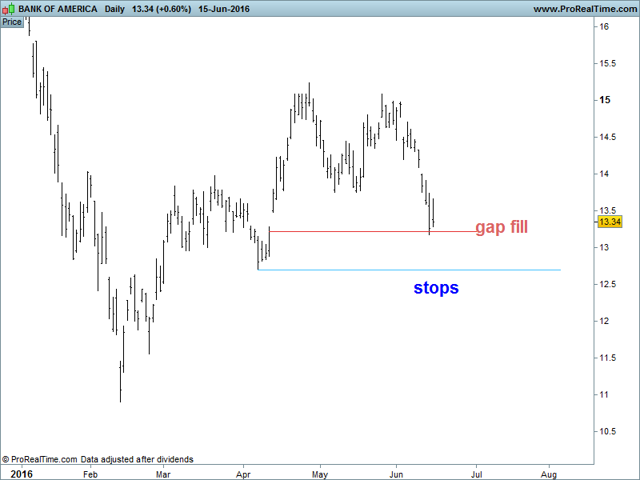 Traders bought the gap fill, and it worked, but anyone hoping for a Fed raise or a sustained rally will be flushed out below $12.7 stop level. When they sell, I will buy.
There are other ways to determine targets. $12.5-$12.7 is the 61.8% Fibonacci retracement of the February-April rally, plus a standard ABC corrective target where wave C = 161.8* wave A.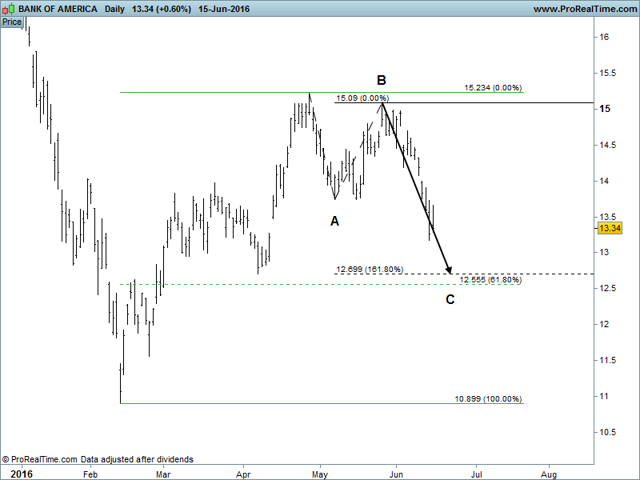 There is one other factor that I like about the BAC chart and this relates to the fractal nature of markets. Corrective declines can 'copy' previous sequences due to the repetitive behavior and positioning of participants. The most obvious example of this is the head and shoulders pattern. We identify the pattern and expect price action to repeat. Usually it doesn't, but this is because traders fail to analyze the full structure and take patterns out of context.
BAC has recently recovered from its largest decline since 2010-2011 and the overall price structure has a number of similar attributes to this period. Other banks (I have used Goldman Sachs in this example) are doing the same thing, and the similarities - and indeed the differences - hold true.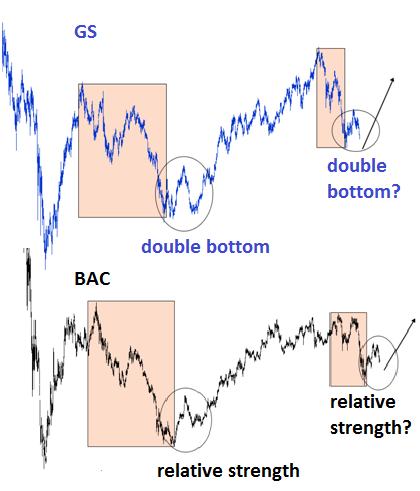 All the declines in the pink boxes are in 3 waves. This is a standard corrective structure for a decline, and should lead to a rally.
Goldman Sachs - for whatever reason - is again weaker after the initial rally and seems destined to test the February lows in a similar way to 2012.
BAC's retrace from the first wave up in 2012 was 61.8%. This supports my current $12.5 target derived from the 61.8% retrace of the February-April rally.
This style of analysis may not suit everyone, but it is something I use every day over all time-frames. I identify what is driving the market, I look for historical analogues, and I use technicals for entry.
I will buy BAC at $12.5 with a stop at $11.88. Risk is 5%. The initial target will be above the April highs at $16 for at least 25%. I do eventually expect BAC to challenge the 2015 highs and take out the medium term shorts above $18, but I will scale out most of my position at the initial target and trail stops.
The risks to the trade are fairly obvious. A failure of the stress tests will lead to a decline and my stop of 5% is by no means guaranteed on a large gap down. However, the reward of 25% gives me a 1:5 risk to reward ratio, and I can therefore risk less. I will allocate 1% of my capital to my stop loss. In the unlikely event of a 10% gap down I will lose 2%.
I expect BAC to rally prior to June 29th. There will no doubt be rumors and news leaks before the events and this may give the trade a cushion and allow me to move my stop up. I do not rely on this as part of my plan, but I know how I will react if I see it happening. Also, if I see a particularly large decline that recovers without hitting $12.5 I may enter above the planned price and adjust my plan accordingly.
Conclusions
There are 2 potential positive drivers for BAC price this year. You can try and position yourself in advance or you can wait to buy the news. Both approaches have their pros and cons, but when I see a good enough set-up I accept the risk and take the trade. It's a calculated gamble, but what investment isn't?
Disclosure: I/we have no positions in any stocks mentioned, but may initiate a long position in BAC over the next 72 hours.
I wrote this article myself, and it expresses my own opinions. I am not receiving compensation for it (other than from Seeking Alpha). I have no business relationship with any company whose stock is mentioned in this article.