Many people begin to seriously think about planning for retirement when they're in their 40s. Hopefully most people are saving a decent amount of money each year by this point. It all starts with saving money on a consistent basis. But there is more to retirement planning than just saving.
The Big Questions
When people enter their 40s, they might be asking (or should be asking) these questions:
How much do I need to have saved at retirement in order to never outlive my money? If I am projected to run out of money, when will that happen? How do I invest for retirement given that I'm still relatively young?
Will I Outlive My Money?
It's a big, big question. You will see all sorts of numbers thrown around with no real evidence to back them up. I like to look at an actual case study and real numbers. So I took a look at a 40-year-old couple that wants to retire at age 65 and I ran their retirement plan in our publicly available WealthTrace Financial Planning Application.
Let's first look at my basic assumptions:
Current Investment Assets: $300,000
Investment Mix: 70% Equities, 30% Treasury Bonds
Annual Returns: 6% Per Year For Equities, 2.5% Per Year For Treasuries
Accounts: 50% In Taxable Accounts, 50% In IRAs
Savings: $10,000 Per Year
Projected Social Security: $40,000 Combined
Annual Expenses In Retirement: $55,000
I generated their retirement plan and I found that at retirement they will have about $750,000 saved. I also found that they are projected to run out of money when they're 80-years-old. Lastly, I ran their plan through our Monte Carlo calculations and found that they only have a 40% chance of never running out of money in retirement.
This is a precarious situation. This couple will not be able to retire stress-free and will likely be worrying about outliving their money, like so many people already do.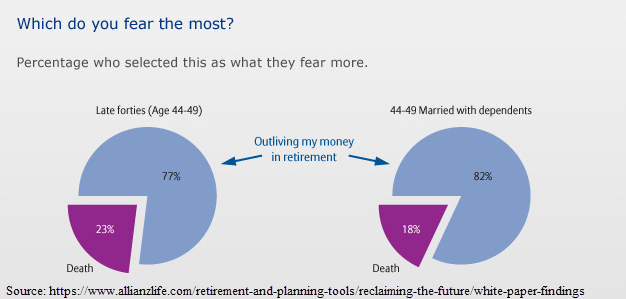 What good is retirement if you're stressed out every day? We need to find a way for this couple to turn their situation around.
How Much Is Needed At Retirement?
We can confidently say that this couple needs more than $750,000 saved when they retire. So let's figure out just how much money they do need so that they do not outlive their money. I ran some scenarios in the WealthTrace Planner and found that if they have $900,000 saved, they will not run out of money in their lifetime.
But they are still dipping into their principal, which means the clock is ticking on their investment balances, as you see below.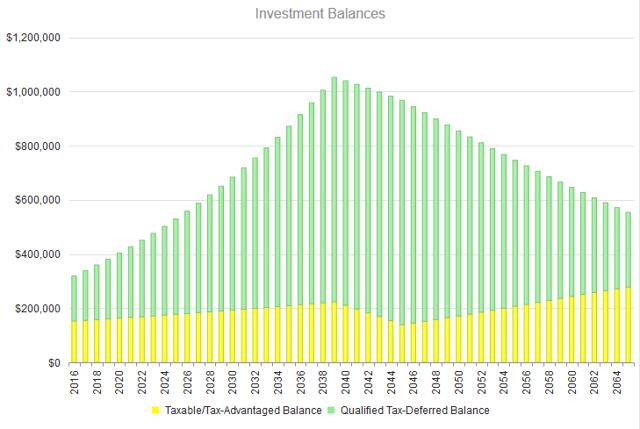 Making Sure They Do Not Outlive Their Money
This couple still has a chance of outliving their money if the stock market does not return what we've projected. What we really want to see if their income covering their expenses each year in retirement. This way they can handle the ups and downs of market returns.
The best way to do this in today's world of low interest rates is to put together a portfolio of solid dividend paying stocks which have had consistent dividend growth over time. A few companies that make up my portfolio are Johnson & Johnson (NYSE:JNJ), Procter & Gamble (NYSE:PG), Coca-Cola (NYSE:KO), Exxon (NYSE:XOM), and Wal-Mart (NYSE:WMT).
| | | |
| --- | --- | --- |
| Company | Div. Yield | 5 Year Annualized Div. Growth Rate |
| JNJ | 2.7% | 6.9% |
| PG | 3.2% | 7.5% |
| KO | 3.0% | 8.4% |
| XOM | 3.3% | 10.6% |
| WMT | 2.8% | 10.1% |
Besides having in common their relatively strong dividend yields and growth rates, these companies have also shown a commitment over long periods of time to keep growing their dividends. Over time, consistent dividend growth will lead to solid total returns even if stock prices fall during the investing period. To show this I ran an example using our publicly available dividend projection calculator. I took 1,000 shares of Exxon at today's price and assumed a growth rate of dividends of 10%. I also assumed its stock grows by 3% per year. Over 20 years we see the following: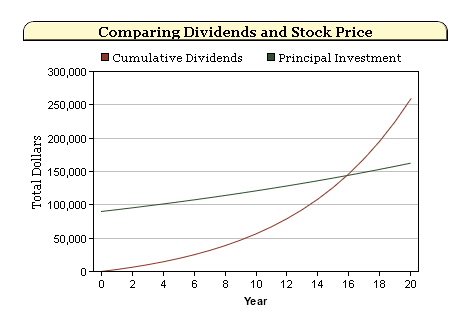 Given these assumptions, we would see a 368% total return (8% annual return). This also shows that movements in the stock price over a time period this long become nearly meaningless to those collecting the dividends.
Now let's take a look at their overall retirement situation if we move all of their equity holdings into dividend payers such as the ones I've mentioned.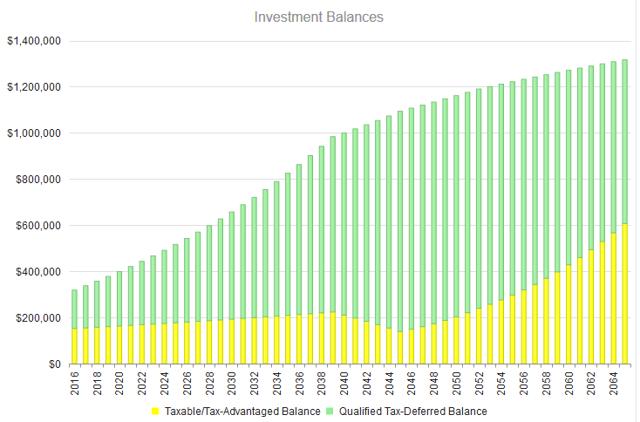 Something wonderful has happened to this couple. Their investment balances keep growing, even in retirement. Why? Because their income more than covers their expenses every single year in retirement.
At this point we can also say that their "number" at retirement is about $900,000. This is what they need in order to retire stress-free. Our Monte Carlo analysis also shows a 90% chance of them never running out of money.
Parting Thoughts
Everybody in their 40s should begin thinking about their retirement plan. They should have their budget in mind and figure out just how much money they will need when they retire. And just as important, they must have a combination of investments that will generate enough income in retirement so they do not outlive their money. Retirement should be about relaxing, not stressing about whether or not the money will dry up. So if you're in your 40s and you haven't begun thinking about these issues, now is the time.
Disclosure: I am/we are long JNJ, XOM, KO, WMT, PG.
I wrote this article myself, and it expresses my own opinions. I am not receiving compensation for it (other than from Seeking Alpha). I have no business relationship with any company whose stock is mentioned in this article.