When many investors think of a monthly dividend REIT, they look to Realty Income (NYSE:O), which is understandable as they are even dubbed "The Monthly Dividend Company" on their webpage. But there is another REIT, which pays out not only monthly dividends, but higher dividends than Realty Income. The REIT is LTC Properties Inc. (NYSE:LTC).
I have LTC in my Roth IRA along with a couple other of my monthly pay favorites such as STAG Industrial (NYSE:STAG), and Chatham Lodging Trust (NYSE:CLDT). The real advantage of these monthly dividends is that it increases the power of compounding returns by reinvesting the dividends right back into the company. Of course, the dividends are only as good as the company backing them, so let's take a look at what makes LTC a great monthly dividend company.
Property Diversification
LTC has leases including skilled nursing facilities, assisted living facilities, and a range of care facilities spanning 212 properties in 30 states, which comprise of 35 operators.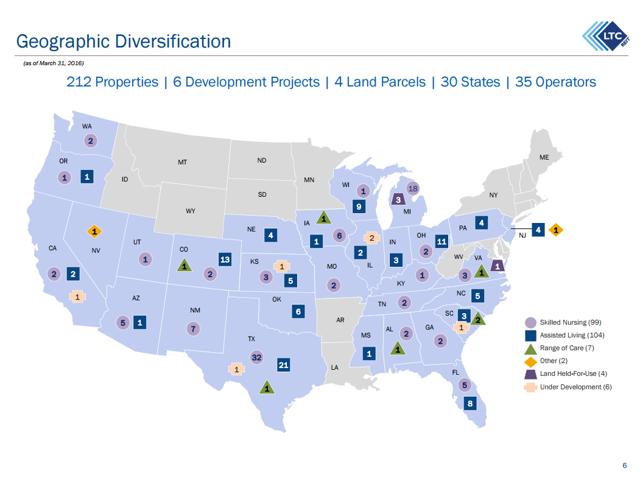 Below is a snapshot of LTC's operator diversification where we can see there is a nice basket of operators, none of which comprise over 15% of LTC's total gross investment.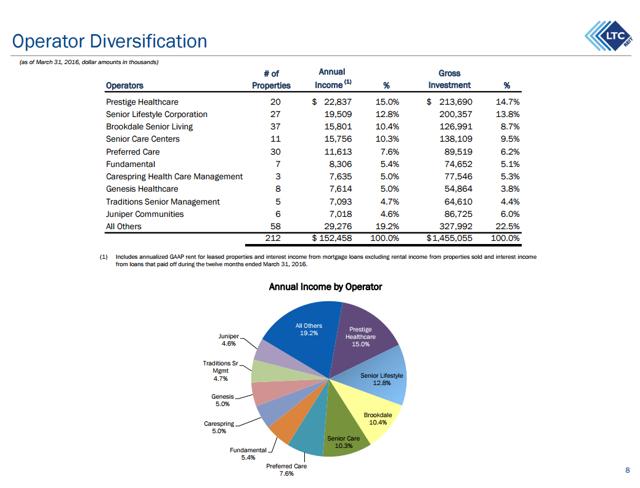 This geographical and provider diversification is a nice characteristic that I can count on to minimize risk and help me rest easy at night.
Looking into this group of operators as a whole, we find that the majority of payors for the "Total Portfolio Payor Source" is Private pay at 51.7% which is favorable over both Medicare and Medicaid and have stable occupancy rates in their assisted living, skilled nursing, and range of care facilities as well.
High Quality Portfolio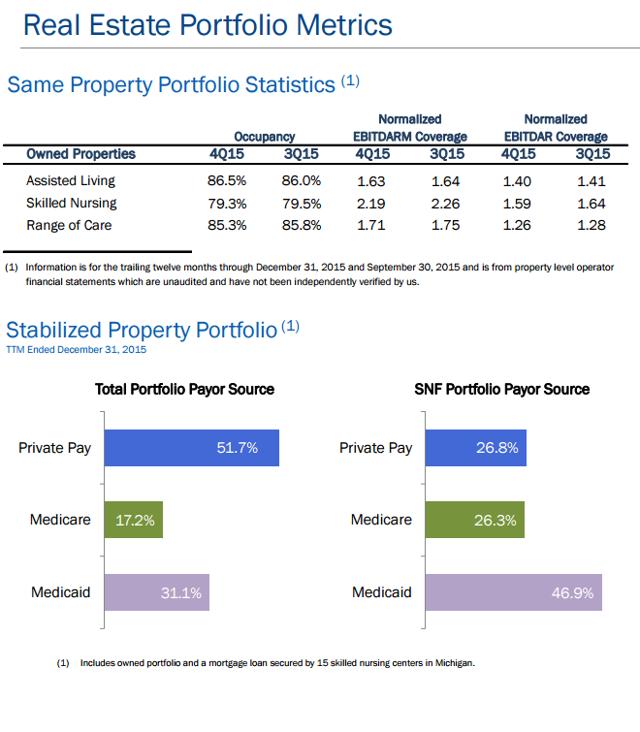 LTC also has leases which are typically 10-15 year terms, and the length of these provide stability and assurances that make for a steady and more predictable cash flow for both management and investors. Their weighted average remaining lease term is 9.1 years and all leases are triple net, which requires the lessee to pay taxes, insurance, and other costs necessary for operating the facility they occupy. Lastly, most of the leases have annual rent increases and renewal options, which once again aids in the creation of a steady and more predictable cash flow.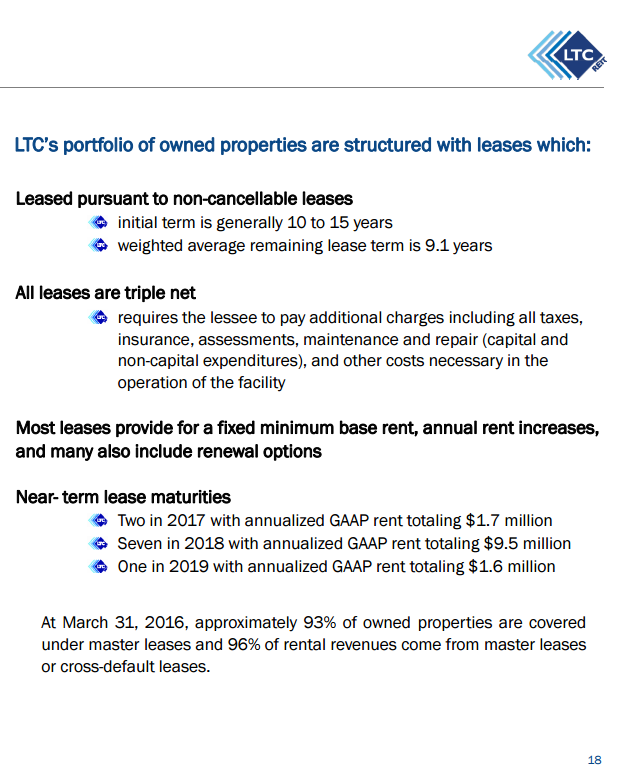 Safe & Growing Dividend
LTC's dividend has a 4.8% CAGR since 2005 and currently sports a dividend yield of 4.34%. As of Q1 2016 the payout ratio was 80.6% (remember, this is a REIT - where this is an acceptable ratio).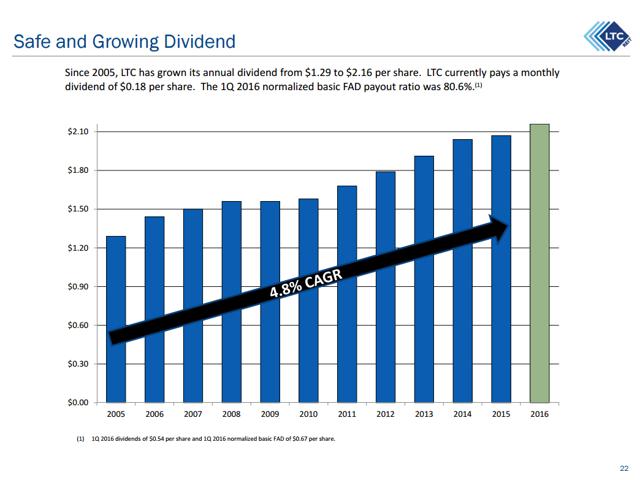 In addition to a nice dividend, the stock itself has had nice returns. Beating the S&P over the past 5 years and is one of the top performers in the HealthCare REIT sector when pitted against the likes of Welltower HCN, Ventas (NYSE:VTR), and National Health Investors (NYSE:NHI).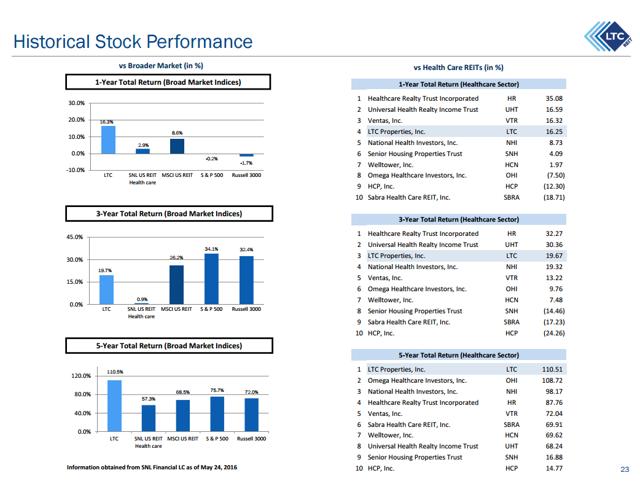 Conclusion
If you haven't looked into LTC as a potential position in your portfolio - I'd highly recommend you do. A safe, sizable, and growing dividend, coupled with a strong and diversified portfolio of leases has qualified LTC as a high quality investment option that can offer reliable returns.
With the trends in long-term healthcare of baby boomers aging, the population age 75 and over is expected to increase by 89% by 2030 according to the U.S. Census Bureau. These individuals will need the services that LTC's lessees provide, enabling LTC to provide you with positive returns on your investment.
Disclosure: I am/we are long STAG, CLDT, HCN, LTC.
I wrote this article myself, and it expresses my own opinions. I am not receiving compensation for it (other than from Seeking Alpha). I have no business relationship with any company whose stock is mentioned in this article.