The Wall Street Journal reported that Tencent (OTCPK:TCEHY) is still negotiating to buy the 73.2% stake of SoftBank (OTCPK:SFTBY) in Supercell Oy. Supercell is the Finnish developer behind multi-billion hit mobile game Clash of Clans. The Wall Street Journal said Tencent's bid will give Supercell a valuation of more than $9 billion. Bloomberg also said Tencent's offer values Supercell at $9 billion.
The $9 billion valuation is within the valuation range I projected last year that Supercell was worth $5-$11 billion. I now predict that SoftBank will eventually accept this offer from Tencent. SoftBank is currently trying to raise cash so it can lower its massive debt of 11.9 trillion yen ($112.34 billion). Aside from recently selling some of its Alibaba (NYSE:BABA) shares, SoftBank is also trying to unload its majority stake in mobile games publisher GungHo Entertainment.
SoftBank stands to get at least $6.59 billion ($9 billion x .732) from Tencent. As someone long in SoftBank, I am already happy about this offer. SoftBank only paid $1.53 billion in October 2013 to initially buy a 51% controlling stake in Supercell. I also agreed with VentureBeat's $1.2 billion guesstimate for the additional 22% stake that SoftBank bought from other outside shareholders last year.
SoftBank's total estimated investment in Supercell is therefore only $2.73 billion. If Masayoshi Son accepts Tencent's offer, SoftBank will soon be $3.86 billion richer. Making a profit of $3.86 billion in less than three years of having invested in Supercell is a bonanza for SoftBank.
Aside from paring down the debt, the potential profit from selling its stake in Supercell will help negate the huge losses that SoftBank incurred in Sprint (NYSE:S). In turn, controlling Supercell will make Tencent the absolutely runaway leader in the $36.9 billion/year global mobile games industry.
Why Supercell Is A Must-Have Acquisition for Tencent
The latest global app index report from App Annie revealed that Supercell is still the world's top-grossing mobile games publisher. Tencent is number two and Activision (NASDAQ:ATVI) is number three. Activision's $5.9 billion purchase of King Digital made it a real threat to Tencent's ranking.
Tencent's core mobile games empire is largely dependent on China, while King Digital's match-3 puzzle games have a solid worldwide following.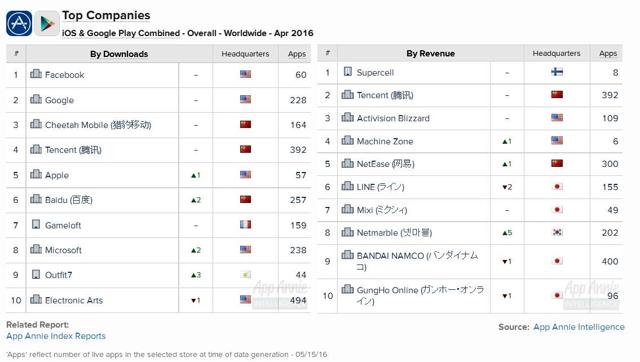 Buying the 73.2% stake in Supercell will supercharge Tencent's ambition to become the undisputed leader in the global mobile games industry. In spite of only having three commercial mobile games last year, Supercell's FY 2015 revenue was $2.3 billion. Supercell's net income last year was also $923 million.
Taking control of Supercell now is imperative for Tencent. Thanks to the $144 million/month debut success of its new Royale Clash game, Supercell is expected to hit $3 billion in revenue this year. The obvious risk is that the alleged $9 billion valuation of Supercell right now might even go higher one year from now.
Having two mobile games that generate 9-figure annual revenue could propel Supercell to an even loftier valuation.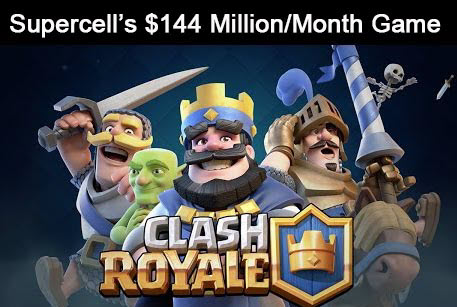 (Source: Supercell/Motek Moyen)
Mobile is the future of video games and Tencent derives the majority of its revenue from online games. I now opine that Tencent has accepted it cannot beat the revenue streams of Supercell's Clash of Clans and Royale Clash games. The only logical move left for Tencent is to just buy the company that is beating it.
Taking Control of Supercell Is Better Than the King Digital Deal
Tencent is a small stakeholder (at least 10%) in Activision so it also has minor benefits from King Digital's long-running success in match-3 puzzle games. However, there are bigger long-term benefits in taking control of Supercell. The strategy/fighting genre of Supercell's billion-dollar mobile games consistently appeal to big spending players.
Freemium games like Royale Clash and Clash of Clans require players to use their credit cards to consistently beat other players in 1:1 and group-based online combats. Unlike the casual/friendly online competition in King's Candy Crush Saga, the machismo-fueled competition in Supercell strategy games exerts long-term pressure on players to consistently do in-app purchases. According to Slice Intelligence, strategy and fighting games are the top genres that generate the most amount of average app spending last year.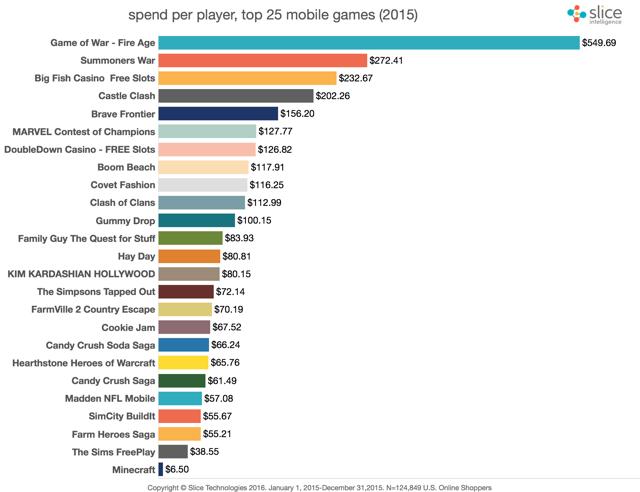 King Digital's top-grossing match-3 puzzle game Candy Crush Saga only has an average annual spend per paying player of $61.49. This is far lower than Supercell's Boom Beach ($117.91) and Clash of Clans ($112.99).
Final Thoughts
Tencent and SoftBank will both gain long-term benefits from Supercell's transfer of ownership. SoftBank will have more money to replace its losses on Sprint and reduce its massive debt. Tencent will in turn become the dominant publisher of mobile games.
The only thing that could derail this deal is the possibility that Supercell's Finnish founders/managers will veto the offer of Tencent. Yes, my dear Seeking Alpha readers, the founders of Supercell (who likely still owns 26.8% of the company) has the power to veto or reject any transfer of SoftBank's 73.2% stake.
The founders and current management team of Supercell allegedly prefer to remain under SoftBank because that Japanese company gave them complete autonomy. On this note, the only way Tencent can get its hands on the world's most profitable mobile games company is to also promise complete autonomy to the founders and managers of Supercell.
Unfortunately, Tencent has a recent reputation of taking full control and ownership of game studios where it made major investments.
Disclosure: I am/we are long SFTBY, ATVI.
I wrote this article myself, and it expresses my own opinions. I am not receiving compensation for it (other than from Seeking Alpha). I have no business relationship with any company whose stock is mentioned in this article.
Editor's Note: This article discusses one or more securities that do not trade on a major U.S. exchange. Please be aware of the risks associated with these stocks.