The last couple of years have been tough for many pipeline companies who are facing a grim outlook, thanks to the slump in oil and gas prices, but TransCanada Corp. (NYSE:TRP), one of North America's leading natural gas pipeline operators, continues to find additional work in Mexico.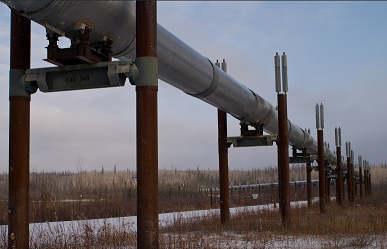 On Monday, TransCanada said that Infraestructura Marina del Golfo, TransCanada's joint venture with a subsidiary of Sempra Energy (NYSE:SRE), has won a contract to construct, own and operate $2.1 billion, 497-mile Sur de Texas - Tuxpan offshore natural gas pipeline which will be used to transport cheap US shale gas from Brownsville, Texas, to the Mexican Gulf port of Tuxpan in the Veracruz state. The line will have a capacity to ship 2.6 billion cubic feet a day of gas per day. It will work under a 25-year service contract with Comisión Federal de Electricidad (CFE), feeding gas to Mexico's state-owned power company. TransCanada will be the operator of the project with a 60% stake while the remaining will be held by Infraestructura Energética Nova, Sempra Energy's unit. TransCanada's share of investment will be $1.3 billion.
This will be another opportunity for TransCanada to expand its foothold in Mexico. The country could not capitalize from the shale gas boom in the US which drove natural gas prices lower in North America. Despite the availability of abundant and cheap natural gas in the US, Mexico frequently faced fuel shortage, particularly in 2012 and 2013, thanks to a lack of infrastructure capacity, such as pipeline networks and gas gathering systems, which is required for gas transportation.

The weak levels of domestic production certainly did not help. The culprit was Petróleos Mexicanos, the former state-owned monopoly commonly known as PEMEX, which saw its output drop more than 18% from 2002 to 2.93 million barrels per day in 2012, despite a five-fold increase in annual investment to $20 billion in the same period. Consequently, the country failed to satisfy its increasing natural gas demand, particularly for electricity generation.
Mexico badly needed additional capital and better technology, ideally from energy companies in Canada and the US, to develop its hydrocarbon reserves and expand infrastructure capacity, but the government's unattractive energy policies kept most foreign investors at bay.
In late-2013, however, the Mexican government started implementing new energy reforms to lure foreign investors and revive its oil and gas sector, starting with an overhaul of PEMEX. The country, with support from CFE and PEMEX, now aims to significantly grow its pipeline capacity by 75% by 2018 as compared to 2012. That is turning out to be a major growth driver for TransCanada.
TransCanada, unlike other pipeline companies, benefits from having a greater experience of serving the Mexican market than any other foreign pipeline operator. In fact, when the Mexican government opened the midstream sector private companies in the 1990s, TransCanada became the first company to construct and operate natural gas pipelines. Currently, it owns a vast portfolio of almost 1,000 miles of pipelines and more than 2.6 billion cubic feet of installed capacity in the country underpinned by three major pipeline systems. The biggest of these in terms of length and cost is the 227 mile Tamazunchale extension which came online last year following investment of $600 million. And TransCanada has an even bigger project coming online later this year.
The massive Encino-Mazatlan system which includes two natural gas pipelines - a $1 billion Topolobampo Pipeline which stretches over 329 miles which will bring up to 670 million cubic feet of gas per day from El Encino, Chihuahua, to Topolobampo, Sinaloa and will interconnect with $400 million Mazatlan Pipeline which spans over 257 miles and will be used to ship up to 200 million cubic feet of gas per day from El Oro to Mazatlan in Sinaloa. As with TransCanada's other Mexican projects, the Encino-Mazatlan system is backed by 25-year service contract with CFE. The two pipelines are scheduled to come online in the fourth quarter of this year and will likely play a crucial role in driving TransCanada's bottom-line growth in 2017.
But that's not it. TransCanada investors will have three major growth projects to look forward to which will start operating in 2018. The most recent Sur de Texas-Tuxpan pipeline is projected to come online in late-2018. That's the same year when the $500 million, 155-mile Tuxpan-Tula and the $550 million, 261-mile Tula-Villa de Reyes pipelines will startup. Together, the three pipeline systems will play an important role in driving TransCanada's growth in 2019.
TransCanada is emerging as the favorite foreign pipeline operator of the Mexican government and one of the biggest beneficiaries of the country's energy reforms. Overall, the company has planned to pump $5 billion in Mexico on five new pipeline projects. I believe the backlog will likely continue to grow in the future as Mexico moves forward with its plan of increasing the infrastructure capacity.
Over the long term, once commodity prices recover, Mexico will likely witness an uptake in drilling activity as the country, with the help of foreign investors, begins to tap into its vast hydrocarbon reserves. Mexico, which is home to extensions of the prolific Eagle Ford shale, holds one of the world's largest deposits of conventional and unconventional hydrocarbon deposits. According to estimates from US Energy Information Administration, the country's output of natural gas could climb from 1.7 trillion cubic feet in 2012 to 3.3 trillion cubic feet in 2040. That could result in even greater business opportunities for TransCanada.
In short, Mexico will likely remain a key source of growth for TransCanada for the foreseeable future.
Disclosure: I/we have no positions in any stocks mentioned, and no plans to initiate any positions within the next 72 hours.
I wrote this article myself, and it expresses my own opinions. I am not receiving compensation for it (other than from Seeking Alpha). I have no business relationship with any company whose stock is mentioned in this article.