It has been almost one year since PayPal (NASDAQ:PYPL) was freed from eBay (NASDAQ:EBAY) and everyone [including myself] had the feeling that with the strong growth that PayPal had, the share price would increase. However, that has not been the case as shares have PayPal have gone nowhere over the last year, which leads to the question of where is the share price appreciation?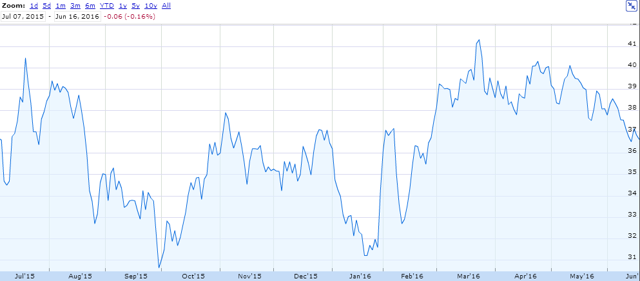 Chart from Google Finance
Buybacks
Earlier this year, PayPal instituted a $2 billion share repurchase program and in the most recent quarter, it was noted that they purchased 17 million shares at an average of $35/share, which totals $595 million. Over the last twelve months, PayPal has generated $2.08 billion in free cash flow according to Gurufocus financials. Simply put, PayPal is using almost all of its free cash flows for share repurchases, which given the competitive landscape I will touch on below shows this might not be the best time to repurchase shares.
With the current price of the stock at $36.84, buying a bunch of stock at $35 seems like a good idea, however, by using those funds for buybacks, PayPal is risking that the competition catches them.
Competition
Just yesterday, an article by IBD, noted that at its WWDC, Apple (NASDAQ:AAPL) unveiled they would have Apple Pay available on Safari mobile browser, an Apple Pay option for Mac users, which would compete with PayPal and Square Cash (NYSE:SQ) peer-to-peer money transfers through its iMessaging App , which competes with PayPal's Venmo.
Then there could be competition from PayPal's frenemy, Visa (NYSE:V). At a recent technology and media conference the CEO of Visa made the following statements. Simply put Visa drives a lot of business to Visa however, the CEO went on to basically say that unless the model changes, PayPal will become more of an enemy than a friend. The key takeaway from the following second quote is that if Visa wanted to, they could compete with PayPal on a large scale, which would be a serious threat to PayPal.
"PayPal's historic model on the one hand 50% of the volume is
ACH, the other 50% is general purpose cards of which were half of it. So they drive a lot of business our way that supposedly the friend part of it. The foe part is where they then use historically those transactions to do everything they can to get those to ACH where we and our clients get disintermediated from the transaction the entire experience and it causes tremendous customer service problems for the bank specifically." [CEO Quote from technology & media conference transcript]
"We'd love to figure out a different model with them where it's consumer choice first where they are not disintermediating, if we can figure that out with them great we'll think of them more as a partner they need to do things differently in order to do that. The other door is where we go full steam and compete with them in ways that people have never seen before because you've never seen us go target PayPal in the marketplace in any meaningful way." [CEO Quote from technology & media conference transcript]
Xoom Acquisition
I was not impressed with the Xoom deal because they paid $890 million for a business that only generated $177 million in revenues in the 12 months prior to the acquisition. In addition, Xoom is unprofitable and has lower margins than PayPal has. As much as i am not a fan of buybacks for PayPal, I would have rather them used the $890 million for buybacks instead of purchasing a money losing, low margin business. With the Xoom acquisition there is some political risk as well, if Donald Trump were to win the election and his plan of potentially stopping remittances from individuals in the United States to Mexico were to gain traction, which would have an impact on PayPal and Xoom.
What can PayPal do to increase the share price?
PayPal has two options to increase the share price. The first option is to stop tip toeing around Visa, either make a move to build their relationship with Visa or go after them 100%. Being their frenemy has not helped the share price of over the last year and with ever-increasing competition, PayPal needs to make a decision on this matter. Visa already owns a stake in Square as well as competing payments company Stripe (STRIP). This shows that Visa has the potential take on PayPal through its stakes and partnerships with Square & Stripe as well as their own Visa Checkout option.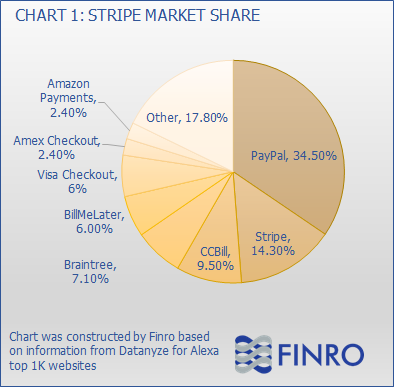 The second option PayPal has is to acquire other prominent payments providers given the company has $6.4 billion in cash and no debt. If you look at the chart above, you can see that PayPal & Braintree, which is owned by PayPal, dominate the market. However, as Stripe and others have grown they have taken share from PayPal, this is where PayPal with its cash hoard could have an opportunity to gain market lost market share. To me the most appealing acquisition target would be Stripe because of its market share and the customers they have.
In a Fortune article last July, Stripe raised funding at a $5 billion valuation, which even if that valuation is doubled for an acquisition by PayPal, with $6.4 billion in cash and strong free cash flow generation, PayPal could afford to purchase Stripe. Also noted in the article, was the fact that Stripe was a preferred partner on Apple Pay and does the buy buttons for Pinterest (PINIT), Facebook (NASDAQ:FB) and Twitter (NYSE:TWTR). In addition, Stripe made a deal with Alipay, which is the largest digital wallet company in China, which is a huge opportunity for Stripe and could be for PayPal as well if they were to acquire Stripe.
Closing Thoughts
In closing, while I am currently long PayPal, I see numerous competitive forces arising that will lead to PayPal losing more market share if they do not do something about it. If PayPal does not make a move and stands pat with their current strategy using free cash flow for buybacks instead of fending off serious competition, then I will most likely dump shares of PayPal sometime in the future.
Disclaimer: See here.
Disclosure: I am/we are long PYPL.
I wrote this article myself, and it expresses my own opinions. I am not receiving compensation for it (other than from Seeking Alpha). I have no business relationship with any company whose stock is mentioned in this article.