Cisco (NASDAQ:CSCO) is the worldwide leader in networking and other products related to the communication and information technology. Still seen as one of the high-level "tech" companies that were beaten down by the 2000 bubble, Cisco has now a business model that is flexible enough to meet client needs. Year after year Cisco has been able to stand stronger as a cash flow generator company with growth potential and an attractive dividend yield.
The company reported its latest quarterly earnings and operational results last month. Revenue for 3Q16 (excluding SP Video CPE business) totaled $12 billion up 3% from 3Q15. Net income non-GAAP was $2.9 billion, an increase of 3% YoY, and EPS stood at $0.57, a growth of 6% compared to 3Q15. On a GAAP basis, total gross margin rose to 64.3%, the best result since 2010.
About innovation and establishing a clear strategy for successfully master a challenging market, those are the words of Chuck Robbins, Cisco chief executive officer:
If you look at where we declared when we stated our strategy as around cloud, it really is focused on enabling what we believe to be the long term desire of customers to operate in a hybrid cloud model and we said that we were going to do three primary things. We were going to make sure that we provide the infrastructure to the cloud providers and we have done that... obviously with the top ten web scale providers given the business was up 31%. We also said that we were going to transition our portfolio to be cloud delivered and as a service delivered we are going to make sense over time across the entire portfolio... and now the plans are actually underway on the project to deploy that across the rest of our portfolio although its early days but I think when you look at that deferred revenue of 36% on the balance sheet, that says we are being successful in the second pillar. And then the third pillar was to help our customers with the infrastructure needed to actually take advantage of both private and public clouds or enabling hybrid and when you look at the data center switching portfolio on annualized $4 billion business with new orders growing in double digits I think that customers are driving both and the three pillars of that strategy are working. [Transcript]
In the third quarter, Cisco paid a cash dividend of $0.26 per common share, up 23.8% from the previous quarter. The company has a good dividend history with a yield above 3% over the last 5 years. Presently, the dividend yield has risen to around 3.7%. The forecast of future dividends is very favorable given that Cisco's results are sustained with great cash flow generation.
As of April, 30 2016, Cisco had repurchased 4.6 billion shares for an aggregate price of $95.8 billion since the inception of the stock repurchase program. It has to be noted that the remaining authorized amount for stock repurchases is of $16.2 billion with no termination date. This means that without compromising its acquisition strategy, the company intends to maintain continued EPS growth.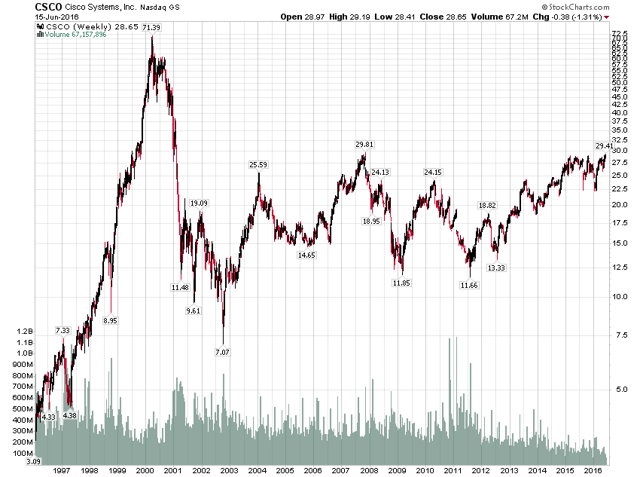 Charts courtesy of StockCharts.com.
As shown on the 20-year weekly chart above, the long-term trading range in place from 2004 until today has been maintained at an extended scale. While not showing any kind of persistent trend, it is true that since 2013 an intermediate uptrend has taken place. However, it was swallowed up by a consolidation pattern since 2015, and is now struggling again to regain upside. What is really amazing is that the level of $30 could never be reached since 2001 although there have been several attempts over the years without success. At present, the company's stock prices seem to be closer to achieving that mark which has become an extremely strong multi-year resistance.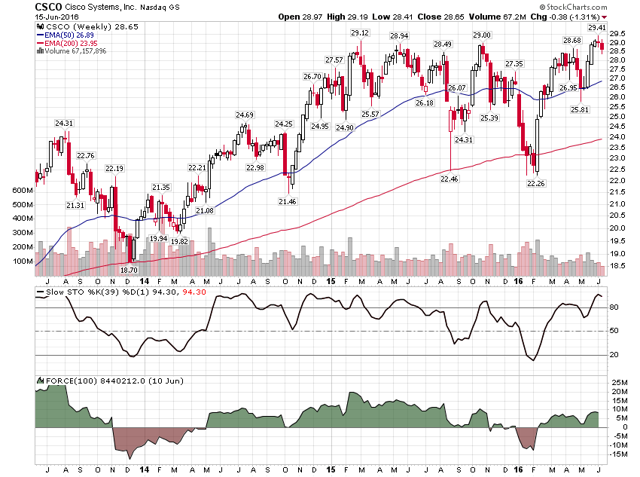 Looking at the 3-year weekly chart above, the long-term indicators are positive and the exponential moving averages show a favorable situation for the possible existence (in the long run) of an upward trend.
In conclusion, I believe that Cisco has a strong position in the market with a good financial situation. On the other hand, it has a highly professional management team and is certainly a cash flow generator.
From now on - as I intend to start from scratch - this is the first company that will be part of my 85/15 Portfolio with an initial position of 100 shares at the closing price of June 15 ($28.65) - a total of $2,865.
Note: This Portfolio has no real money involved. It only intends to be a guide for investors, and expresses my own personal view.
Disclosure: I/we have no positions in any stocks mentioned, and no plans to initiate any positions within the next 72 hours.
I wrote this article myself, and it expresses my own opinions. I am not receiving compensation for it (other than from Seeking Alpha). I have no business relationship with any company whose stock is mentioned in this article.