Gannett (NYSE:GCI) has made news of late with its attempt to acquire Tribune Publishing (TPUB) for $15 per share. Since Gannett spun off from its parent company in mid-2015 as a standalone publishing company, it's been quite active in trying to acquire other publishing companies. Gannett offered to purchase Tribune for $12.25 per share in late April and raised its bid to $15 per share in May. The company also finalized its merger with Journal Media Group (NYSE:JMG) in May. We wrote about the value of Tribune in August, up over 50% after Gannett's recent bid for the company.
Despite the potential shift in the publishing industry through online subscription, Mr. Market still questions the industry's sustainability. The market remains relatively skeptical with a share increase of 8% over the past 12 months and now trade at an acquirer's multiple of 5.63 and P/FCF of 16.42. The stock appears cheap based on numerous valuation metrics, and the changing industry fundamentals give long-term investors a strong reason to give Gannett strong consideration.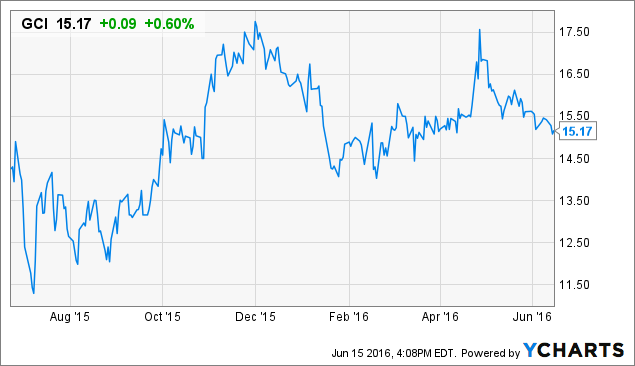 What the deal?
Gannett started 2016 on shaky ground with both revenue and net income down to start the year. The synergies from the recent acquisition of Journal Media Group should flow through to the bottom line by the end of the year. Additionally, expense control and organic growth could help increase top-line results in the coming quarters. Gannett's digital platform continues to be a focus on the company and recently bought a stake in Spirited Media (a digital news company). This is interesting because Gannett needs to continue to take steps to monetize its online platform. We expect Gannett to continue to gobble up companies with expertise in monetizing online platforms. Tribune is only the beginning.
Despite the company's relatively slow start to the year and difficulty monetizing its online presence, it is one of the top newspaper publishers in the U.S. Gannett owns USA TODAY, 92 strong local media organizations in 33 states and Guam, and more than 160 local news brands in the U.K. More than 100 million unique visitors access content from Gannett each month. This is not a small number to laugh at. We expect the company to be around for years to come as this newspaper business continues to churn out excess cash flow for shareholders.
How safe is the business?
To understand the safety of the company, I like to use a few key metrics:
Altman Z-Score (measures the likelihood of bankruptcy w/in two years) of 2.42 indicates the company may be in some form of financial distress. However, the company is not below 1.81, which indicates a company facing bankruptcy risk.
Beneish M-Score (indicated if the company is an accounting manipulator) of 0 suggests the company is not an accounting manipulator.
As we can see above, other than the Altman Z-Score, these are great numbers and help gives us further confidence in the business.
Let's take a look at earnings yield
When investing in any business, it's important to visualize your potential return if you purchased the entire company. Right now, the company is cheap on a number of metrics, trading on a PE of 12.37, P/FCF of 16.42, and EV/EBIT of 8.64. The company also has no debt and almost $200 million in cash. The huge cash pile is likely to be distributed to shareholders through buybacks or dividends.
The company currently has a market cap of $1.77 billion and an enterprise value (EV) a bit lower at $1.58 billion. The reason the EV is lower is that the company has no debt and almost $200 million on its balance sheet. As a potential acquirer, debt is an important part of the equation. This leaves us with a total EV of $1.58 billion.
The company's operating earnings, which are taken from the top of the income statement, are $187 million. In other words, we're paying $1.77 billion for a company with an EV of $1.58 billion and is returning operating earnings of $187 million on that $1.58 billion. This gives investors an earnings yield of 11.83% when we divide the EV ($1.58 billion) by the operating earnings ($187 million).
Bottom Line
The traditional publishing business model has been under attack for some time. Investors have been burned in the past, so it will take time for the publishing industry to regain investors' trust fully. However, I do expect the changing industry fundamentals through online monetization to position the publishers very well over the years.
Because Gannett generates so much free cash flow - about $110 million over the last 12 months - the company is able to buy back quite a few of its shares, and let's not forget the hefty 4.24% dividend yield you are getting paid to wait.
Gannett is positioning itself as the leader in online publication. It's already a stable business, and you have the upside of continue digital monetization, which should help grow the business at a faster rate. The best part is Mr. Market doesn't believe it yet, and this gives us an edge since there is a divergence between perception and reality. It's far and away one of the best values in the market today. It is very rare to see a company trading at such low multiples that generate excess free cash flow, no debt, and positive future growth prospects.
With Gannett now marked down over 15% from its 52-week high in late 2015, this could be a good time for long-term investors to buy shares. The publishing industry is changing - it's time for us to change our opinion.
Notable shareholders:
Carl Icahn
John Rogers
Joel Greenblatt
Data source for all of the above: Investor Presentation
Please share your thoughts in the comments section below as I learn just as much from you as you do from me. It can be a time-consuming endeavor, but I answer all of your comments and questions myself. Your patience and understanding are greatly appreciated. I will get to your remarks as soon as possible.
Disclosure: I/we have no positions in any stocks mentioned, and no plans to initiate any positions within the next 72 hours.
I wrote this article myself, and it expresses my own opinions. I am not receiving compensation for it (other than from Seeking Alpha). I have no business relationship with any company whose stock is mentioned in this article.