Despite having become a dividend payer and implementing its first share buyback program in 2012, Apple (NASDAQ:AAPL) still can't return money to shareholders fast enough.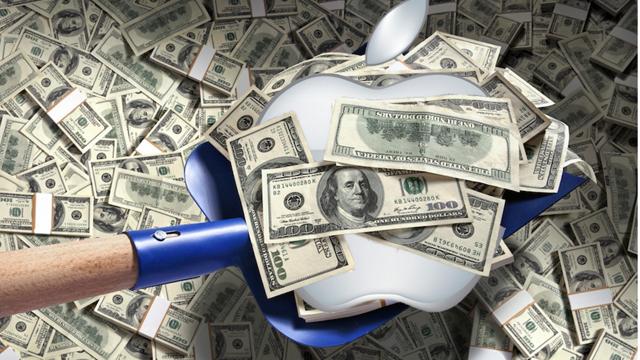 Credit: Elandroidelibre.com
The graph below illustrates the evolution of Apple's net cash position over the past 10 quarters. Notice how the balance has increased 8% from $141.9 billion to $153.1 billion during the period, even though the company still managed to disburse $122.3 billion in dividend payments and share buybacks. Net cash, in fact, grew on a year-over-year basis each of the past five quarters, as Apple generated $72.6 billion in FCF (free cash flow), a measure of cash flow from operations less capital investment, over the period while spending $58.3 billion in dividends and stock repurchases.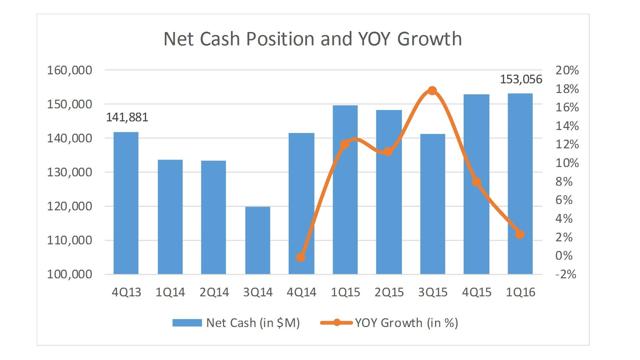 Source: DM Martins Research, using data from SEC filings
Below is another interesting chart that illustrates how Apple has been managing its cash lately. Over the past 10 quarters, the company generated more than enough FCF (25% more, in fact) to cover the dividend and buy back disbursements. Only in three of the past 10 quarters, when the company chose to accelerate repurchases, did Apple generate significantly less FCF than necessary to finance the cash returns for the quarter.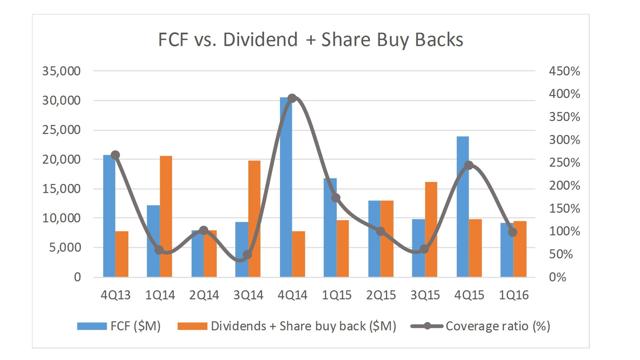 Source: DM Martins Research, using data from SEC filings
The picture is clear: despite the recent drop in revenues, the first in 13 years, Apple still sits on a pile of cash. And not even last quarter's 10% increase in dividend payments, from $0.52/share to $0.57/share, coupled with a $35 billion increase in the buyback authorization, will be enough to put a significant dent on the company's bank account.
Now here's an interesting fact: even though Apple has consistently raised dividend payments every year since 2012 by an average of 11% annually, the company's share repurchase programs have ensured a steady decrease in share count, resulting in total dividend payments having increased only 4% annually over the past two years (from $2.7 billion in 1Q14 to $2.9 billion in 1Q16). Bottom line: it has become increasingly cheaper for Apple to raise its dividend payments on a per-share basis.
What if Apple paid double its current dividend?
Today, Apple offers a dividend yield of 2.3%. Amongst the 10 largest tech companies that pay a dividend (there are seven of them), this is the lowest yield.

Source: DM Martins Research, using data from SEC filings, Yahoo Finance and NASDAQ
Also note, as the table below illustrates, that AAPL is a "top 4" stock within the Big 10 tech peer group in many other key metrics, including short-term EPS growth, 2016 P/E and cash-adjusted PEG (P/E over percentage EPS growth). If Apple were to pay twice the amount of dividends that it currently does, the company would tie with AT&T (NYSE:T) as the highest dividend payer, at 4.7%.
In this hypothetical scenario, AAPL would be a "top 4" stock in all key metrics above. Not only would it be a very cheap stock on a P/E basis (and the cheapest from a cash-adjusted PEG perspective) while still growing EPS at 10%, but it would also become much more attractive for income-seeking investors who might not currently appreciate the company's modest 2.3% yield.
But could Apple afford to double its dividend? I believe it could. The graph below compares AAPL's current net cash position against what it would have been if the company had doubled its dividend payments 10 quarters ago, in 4Q13. Notice that the hypothetical $124.5 billion net cash balance in 1Q16 would represent nearly $23/share, and Apple would still be the most liquid company of the 10 mega-cap tech companies, alongside Cisco (NASDAQ:CSCO). And if it wished, Apple could even approach the dividend hike more conservatively by reducing the pace of its share buyback program to reduce the cash reserve burn.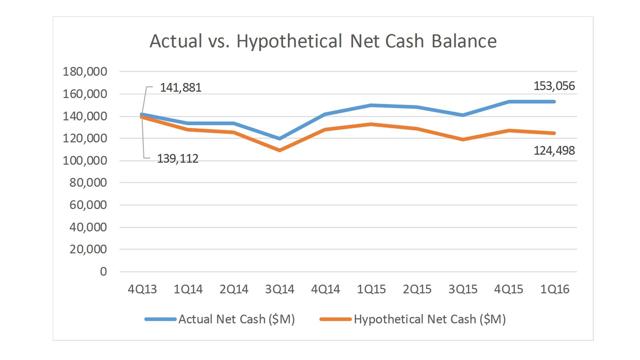 Source: DM Martins Research, using data from SEC filings
In conclusion
Apple has hit a rough patch, with revenues stalling in 1Q16, and investors have taken a step back. I still believe AAPL to be one of the best-value tech names in the market, based on my analysis of the fundamentals. The company sits on a mound of cash, and I think that a more aggressive dividend payment strategy could help to break the inertia in the stock. In my view, management could take the opportunity to announce an "off-season" dividend hike (considering increases usually happen in April of each year) to attract income-seeking investors and give the Street another reason to start liking the stock once again.
Disclosure: I am/we are long AAPL, CSCO.
I wrote this article myself, and it expresses my own opinions. I am not receiving compensation for it (other than from Seeking Alpha). I have no business relationship with any company whose stock is mentioned in this article.