Amazon (NASDAQ:AMZN) had the perfect answer to the potential threat posed by Alphabet's (GOOG, GOOGL) upcoming Google Home intelligent home assistant. Amazon's prompt answer was to just sell a $20-off Alexa-powered Amazon Tap Bluetooth speaker/smart home assistant. In fact, Apple's (NASDAQ:AAPL) alleged upcoming Siri Speaker will also likely get a beat-down from Amazon Echo's cheaper variations.
Deep discounting is Amazon's deadly weapon against any threat to its popular brands of smart devices. Amazon doesn't prioritize making a profit on hardware. All the cheapo Fire tablets, Fire TV console/stick products, and Alexa-powered speakers it sells are mere customer recruitment avenues for Amazon's online marketplace. I also reiterate that Amazon intentionally sells its own products at below cost to reduce the hardware/software revenue of Alphabet and Apple.
Please study the screenshot below, Amazon is obviously not making any hardware profit on the $39.99 Fire Tablet or the $94.99 Fire TV+HD antenna bundle.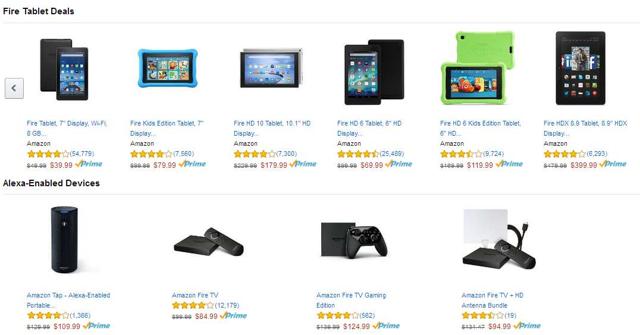 (Source: Amazon)
The major benefit that a $39.99 Fire Tablet gives is that increases the total number of potential repeat customers for Amazon's online store. The other benefit is that it hurts the sales of the iPad and Android tablets. Apple and Google also lose potential customers for their app stores since Fire tablets/consoles are tied exclusively to Amazon's own app store.
This zero-focus on hardware profits is why Amazon's Alexa-powered smart devices will continue to beat any imitators.
Alexa Is The Standard For Smart Home Assistants
Bezos recently revealed that more than 1,000 employees are now working on Amazon Echo and Alexa. That kind of manpower focus strongly says that Amazon wants to protect its big lead on cloud computing and artificial intelligence computing. Smart home assistants like Google Home and Amazon Tap will have to rely on online neural networks to service millions of homes.
I previously wrote that Amazon will likely buy more pricey Tesla GPUs from Nvidia (NASDAQ:NVDA) to build deep-learning computer servers for its enterprise customers. However, I also think Amazon will also allocate many deep-learning computers for its own online Alexa smart voice assistant. Yes, Alexa now touts more than 1,000 skills, up from just 135 last January.
However, the diverse needs of different people means third-party developers will continue to code custom skills for Alexa. Processing all the new skills require Amazon to keep building more powerful server farms for Alexa. I expect that all Amazon-branded devices will eventually be powered by Alexa.
The $39.99 Amazon Fire Tablet can already be called a legit smart home assistant. Alexa is now accessible via a web browser. Anybody with an Amazon ID can test Alexa through their connected and mic-equipped devices at Echosim.io.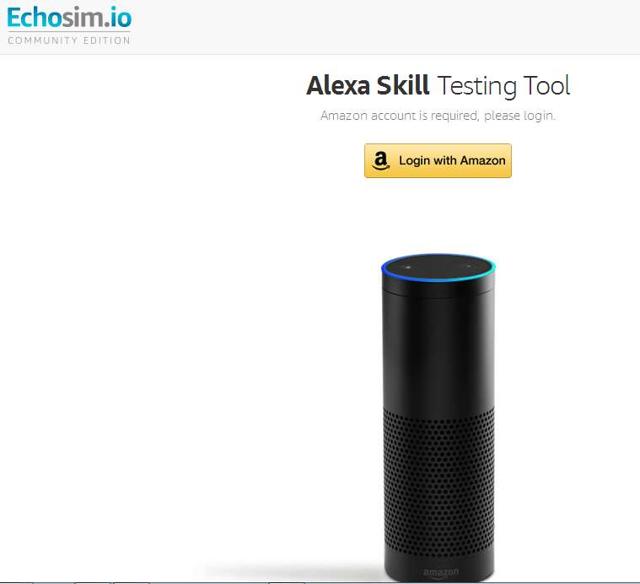 (Source: Amazon)
Everybody should test the browser-based Amazon Echo simulator before they spend for any Amazon Alexa-powered products. Letting people test drive the league-leading artificial intelligence power of Alexa is a masterful marketing strategy. The cheapest smart home assistant available now is still the $89.99 Amazon Echo DOT. A little test drive is necessary to convince more people to trust these kind of deep-learning home appliances.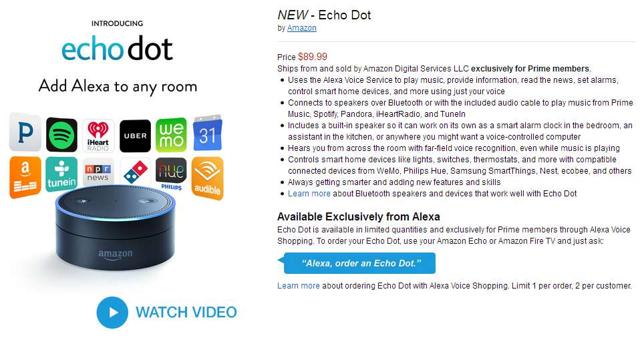 (Source: Amazon)
Conclusion
Alexa-powered devices like the Amazon Echo are key toward persuading more households to rely only on Amazon's ecosystem (rather than iTunes or Google Play Store) for their shopping and entertainment needs. Losing $10 or $15 on a smart home gadget like the Amazon Tap is a small sacrifice. The great Mary Meeker's most revealing Internet 2016 trend warning is that the Alexa-powered Echo is allegedly emerging as a threat to the iPhone.
Without Siri, the iPhone is really just a dumb smartphone. Meeker was smart and clairvoyant when she dared to compare the small (but rising) sales numbers of Amazon Echo against the massive sales of the iPhone. Meeker only wanted to point out that the smartphone industry is slowing down while sales of smart home assistants are just starting to take off.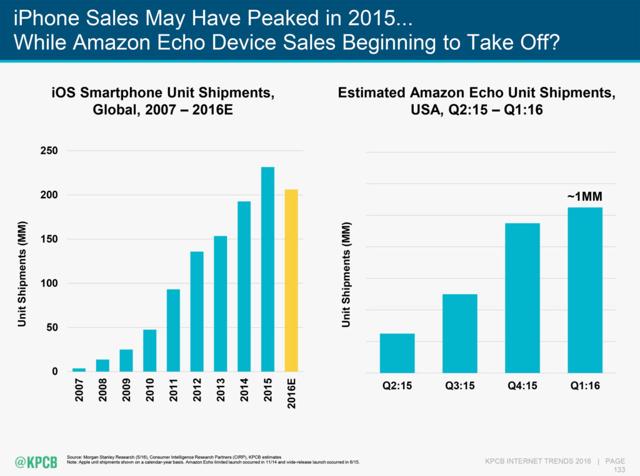 Amazon's stock has had a great one-year return. However, we should still remain long on AMZN because it is the company which kick started the era of voice-powered, machine-learning appliances. Google and Apple failed to see the threat of Amazon Echo last year. They are now relegated to playing catch-up with the real innovator, Amazon.
Bezos and his 1,000-strong Alexa army will crush the imitators. Amazon's reign as the de facto king of smart home assistants will remain unchallenged for many years to come. Amazon can undercut the prices of its rivals. Amazon also has a dedicated development team and proprietary technology to compete with the artificial intelligence platforms of Google or Apple.
Disclosure: I am/we are long AMZN, AAPL, GOOG, NVDA.
I wrote this article myself, and it expresses my own opinions. I am not receiving compensation for it (other than from Seeking Alpha). I have no business relationship with any company whose stock is mentioned in this article.