Financial results for Q1 2016
United Technologies Corporation's ("UTC") (NYSE:UTX) Q1 2016 earnings report has a dual character. While UTC's operating income remained at the same level as in Q1 2015, its net profit fell from $1.43 billion to $1.19 billion this year. Net sales increased by 0.3% from $13.32 billion to $13.357 billion, and the main reason for the loss in net income are associated with unfavorable changes in exchange rates.
UTC runs in four business segments (OTIS; UTC Climate, Controls & Security; Pratt & Whitney; UTC Aerospace Systems) with different areas of business, specifically in the aerospace, construction and defense industries. Asset diversification allows UTC to make profits in any geopolitical and economic environment. For example, the company was able to show satisfactory financial results this quarter because of a 7.7% increase in profits at the Pratt & Whitney division. The increased number of capital repairs in the aircraft industry, in particular, in replacements of jet engines, led to a 19% year-over-year sales growth of commercial air spare parts on the aftermarket.
Other companies showed a drop in sales because of currency devaluation against the US dollar, as well as a decrease in global economic activity. Sales of OTIS, UTC Climate, Controls & Security, and UTC Aerospace Systems decreased by 1.1%, 1.2%, and 1.2%, respectively. UTC's operating profit margin decreased by 1%: from 16.4% to 15.4% of sales. It is necessary to consider the growth of the conglomerate's market capitalization by 1.2%, which can be explained by an increase in capital expenditure, as more capex leads to more sales and cash flows in the long run.
According to estimates, earnings per share will grow quarterly.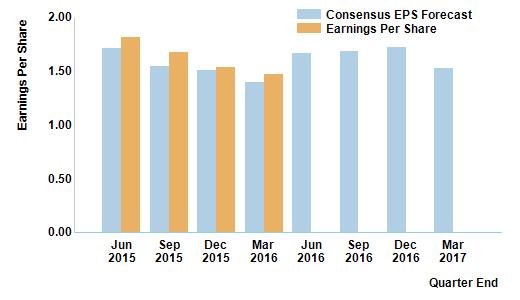 (Source: Nasdaq)
From Q2 15 to Q1 16 quarterly, the actual figures were ahead of projections.
Arguments in favor of immediate purchase.
The surge in sales in the aftermarket of air parts is cyclical and temporary, but Pratt & Whitney fully remedies the situation with by introducing new commercial engines, the "geared turbofans", in June 2016. It has already received about 7000 pre-orders, which indicates the success of 20 years of research and development. In addition, Pratt & Whitney signed a solo contract for the supply of GTF engines for regional jets Mitsubishi, Bombardier C-Series, Embraer E170 and E190 / 195 and Irkut MC-21 and one contract jointly with GE-Safran for Airbus 320neo.
According to management, these engines have better-than-expected fuel efficiency and reliability. This may positively contribute to their sales. Because the "geared turbofans" represent a new generation of engines, they can significantly reduce operating noise and the amount of fuel used. The advantages of using these engines give grounds for assuming that Pratt & Whitney will take a leading position in the air propulsion market by the end of 2016.
UTX has strong long-term relationships with its customers, as evidenced by the fact that it receives 44% of consolidated revenues from maintenance and repair services. Otis receives 60% of revenues from maintenance and repair services, and UTAS nearly 45%. Their customers' attachment, I think, is based on the high quality of products and given services. This may serve as a good basis for value investing.
Monetary and fiscal stimulus conducting currently by countries both with developed and emerging economies in collaboration with the increase in commodity prices contributed to the growth in real estate prices.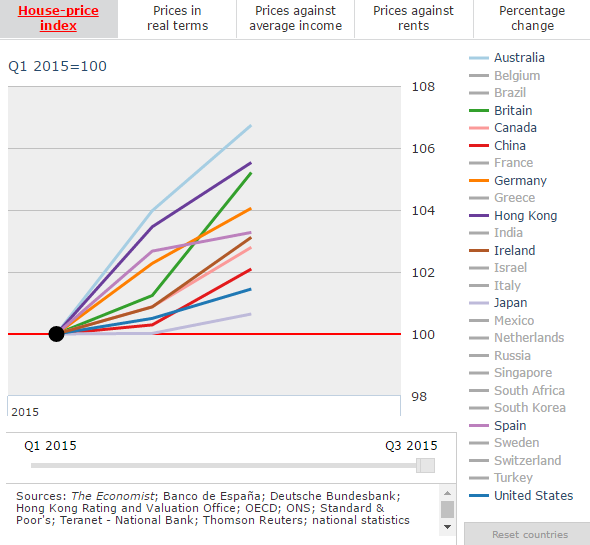 (Source: The Economist)
This trend is leading to an increase in the profitability of new construction, which, in turn, foreshadows growth in orders and revenues, respectively, for the products of OTIS and UTC Climate, Controls & Security. Joint adjusted operating profit amounted to $1,115M from UTC and consolidated adjusted operating profit of $2,081M.
The recent positive dynamics of the oil market serve as a tailwind for UTC. Mainly, the rise of the oil market is pushing up prices for other commodities, and inflation, which contributes to an increase in demand and price for products and services of industrial companies.
Nevertheless, it is important that the above-mentioned increase in prices of goods and services of corporations from the industrial sector started from the beginning of 2016, with oil prices and other commodities. This suggests that it is reasonable to expect significant improvements of UTC financial results when releasing Q2 earnings.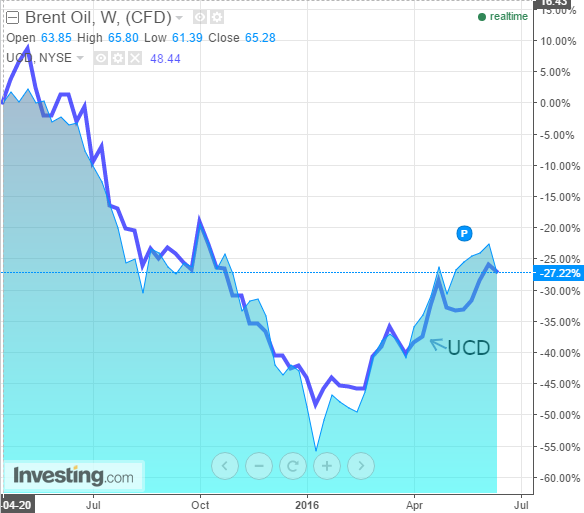 (Source: investing)
The development will be inhibited, mainly because of the increase in expenditures for the factory transfer, but after its completion, the company will begin to show better results than at present because of the reduction in operating expenses.
In February 2016, there was a scandal about the management's decision to close two Indiana plants of the UTC Climate, Controls & Security segment, which were part of the air-conditioning business. These measures will be carried out with the transfer of the segment's factories to Mexico to strengthen their global competitiveness, reduce costs, and increase the return on investment. The procedure, according to management, will begin in 2017 and take three years in total.
Conclusion
A long-term investment in United Technologies Corporation is reasonable because of the company's competitive advantages over its industrial rivals. The company undoubtedly has demonstrated better financial metrics than most of its direct competitors.
However, a rebound in the growth rate of developed economies will definitely serve as a catalyst for a sustainable increase in industrial companies' values, and United Technologies Corporation will be one of the first in line to receive investors' dollars.
Disclosure: I/we have no positions in any stocks mentioned, but may initiate a long position in UTX over the next 72 hours.
I wrote this article myself, and it expresses my own opinions. I am not receiving compensation for it (other than from Seeking Alpha). I have no business relationship with any company whose stock is mentioned in this article.