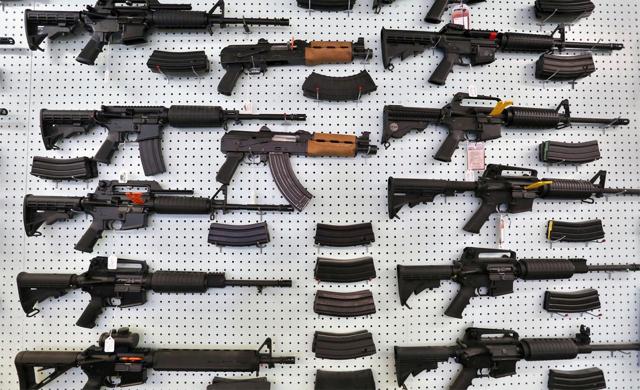 The worst mass incident in American history occurred in the early hours of Sunday morning at the Pulse night club in Orlando, Florida, causing a large loss of life and injury.
Unfortunately, the event is one of many following the one in San Bernardino, California several months ago, the November 2015 incident in Paris and many before that.
As night follows day, these mass events are always reflected in immediate spikes in gun checks for permits for new guns. Local gun dealers are all reporting very large increases in these numbers. Not all, but most gun checks run through the FBI translate to gun sales.
This spike in checks, permits and sales follows an extremely predictable pattern. Investors attuned to this pattern were able to pick up large profits in the most recognizable names in the industry, those gun manufacturers who benefit from the increased sales.
Recognizable Patterns Identify Profitable Opportunities
On Monday morning, June 13, in the aftermath of this latest tragedy, the pre-market indicated soaring prices for both Smith & Wesson Holding Corporation (SWHC) and best of breed, Sturm, Ruger & Co. Inc. (NYSE:RGR).
The previous Friday, SWHC had closed at $21.41. Monday, it opened at $23.40 for a gain of 9.3%. By the close it traded at $22.88 on 6 times normal volume, for a gain of 6.87% on the day. Profit taking set in on Tuesday, dropping the price 4.7%.
Last Friday, RGR closed at $57.41. At the open of trading on Monday, it soared to $61.95 for a 7.9% gain. Later in the day it rose as high as $63.57, sporting a 10.73% out-sized gain. It closed Monday at $62.29, holding a goodly portion of the gain, at 8.5%. Tuesday, profit taking took back 3.5% of the gain.
Actionable Trade? Yes and No…
Some investors regard investing in these types of companies as unseemly, especially at a time when the country is emotionally laden. Others rail against investing in tobacco companies or any industries they regard as "sin" purveyors.
Though it may appear unseemly to some, these tragic events are some of the best times to take advantage of event driven strategies.
Investors who shorted BP p.l.c. (NYSE:BP) years ago when their deep sea oil platform exploded killing 11 workers and flooding the ocean with millions of barrels of oil, profited handsomely from that tragedy that lasted for months and saw BP's price implode.
Regardless of the outcome of the latest investigation, this incident is but one of 150 that have occurred since the Newton, Connecticut event, the one in San Bernardino, California,and Paris, France before that.
These attacks, occurring so frequently, are bound to light the fire within many of us to fight or flight.
That fight or flight instinct is so powerful that these types of incidents invariably lead to higher gun sales as folks look for ways to protect themselves and their families.
Research indicates gun purchases go up after mass shootings
Reports give evidence that applications for firearms rose after other mass shootings in Aurora, Colorado and Phoenix, Arizona as people seek guns as a means of protecting themselves, their homes and families.
In the wake of mass shootings in Paris, Colorado Springs and San Bernardino, Calif., Americans are once again arming themselves -- stocking up on guns and ammunition, bringing weapons into their daily routines and requesting refresher courses from firing ranges.
The Massive Effect: Gun Sales Surge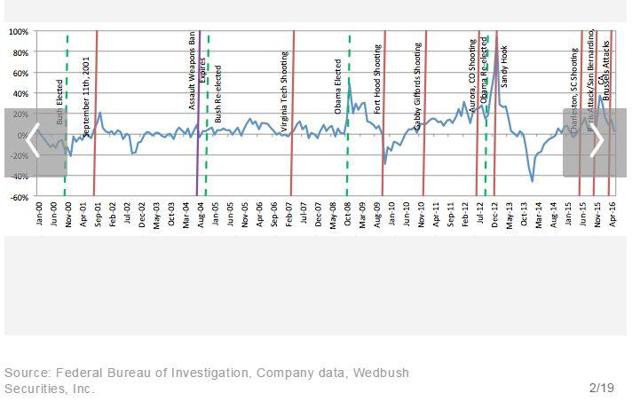 This graph is just another way to visualize the tight, positive correlation that exists between tragic events with the consequent surge in gun sales. One is causative of the other.
After 9/11 gun sales surged 20%. When the assault weapons ban expired in August of 2004, people felt less urgency to run out and buy the latest weapon. Now that they were legal again buyers could take their time and sales leveled off.
Following the Virginia Tech incident in February 2007, sales soared about 15%. After Barack Obama was elected in November 2008, sales spiked some 55%. The president is referred to many in gun circles as the best gun salesman the country has ever seen. People were afraid that he'd be able to follow through on his platform position to curtail gun ownership through more rigid background checks. They ran to their local gun dealers and cleaned the shelves of any merchandise they could get their hands on.
Fear ebbed till August 2009, when an army psychiatrist turned on his fellow soldiers at Fort Hood. Sales resumed their uptrend from that event, through the assault on Congresswoman Gabby Gifford in November 2010, and the movie theater incident in Aurora, Colorado in July 2012, moving from -30% to +30%, a range of 60% over this time period.
From this level, sales shot up more than 60% again upon the re-election of President Obama and the event in Sandy Hook. The events in Paris and San Bernardino in November, 2015 and the incident in Brussels in April of this year brought another spike of near 40% in sales.
It is clear. The correlation between these events and the consequent increase in gun sales is incontrovertible and one that can be traded.
Attempts at gun control are all a part of the play that causes fear in the populace. They are fearful that they are about to be deprived of their 2nd amendment right to buy and bear arms. This very fear drives gun sales, just as predictably as the attacks that precede the outcries for more gun control.
From the New York Times:
Thinking of both self-protection and the threat of new gun laws that could follow the San Bernardino incident, much of the country is rushing toward guns rather than away: Gun shops from Texas to Maine have all recently reported increased gun sales, and in some cases, sheriffs have even urged residents to arm themselves.
Recent Misleading Reports on Gun Checks
A report in May on gun checks by the FBI came out and scared investors witless. RGR stock went down around 4% one day, then 6.7% the next. SWHC's stock price reflected a similar reaction.
The NIIC report announced that gun checks run through the FBI before a sale is approved had fallen 13% from April's sales level.
Further research showed that this is simply a seasonal pattern that occurs, year in and year out. Sales fall in April, May and June, and then pick up in the following months.
Take a look at this chart from the FBI of firearm background checks: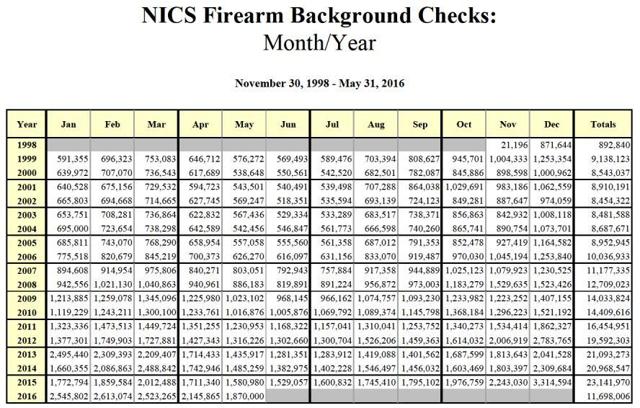 Though gun checks fell in May of this year compared to April of this year, when compared to May of last year they were up about 18.2%. If you look at each month's numbers and compare them to last year's numbers, and the number of checks from previous years you'll quickly see that each year we've seen a substantial increase in gun checks, without fail. With this latest mass shooting, we can be sure that this pattern will hold, and comparable year over year figures will be up quite substantially. This is another pattern that can be counted upon.
Seasonal Factors At Work
Some seasonal factors that may affect a fall-off in gun permit checks (and gun sales) is the fact that hunting season is over in most parts of the country. In other areas, it's just too hot to sit in wait in the sun, waiting for prey to hunt.
Fishing season is in full swing. Hunters and shooters lay down their arms and pick up their rods for some recreational hunting on the water.
Actionable
The company best positioned to profit from the expected increase in sales activity is Sturm, Ruger & Co. Inc.

Shares of RGR were trading Wednesday around $58.71, down 25% from its 52 week high of $78.09. Two months ago this stock dropped 8% on the news that regulators were seeking to impose standards of disclosure on gun manufacturers. Their beef concerns RGR and SWHC failure to disclose to investors possible repercussions of liabilities from lawsuits from the use of their products. This threat affected SWHC's stock as well, causing a 10% one day slide.
It is this very volatility that provides opportunity for long-term investors to buy value on the cheap. This temporary compression in price adds a margin of safety to the capital committed to the investment.
"In an open letter to the SEC on Tuesday, New York Public Advocate Letitia James accused Sturm Ruger of failing to tell investors about financial risks related to gun violence. James said in part in the letter, "We can and will use every tool at our disposal to address the devastating impact of gun violence in our country.""

Source Investor's Business Daily
This obstacle will prove only temporary as RGR lawyers respond with the proper investor disclosure and will have no affect on the company's business going forward. The fundamental business model is intact, revenues and earnings will increase, especially in view of the latest attack in Orlando, and so will the dividend.
Since the stock is still down considerably from its 52 week high, and the dividend offers a 2.45% yield, I believe there is still decent upside left in the stock. Sales of their guns will continue trending upward as these latest attacks have become a seemingly daily occurrence and continue to take center stage in the media and in the mind of the populace.
To gain some of these better timed entry prices that enable me to receive higher yield and income I've built some digital utility tools, the Real Time Portfolio Tracker and the Watch List Real Time Tracker that work in real time to identify them.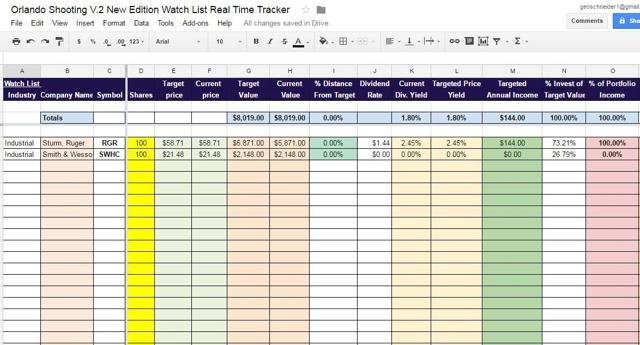 The Watch List Tracker allows me to track possible portfolio candidates. It reveals that 100 shares of RGR would cost me $5871 at the targeted price. The dividend of $1.44 would bring us $144 of annual income on the 100 shares and our yield would come to 2.45%.
SWHC, in comparison, would cost us $2148 for a 100 share position. Because it carries no dividend we would derive no income from it and the yield, as show in column L is, appropriately, zero percent.
If we chose to buy both companies to spread our risk a bit, our total cost would come to $8019 and we'd receive a blended yield of 1.80%. Column O reminds us we are receiving 100% of income from RGR and 0% from SWHC.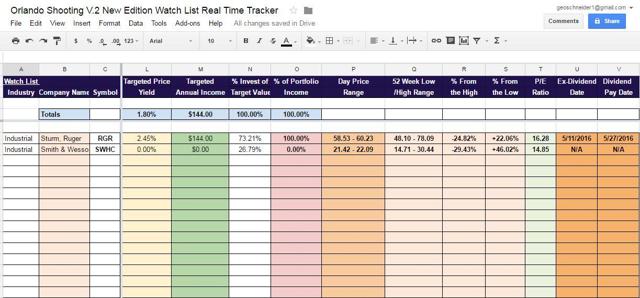 Our tickers are conveniently locked, so when we scroll to the right to observe and study the other available metrics, they stay in place for easy reference. Column P reveals a very wide swing in price on Wednesday, ranging from a low of $58.53 to a high of $60.23. A purchase at $58.71 would have secured a large discount of 2.5% from the high earlier in the morning and a 25% discount from the 52 week high. This price compression is what made the enhanced yield at 2.45% possible.
Both gun manufacturers are currently trading near the S&P average P/E ratio. SWHC, at 15 is presenting a bit more value presently than RGR trading at a P/E of 16.3. Yet SWHC seems to have gotten further from its 52 week low than RGR, trading 46% above its low while RGR is trading currently at only 22% from its low. If I had to choose one over the other, these factors would enter into my decision.
Lastly, columns U and V let us know that we've passed the ex-dividend date for RGR in May. If we add 3 months to that date (it pays quarterly) we know that in order to capture the next upcoming dividend we would have to buy RGR before August 11, 2016 to qualify to receive it. If the purchase is for a tax-deferred account such as an IRA, we would keep this date in mind, knowing that it presents no tax consequences to us to receive it. We are reminded that SWHC pays no dividend as it indicates N/A in that column.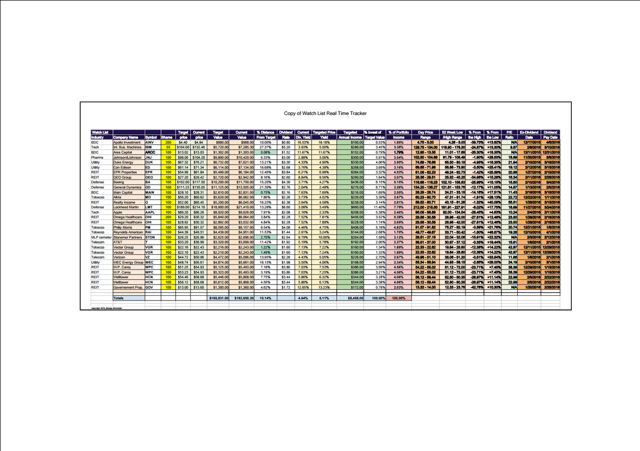 Real Time Portfolio Tracker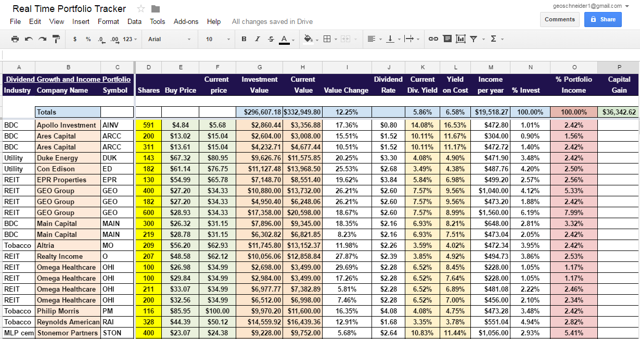 Real Time Portfolio Tracker aids me with portfolio management in various ways. Since I am very interested in buying positions in such a way that each constituent produces an equal amount of income, I can consult those columns that reflect income percentage production to determine what positions need fattening up and which positions may need to be trimmed.
Equal income production introduces a powerful risk mitigating factor for an investor focused on income, as I am. If one out of 20 of our portfolio constituents freezes, reduces, or even eliminates the dividend entirely, the very maximum damage to income will come in at 5%. As soon as a dividend offender commits such an act, we can replace it with another more reliable name and sometimes wind up with even higher income than initially, before the cut.
Connecting to Dividends With Incremental Entries
In an effort to stay connected to our portfolio dividend income and the successful stages of growth of that income, I'll enter our positions in both the public Fill-The-Gap Portfolio and subscriber portfolio into the Dividend Growth and Income Spreadsheet. It keeps me focused on my bottom line of producing income. When dividends are raised, I'll enter that into the assigned column. My algorithms then compute for me my new income on each portfolio constituent, the new income when a raise occurs, the yields, the increased percent of income and total portfolio income. This focus helps keep me on track toward my goal of building and growing income.
Dividend Growth And Income Spreadsheet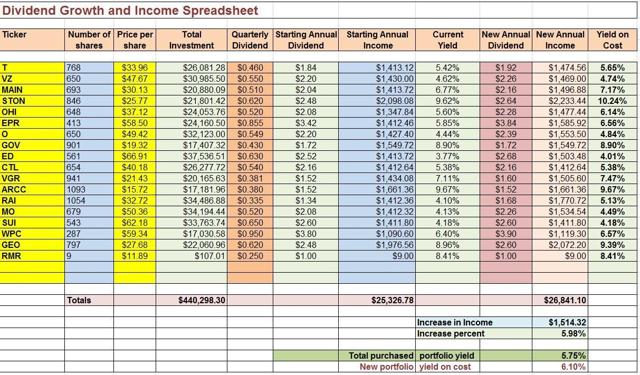 Buy Alert:
For investors interested in starting a position in this gun manufacturer or adding to a current holding at $58.71, we targeted the stock for a 2.45% yield. Though this is decidedly below our overall current portfolio yield of 6.16%, it was determined there is a good amount of upside left in the stock at this price and a low dividend payout ratio of just 33% leaves a lot of room for the company to raise dividends in the future.
After doing their own due diligence, readers wishing to proportionately emulate FTG Portfolio trades for their own portfolios use the "My FTG Mirror Calculator" or the "My RODAT Mirror Calculator" to simplify their task.
With the touch of a button, readers know exactly how many shares to buy if they wish to mirror the FTG Portfolio. In real time, it indicates the current price of the stock, the current dividend and yield, how much the purchase will cost, and how much dividend income the new purchase will produce annually. All of these metrics are updated on a real-time basis all day long.
When the next quarterly earnings are announced in July, there should be a decent pop again as the market is able to translate the beneficial effect of this latest tragedy on sales and earnings.
My FTG Mirror Calculator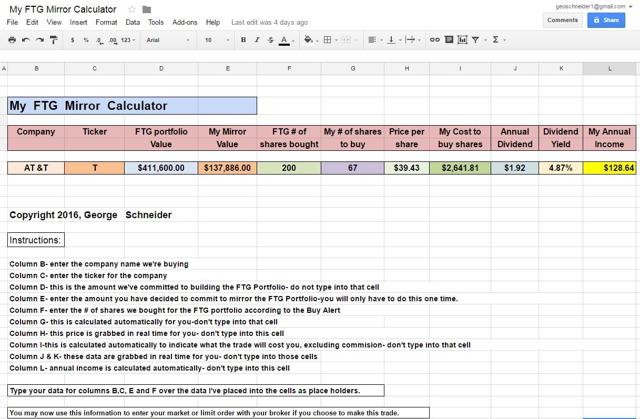 Ten years of RGR: Price, Dividends and Payout ratio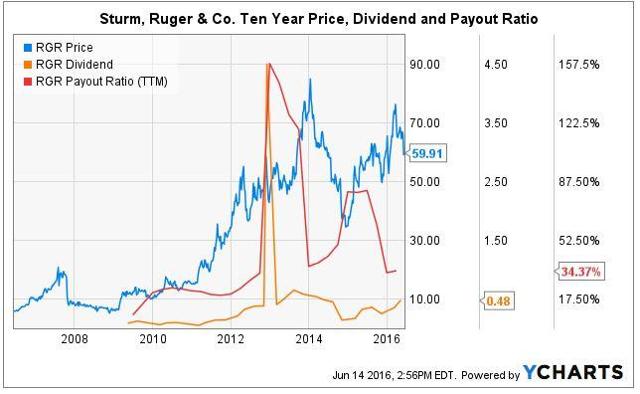 Over the last 10 years, Sturm, Ruger's price has been working steadily higher. Climbing along with it has been its dividend payments.
The company has been paying out a greater dollar amount of dividends the last few years, while the payout ratio has declined to 33%. This would indicate a company with greater firepower with a greater ability and propensity to raise dividends in the future. In addition, this low payout ratio contributes to a higher margin of error as regards the stock price and future dividend payouts.
Since 2011, RGR has been paying a bumpy stream of dividends to shareholders, but this has been improving of late. It now sports a current yield of 2.45%. Robert Allan Schwartz's website reveals a compound annual growth rate in the dividend going back to 1980 through 2015 of 8.54%.
Business Summary
"Sturm, Ruger & Company, Inc. designs, manufactures, and sells firearms under the Ruger trademark in the United States. The company offers single-shot, autoloading, bolt-action, and sporting rifles; rimfire and centerfire autoloading pistols; single-action and double-action revolvers; over-and-under shotguns; and accessories and replacement parts, as well as manufactures steel investment castings and metal injection molding (MIM) parts. It sells its firearm products through independent wholesale distributors to commercial sporting market; and castings and MIM parts directly or through manufacturers' representatives. The company also exports its firearm products through a network of commercial distributors and directly to foreign customers comprising primarily of law enforcement agencies and foreign governments.

Courtesy of Yahoo Finance
Event Driven Strategies Present Opportunity
As investors, we can remember the old saw; "Be greedy when others are fearful".
In this case, the fear that is welling up in our communities in response to the latest events can be viewed from the perspective of an actionable, profitable trade.
It is this fear that will percolate throughout the populace and generate an inordinate amount of gun sales, both here in America and abroad.
Bottom Line
Fear among the populace has driven many folks to take matters into their own hands. As they arm themselves in increasing numbers, this can only feed the bottom line of gun manufacturers, standing ready to fill that demand.
As investors, we can arm ourselves with stock from these companies and profit from this burgeoning trend.
The Fill-The-Gap Portfolio
I began writing a series of articles on December 24, 2014, to demonstrate a real live construction and management of a portfolio dedicated to growing income to close a yawning gap that so many millions of seniors and near retirees face today.
The beginning article was entitled, "This Is Not Your Father's Retirement Plan." This project began with $411,600 in capital that was deployed in such a way that each of the portfolio constituents yielded approximately equal amounts of yearly income.
The FTG Portfolio Constituents
Constructed beginning on 12/24/14, this portfolio now consists of 19 companies, including AT&T, Inc.,(NYSE:T) Altria Group, Inc., (NYSE:MO), Consolidated Edison, Inc. (NYSE:ED), Verizon Communications, Inc. (NYSE:VZ), CenturyLink, Inc. (NYSE:CTL), Main Street Capital Corporation (NYSE:MAIN), Ares Capital Corporation (NASDAQ:ARCC), Reynolds American, Inc. (NYSE:RAI), Vector Group Ltd. (NYSE:VGR), EPR Properties (NYSE:EPR), Realty Income Corporation (NYSE:O), Sun Communities, Inc. (NYSE:SUI), Omega Healthcare Investors (NYSE:OHI), StoneMor Partners LP (NYSE:STON), W.P. Carey, Inc. (NYSE:WPC), Government Properties Income Trust (NYSE:GOV), The GEO Group (NYSE:GEO),The RMR Group (NASDAQ:RMR) and Southern Company (NYSE:SO).
Fill-The-Gap Portfolio near the close, June 15, 2016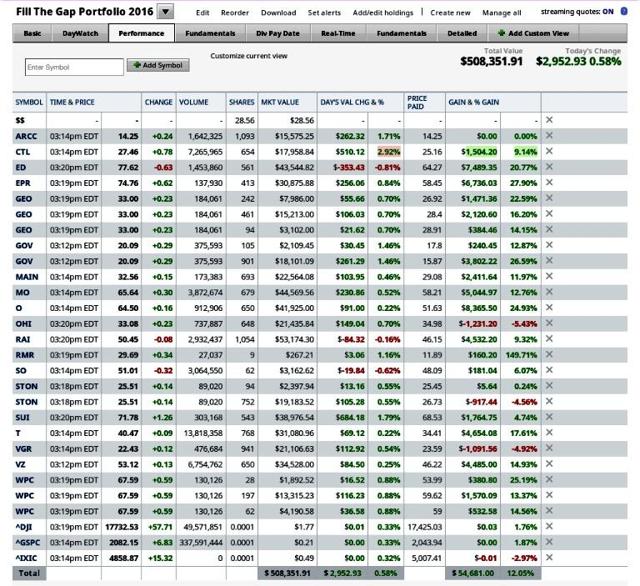 FTG Recap
Currently, the FTG is throwing off $27,305 in annual income, which is$165.00 greater than last month. When added to the average couple's Social Security benefit of $28,800, we have, in only 17 months' time, significantly exceeded our goal of filling the gap between SS income and a comfortable $50,000 retirement. In fact, our total income between these two sources is now $56,105, which, again, is $165.00 more than last month's income. This is due to the dividend increases we received this month and our reinvestment of dividends into our new position in Southern Company shares and the new dividend income attendant to this purchase. We are now in hailing distance of our dividend income exceeding Social Security benefit income.
We have experienced no cuts, no freezes and no elimination of dividends in 17 months of portfolio management. On the contrary, we have enjoyed a regular stream of dividend increases, more than enough to keep us comfortably ahead of inflation.
With its beginning value of $411,600 and the addition of a $6,500 IRA contribution for 2015 and a $6,500 IRA contribution for 2016, total asset contributions come to $424,600. The portfolio has grown to a value of $508,352. This represents capital appreciation of 19.72% in just 17 months.
$508,352 - $424,600 = $ 83,752 capital appreciation
$ 83,752/ $424,600 = 19.72% percentage gain
This year alone, the FTG has grown $54,681 in value, or 12.05%, while the Dow is up only 1.76% and the S&P 500 is up just 1.87%. Accordingly, the Fill-The-Gap Portfolio has produced a return almost seven times greater than the return on both the Dow Jones Industrial Average and the S&P 500 Index.
We are currently offering a free, two-week trial of my premium subscription service. To learn more about it, please click this link:
Retirement: One Dividend At A Time
Author's note: Please consider following me in real time. This will enable you to receive an email the moment any of my articles are published on Seeking Alpha. Just click the down-arrow next to the "Follow" link above this article title, and check the boxes for "Follow this author" and "Real-time alerts on this author."
Please don't keep me a secret. I'd appreciate it if you forwarded this article to your friends, colleagues and family who you think might find this work interesting and something they might benefit from.
If you found this article, the concept and investment results interesting and intriguing, I invite you to read the other articles in this series. Stay tuned for further articles that will introduce additional sectors and names to further diversify a portfolio for continued ballast and mitigation of risks to any one sector.
Should you be interested in reading any of my other articles detailing various strategies to enhance your returns on a dividend growth portfolio, you will find them here.
As always, I look forward to your comments, discussion and questions.
Disclaimer: This article is intended to provide information to interested parties. As I have no knowledge of individual investor circumstances, goals, and/or portfolio concentration or diversification, readers are expected to complete their own due diligence before purchasing any stocks mentioned or recommended.
Disclosure: I am/we are long ALL FTG STOCKS.
I wrote this article myself, and it expresses my own opinions. I am not receiving compensation for it (other than from Seeking Alpha). I have no business relationship with any company whose stock is mentioned in this article.