Over the last two years, the SPDR S&P Bank ETF (NYSEARCA:KBE) returned 22% in 2010 and -23% in 2011 while the S&P 500 (NYSEARCA:SPY) returned 14.8% and 2.1% respectively. Through the financial crisis, bank equities have become a high beta function of the broader market.
This makes intuitive sense given both these financial institutions role of channeling credit through the economy, and their highly levered balance sheets. A bank with ten percent equity capital relative to its assets would be considered well capitalized while an industrial company levered ten times to one would be considered distressed. Banks' traditional model of conservative lending to earn a net spread on its loans has come under pressure in the financial crisis, and caused the equityholder's claim on the residual cash flows from this spread-based lending exceedingly less certain.
It makes further sense that understanding which of these banks are more sensitive to market movements and whose returns have been exceedingly variable relative to other banks can give investors insight into which banks are poised to outperform in a market rally or underperform in a market selloff.
Taking the top twenty banks by current market capitalization, the standard deviation of their monthly returns from pre-crisis (January 2007) to current was rank ordered. These twenty banks were then grouped into a high beta (relatively more sensitive to market movement) and low beta bucket.


In 2010, the broad market rally saw banks outperform on average as the bank index returned 23% versus the total return of the S&P 500 at just under 15%. The higher beta banks, those with a greater variance of trailing returns, outperformed the lower beta banks as well. On an equal weighted basis, the high beta banks outperformed the market by over twenty-seven percent for the year. Nine of the ten banks produced positive returns with eight of those banks outperforming the broader market. The low beta banks only marginally outperformed the market with equal-weighting in 2010. Using year-end 2009 market capitalizations, the cap-weighted outperformance was less impressive, but this can be explained entirely by the underperformance of Bank of America (NYSE:BAC), the only high beta bank with a negative return.
The trend was reversed in 2011 as banks underperformed the broader market (-23% return of the bank index versus +2% of the S&P 500). High beta banks underperformed both the market and the bank index on both an equal and capitalization weighted basis. Low beta banks also underperformed the broader index, but did outperform the bank index and the high beta banks.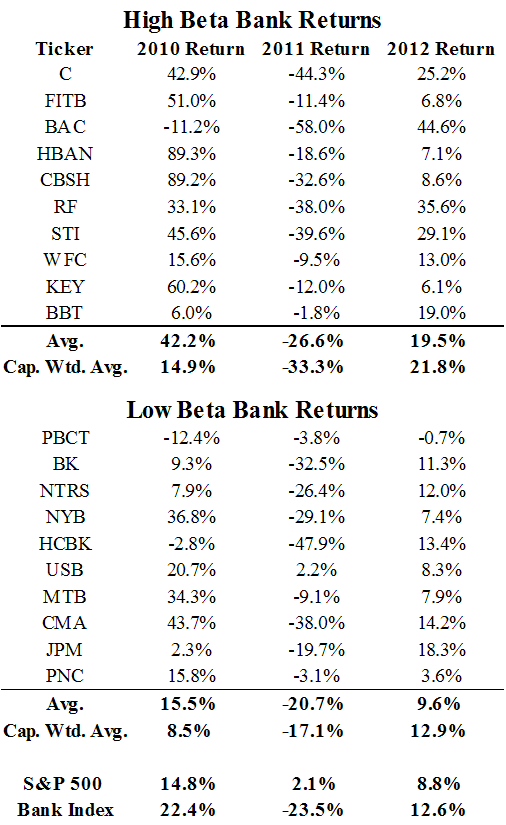 The trend in 2012 was reversed again as the market rally has seen high beta banks race to substantially positive returns early in the year. The high beta banks have outperformed low beta banks, the bank index, and the broad market. If you believe that 2012 is going to be a strong year for equities, then follow the momentum of the high beta bank trade. If you believe that markets are overbought relative to still looming tail risk given the weak and uncertain macroeconomic global backdrop, then expect banks to underperform generally with the high beta banks leading the selloff.
Banks Used in Analysis (Sorted Descending by Current Market Cap)
Wells Fargo (NYSE:WFC)
JP Morgan (NYSE:JPM)
Citigroup (NYSE:C)
Bank of America
US Bank (NYSE:USB)
PNC (NYSE:PNC)
Bank of New York Mellon (NYSE:BK)
BB&T (NYSE:BBT)
Fifth Third Bank (NASDAQ:FITB)
Suntrust (NYSE:STI)
Northern Trust (NASDAQ:NTRS)
M&T Bank (NYSE:MTB)
KeyCorp (NYSE:KEY)
Regions Financial (NYSE:RF)
Comerica (NYSE:CMA)
New York Community Bancorp (NYB)
Huntington Bancshares (NASDAQ:HBAN)
People's United Financial (NASDAQ:PBCT)
Hudson City Bancorp (NASDAQ:HCBK)
Zion's Bancorporation (NASDAQ:ZION)
Disclosure: I am long SPY.