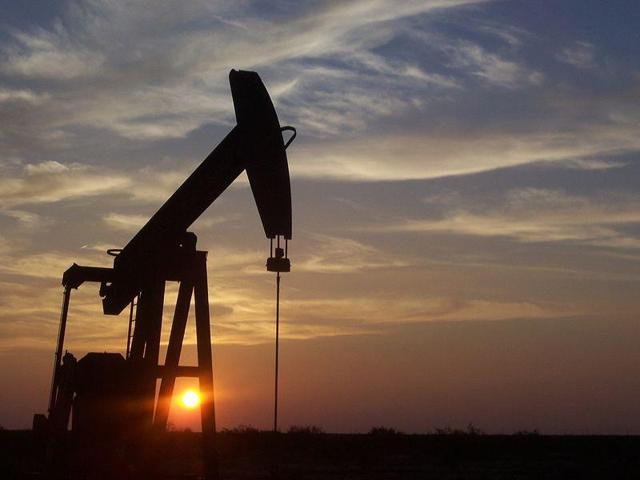 Source: Stock Photo
Pioneer Natural Resources (NYSE:PXD) agreed to acquire 28,000 acres from Devon Energy (NYSE:DVN), resulting in what I consider a win-win for the two companies.
It provides an additional buffer for Devon if the price of oil remains lower-for-longer, while increasing the amount of capital it can spend on its top quality assets. For Pioneer, it allows the company to use its existing horizontal wells to tap into oil and gas at some of the new assets, because they're connected to existing acreage owned by Pioneer. That'll allow the company to quickly and efficiently ramp up production there.
Pioneer announced a public offering of 5.25 million common shares to finance the $435 million deal.
The sale by Devon brings the recent total to $858 million, with overall divestitures for 2016 already at $2.1 billion.
The company is looking to put most of its capital into the Stack formation in Oklahoma and the Delaware Basin. Those two areas are able to produce at a profit even with price of oil where it's at now.
Rearranging of shale assets
One of the things I've noted for some time is the shale industry isn't going to go anywhere; nothing can stop its growth, it can only be slowed down. This deal between Pioneer Natural Resources and Devon Energy is a good example of that.
The changes coming from a number of deals like this are actually strengthening the industry because of the enhancement of key and strategic locations, and of course the bolstering of balance sheets and increase in capital to spend on more productive projects.
These are different than assets sold in order to pay off maturing debt, but even in those cases the assets are put to much better use, which makes the industry stronger as the weaker players fall by the wayside.
In a sense, in a deal like this Pioneer is acting like a de facto bank. With credit markets tight with shale oil because of high debt loads and a weak oil price, it isn't surprising to see these types of deals being made. There will be more to come.
That means there will be more share dilution in the months ahead, and the reluctant sale of assets that wouldn't have been sold under stronger market conditions. The Permian assets sold by Devon are being identified as "non-core" assets, but I don't think the company would have sold them if it didn't have to.
This also reveals how the assumption "there won't be much capital available to spend on increasing production" is a wrong conclusion. The reason that assumption was made was because the market, in general, looked at conventional financing from banks and other financial institutions as the main source of capital.
Not only will Pioneer be increasing production from the additional assets, but Devon will be able to do the same with its profitable wells. That means there will be more supply coming in the months ahead. I see this as a pattern that will result in production being more resilient from U.S. shale producers over the next year.
Upside and downside for Pioneer Natural Resources
There are two key benefits Pioneer is getting from this deal: more recoverable resources and the use of some of the acquired acreage as a bargaining chip for other desirable properties.
On the resource side, some of the land it's going to work is adjacent to its existing acreage, which means it can use existing horizontal drilling to extend it to new oil and gas deposits. Being more efficient and lower-cost, money is saved on the operational side and it can do this without the need to start from scratch, saving more money.
The company expects to achieve a return of over 50% internal rates of return on the new wells before taxes.
With the added acreage, combined with its expectation oil will be stronger, Pioneer has plans to boost the number of rigs it operates from 12 to 17 from September through November. Under that assumption, it estimates it'll increase production growth during 2017 in a range of 13%-17%. Minus the acquisition, it had a production growth projection of 12% for the year.
According to the company, it is going to use approximately 13,000 of the acres acquired to use in trade for more property in the Midland Basin. It wants to acquire assets that are adjacent to its existing assets in order to employ its horizontal drilling on the wells.
The downside of the deal will be the dilution accompanying the 5.25 million shares added to raise capital. Underwriters also have the option to acquire as much as 788,000 more shares.
With this type of property, especially that located next to existing acreage, I see the pros easily outweighing the cons here. The caveat is where oil prices end up going in the months ahead. If they underperform expectations, it could weigh on the performance of the company until a sustainable rebalancing drives up oil prices.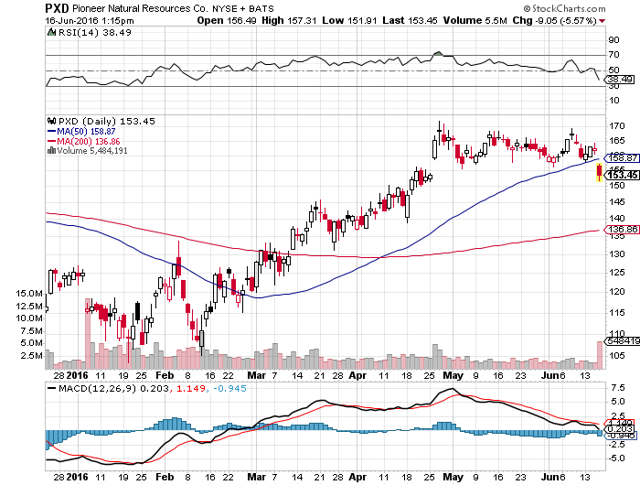 Source: StockCharts.com
Value to Devon
The value of this deal for Devon is the same as it has been for the other deals made in 2016, which as mentioned earlier, has reached $2.1 billion.
CEO David A. Hager said this about the allocation of the capital raised:
At least two-thirds of our asset sales proceeds are expected to be used to further strengthen our investment-grade balance sheet, while one-third are targeted for reinvestment in our best-in-class U.S. resource plays.
That means about $1.4 billion will be applied to its balance sheet and the remaining $700 million to investing in production. Its high-quality wells in the Stack formation in Oklahoma and the Delaware Basin will receive the bulk, if not all of that capital. That means the company will leverage its top producing wells to generate the best outcomes. In 2016, about $200 million will be allocated to those regions. That will bring total capital expending for the year to about $1.3 billion.
As a result, the production outlook for 2016 is there will be about 7,000 barrels per day added to output, bringing overall production for the year to between 540,000 and 560,000 bpd.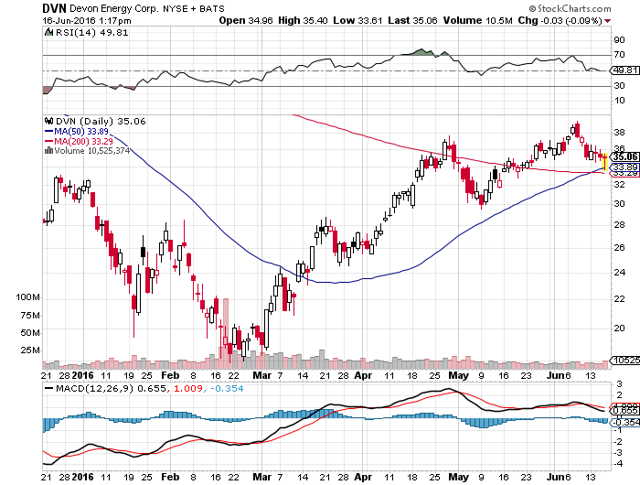 Source: StockCharts.com
Conclusion
This deal is a good one for Devon and Pioneer. Devon has shored up its balance sheet while boosting production. Those companies able to generate earnings while the cost of oil is lower, will easily outperform those relying on the price of oil moving up in order to get them out of their troubles; that assumes the higher cost, upstream companies are able to survive.
On the part of Pioneer, I like that it decided not to take on more debt to make this deal.
Existing shareholders won't like the dilution, but I think they'll be more forgiving when they see the long-term value of the added resources.
In the short term, Devon will probably get a stronger boost to its share price because of the improvement in its balance sheet. Further out, even though Devon will be able to produce at a lower cost because of it targeting its premium wells, Pioneer will be able to extract oil at a lower cost because of the location of the property it acquired in relationship to its existing acreage.
This is a great deal in general, because it takes the same resources and allocates them in a way they can be produced at lower cost without either company taking on more debt. That's why it's a win-win for both of them.
Disclosure: I/we have no positions in any stocks mentioned, and no plans to initiate any positions within the next 72 hours.
I wrote this article myself, and it expresses my own opinions. I am not receiving compensation for it (other than from Seeking Alpha). I have no business relationship with any company whose stock is mentioned in this article.