Kroger (NYSE:KR) reported 2016 Q1 earnings on Thursday with EPS of $0.70 beating Wall Street expectation of $0.69. While revenue missed street expectations, Kroger still delivered stellar results. The article below will do a deeper dive into the company's operating metrics to show how Kroger is continuing to win in retail and for investors.
Sales Growth & Composition
Kroger reported identical-store sales increase of 2.4%; the 50th straight quarter the company has increased comparable-store sales. Kroger continues to increase same-store sales faster than peers Wal-Mart (NYSE:WMT) and Target (NYSE:TGT).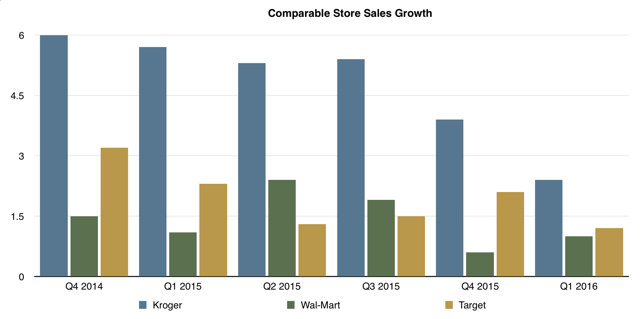 (Sources: Kroger, Target, Wal-Mart)
It is important to note that unlike Target and Wal-Mart, Kroger stores predominantly sell groceries and not general merchandise. Identical-store comparisons include the effects of price inflation and price deflation. Consumer prices for proteins like beef, poultry and pork have decreased versus year ago. Deflationary prices in protein act as a headwind for comparable-store sales. Even with this headwind, Kroger is still outperforming its peers Target and Wal-Mart.
Kroger is not only continuing to increase same-store sales, but is also improving its sales composition. According to the Food Marketing Institute, when a retailer sells a name brand product, the gross margin is on average 28%. When the same retailer sells a private label product, the gross margin is 35%.
In 2016 Q1, private labels provided 27.9% of sales dollars and 29.9% of unit volume (ex-fuel, ex-pharmacy).
In 2015 Q4, private labels provided 26.2% of sales dollar and 29% of volume
In 2015 Q3, private labels provided 25.9% of sales dollar and 27.7% of unit volume.
In the most recent quarter, Kroger continued to increase its volume share of private label products which have higher gross margins. Kroger continues to increase sales faster than its peers and continues to sell a higher percentage of high margin products.
Return on Invested Capital
In 2012, Kroger began a fill-in strategy to increase the footprint of its stores. Existing stores were expanded, new stores were opened and competitors were acquired (Harris Teeter's, Roundy's, etc). Executing Kroger's fill-in strategy requires massive capital expenditures.
In Q1 2016, Kroger increased its capital spending versus the prior quarter by ~$500 million and also increased its return on invested capital.
Q1 2016, invested capital was $46.5 billion with ROIC of 14.09%
Q4 2015, invested capital was $45.95 billion with ROIC of 13.93%
Kroger's prudent management of capital expenditures this quarter is not an anomaly. The company has been increasing ROIC while increasing amount of invested capital for over two years.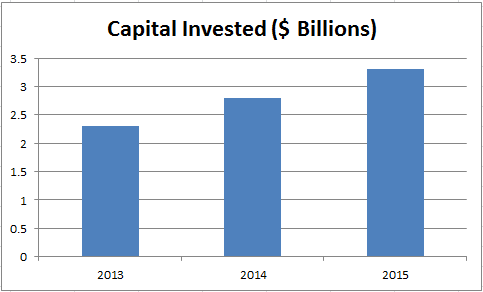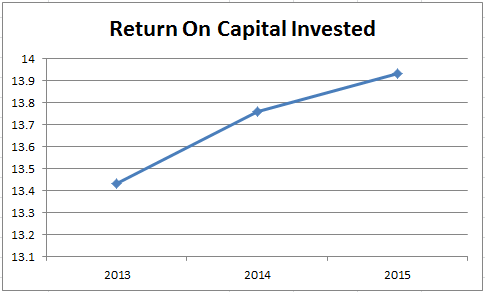 (Source)
In the latest quarter, Kroger reassured investors it prudently managed capital. ROIC increased versus quarter ago while capital expenditure increased as well.
Increasing Investor Ownership
Contrary to my prediction, Kroger did not announce a new authorization for share repurchases. Nonetheless, there was positive news for investors.
Shares outstanding decreased 5% from 967 million at the end of Q4 2015 to 941 million at the end of Q1 2016. In the past quarter, existing investors increased their ownership stake in Kroger.
During the Q&A session, Kroger CFO Mike Schlotman also stated the company has exhausted its current buyback authorizations and does not like to not have one available. Kroger will likely announce another buyback authorization in the near future.
Conclusion
In conclusion, Kroger once again delivered in its latest quarterly earnings. Even with deflationary prices in groceries, Kroger grew same-store sales faster than peers Target and Wal-Mart, and is selling a higher percentage of high margin products. Kroger's capital expenditures increased but so did its return on invested capital. While no additional share repurchase program was authorized, the company decreased shares outstanding by 5% last quarter.
Disclosure: I am/we are long KR.
I wrote this article myself, and it expresses my own opinions. I am not receiving compensation for it (other than from Seeking Alpha). I have no business relationship with any company whose stock is mentioned in this article.