As many readers know, I am cautious on offshore drilling as an industry. However, fundamentals often go one side when trading goes the other. When stocks like Pacific Drilling (NYSE: PACD) or North Atlantic Drilling (NYSE: NADL) rally, you know that speculative money came to the sector and that other offshore drilling stocks might be on the move.
In my recent article "Offshore Drillers - Q1 Earnings Season Results," I stated that three offshore drillers lagged the market - Transocean (NYSE: RIG), Ensco (NYSE: ESV) and Noble Corp. (NYSE: NE). These three were the obvious targets to look at once weaker names started rallying.
The question I've been asking myself in recent weeks is why Noble Corp.'s shares have been underperforming its peers and whether this fact presents a real opportunity. Here are my thoughts on this topic.
Debt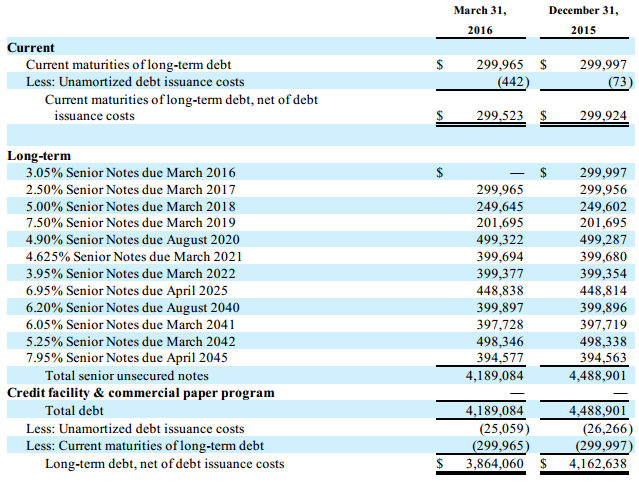 Noble Corp. has a very favorable debt schedule. Debt payments are more or less evenly spread between the next six years, so the company will not have to face any kind of a debt wall. Also, the company will soon get the money from the deal with Freeport-McMoRan (NYSE: FCX), which will improve its liquidity position in the near term.
Debt is a worry for Noble Corp., but it is not a serious problem. If worst forecasts materialize and market conditions remain horrible for a prolonged period of time, the company will be able to use the $2.4 billion credit facility to refinance the debt.
Thus, there are no near-to-medium term solvency worries.
Contract coverage and stacked rigs
Just like any other driller, Noble Corp. faces the problem of shrinking backlog. Old contracts come to an end, and new contracts do not materialize due to challenging market conditions. Early terminations like in the case with Freeport-McMoRan also put some pressure on backlog numbers. However, this problem is universal and I can't say that Noble Corp. is much worse than its peers on this front.
This year, just 2 more rigs will roll off their contracts, so additional pressure on Noble Corp.'s bottom line will not be that significant. Of course, new contracts might help if they emerge, but I'm quite skeptical on this front. I believe that we will continue to live in the world of blend-and-extend deals until oil holds above $50 per barrel for several months. Budgets for 2016 have been set, and oil in the $40-$50 trading range won't fuel speculative capital spending by oil producers.
All in all, I don't see that Noble's contract coverage is a source of the underperformance of the stock. Atwood Oceanics (NYSE: ATW), whose shareholders should really worry about the speed of the recovery of the offshore drilling market, performed better this year in comparison with Noble Corp. So, if it was not debt and not the lack of contract coverage, then what led to the underperformance of Noble Corp.'s shares?
It's all about shorts
One could argue that Noble Corp.'s shares performed better since the beginning of the market turmoil. In this case, Noble Corp.'s shares will naturally underperform peers whose shares were "excessively" punished. Is it true? Let's look at the numbers.
Since the beginning of 2014, Noble Corp. lost 73% of capitalization. In comparison, Atwood Oceanics lost 79% of capitalization, Ocean Rig (NYSE: ORIG) lost 86% of capitalization and Diamond Offshore (NYSE: DO) lost 58.3% of capitalization.
I am comparing Noble Corp.'s performance with companies whose stocks are in the green this year. So, while the argument implying previous outperformance of Noble Corp. shares has some merit, it clearly does not explain why the stock has been relatively weak in 2016.
My view of the situation is that shorts are to blame for Noble Corp.'s underperformance. The company is undershorted compared to peers. Atwood Oceanics and Ocean Rig have significant short floats, hence the rapid moves of the stocks on oil upside.
I don't expect that Noble Corp. will suddenly become a widely shorted stock, so the company's main hope is the improvement in fundamentals rather than swings in the oil price.
I expect that the trading of Noble Corp.'s shares will be less volatile than in highly-shorted battleground names like Ocean Rig, Atwood Oceanics or Seadrill (NYSE: SDRL). Despite the fact that short float seemingly plays a key role in determining short-term reaction to ups and downs of the oil price, I will continue to closely watch (and at times trade) Noble Corp.'s shares as a potential catch-up story.
Disclosure: I/we have no positions in any stocks mentioned, and no plans to initiate any positions within the next 72 hours.
I wrote this article myself, and it expresses my own opinions. I am not receiving compensation for it (other than from Seeking Alpha). I have no business relationship with any company whose stock is mentioned in this article.
Additional disclosure: I may trade any of the abovementioned stocks.