Automatic Data Processing (NASDAQ:ADP) has been in business since 1949, and along the way, has established an enviable franchise and deeply entrenched itself into the business world. Besides payroll processing services, the company also operates in the benefits administration field, insurance, human resources management, and other business-related services.
The company is also able to invest client funds and take advantage of its float to generate extra interest income. This makes it a solid play on rising rates, but more on that later.
One out of every six (non-governmental) employees in the US have their paychecks processed by ADP. Not only does it have the largest size-and-scale by far in its core business based on sales, but the company also has an estimated client retention rate of close to 95% for large businesses, and an equally impressive retention rate of 80-85% for small business clients. The evidence of a moat clearly exists, and I think the numbers can back this up.
Excess returns and lots of free cash flow - a recipe for success
The below chart demonstrates ADP's long track record of consistently generating high returns on invested capital and equity.
ADP Return on Invested Capital (TTM) data by YCharts
However, it should be noted that the firm has taken on a significant amount of financial leverage in the last few years, which has exaggerated these returns to an extent.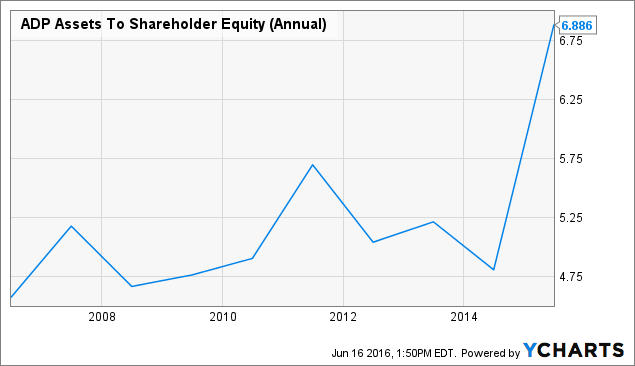 ADP Assets To Shareholder Equity (Annual) data by YCharts
TTM leverage is even higher, coming in at around 11.35, in fact. The impressive TTM ROE above residing north of 30% would be more around the historical 17.5-20% range if we dropped the assets/equity ratio back down to the more conservative 4.75x-5.25x range that was common before 2014.
This is something to pay attention to, especially since margins have steadily dropped over the last decade, so I think the "improvement" in ROE over the last couple of years is mostly due to more leverage, not better performance.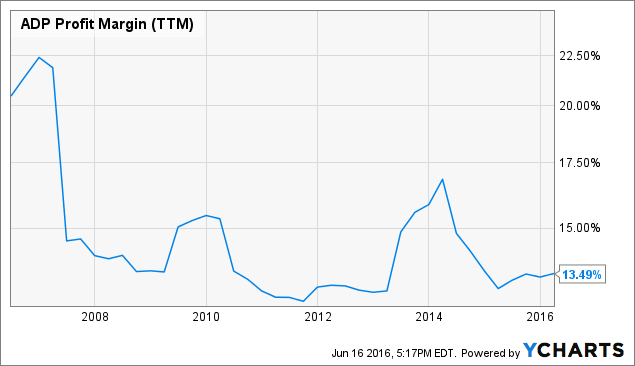 ADP Profit Margin (TTM) data by YCharts
To sum things up, I think the company is still clearly able to generate impressive returns on equity and returns on invested capital, even with half the leverage, but I don't like the recent reliance on higher leverage as a way to compensate for lower margins. Luckily, I believe there will be a catalyst for margin recovery.
Higher rates = higher margins?
Research at Morningstar estimates that a 5% pop in ADP's operating margins would occur for every 50-basis point increase in rates. That's definitely encouraging, and if the Fed does decide to hike rates this year, the company's bottom line could see margins inflate as a result.
One great aspect related to ADP's core payroll business, besides its stickiness, is the investable float it generates. Obviously, the current low rate environment has thrown water on the company's margins, but if we are heading into an environment of rising rates going forward, it appears margins can flourish once again.
This concept is also something to keep in mind when looking at the company's long-term margins mentioned earlier in the article. Improving margins will likely lead to increasing return on equity. Not only that, ADP has a very strong balance sheet, which makes the abnormally large jump in leverage over the last few years less concerning.
Strong balance sheet backed by strong cash flows
Operating within the context of a wide-moat franchise allows ADP to throw off a large amount of cash.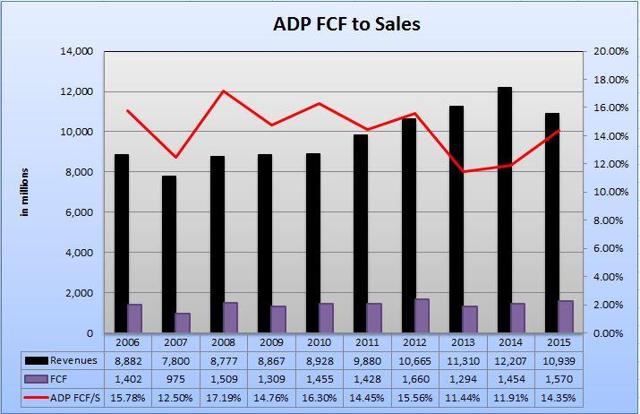 Created by Joseph Harry, data from Morningstar
The company consistently coverts double-digit amounts of its revenues into free cash flow. Free cash flow stabilizing over the last decade (despite a decline in margins) is most likely attributable to the underlying stickiness of the firm's client base and recurring revenues.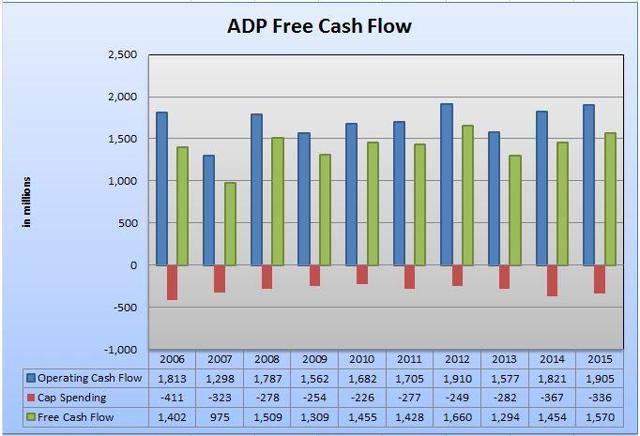 Created by Joseph Harry, data from Morningstar
Cash from operations has been relatively constant, but due to low capex requirements, ADP has been a reliable cash cow.
Back to the balance sheet, we can see that debt is a minority portion of the firm's capital structure.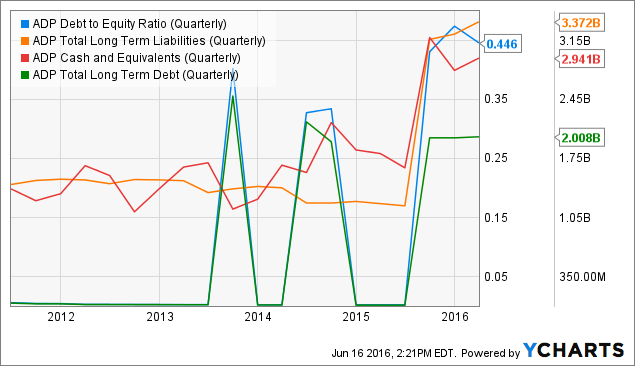 ADP Debt to Equity Ratio (Quarterly) data by YCharts
The company maintains more cash than long-term debt, and in conjunction with its strong cash flows, it looks like ADP has plenty of financial flexibility.
ADP has raised its dividend for over 40 years. The payout ratio has also climbed notably, however, from the 25-35% range it resided in pre-financial crisis to around 60%. This is another trend to watch going forward, but rising rates and margins could also help alleviate the burden some.
Conclusion
While global uncertainties (especially Brexit) create a cloud of uncertainty over the Federal Reserve's future rate hikes, there's still a viable chance rate increases are in the future forecast. ADP probably doesn't need huge hikes going forward to significantly benefit margin-wise. The only problem is valuations.
Shares of ADP currently trade at over 26 times earnings and close to 24 times forward earnings. That's a little too rich for my blood. I think closer to 20-22 times earnings would be very intriguing, though. I'd also prefer to wait for at least some sign of recovery in the company's margins, and rising rates might help this scenario come into play. I view ADP as a good way to gain exposure to a rising rate environment without having to invest in a bank.
If you enjoyed this article and would like to receive further updates and articles in the future, please feel free to hit the "+Follow" button at the top of the page by the author's name.
Disclosure: I/we have no positions in any stocks mentioned, and no plans to initiate any positions within the next 72 hours.
I wrote this article myself, and it expresses my own opinions. I am not receiving compensation for it (other than from Seeking Alpha). I have no business relationship with any company whose stock is mentioned in this article.
Additional disclosure: Articles I write for Seeking Alpha represent my own personal opinion and should not be taken as professional investment advice. I am not a registered financial adviser. Due diligence and/or consultation with your investment adviser should be undertaken before making any financial decisions, as these decisions are an individual's personal responsibility.