Monster Beverage Corporation (NASDAQ:MNST) is a great company with compelling growth prospects, but not a good investment at current prices. After reporting a strong Q1 back in April that impressed on the top and bottom line, shares advanced 17%, and the stock has steadily climbed higher throughout May into June. MNST now trades just below its 52-week high, at a trailing P/E of 43.7, a forward P/E of 32.5, a P/B of 6.2, and a P/S of 11.2. The company's closest peers trade at a median forward P/E of 21. While Monster's superior fundamentals warrant a higher valuation, investors should wait for a pullback.
Figure 1: Brand Portfolio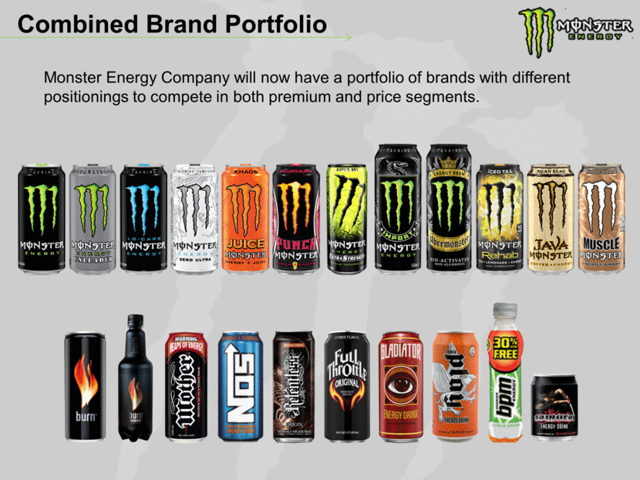 Source: sec.gov
Figure 2: Recent Price Performance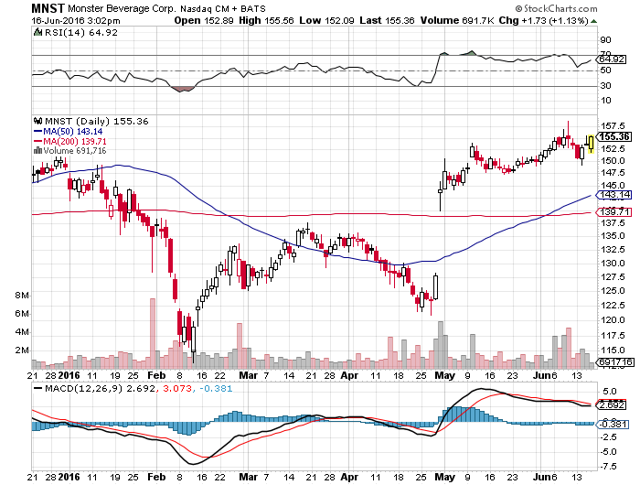 Source: stockcharts.com
Monster's peer group consists of Coca-Cola (NYSE:KO), PepsiCo (NYSE:PEP), Dr Pepper Snapple (NYSE:DPS), and National Beverage Corp. (NASDAQ:FIZZ). The problem with comps analyses is that, the less comparable the companies, the less useful the analysis. As opposed to its peers, Monster operates in the niche energy drink segment of the carbonated beverages market. Consumers value these beverages over standard soft drinks due to the high caffeine content that packs a potentially addicting energy kick. This, combined with a strong brand portfolio that creates customer loyalty, allows Monster to sell at higher prices and earn superior margins (5-year median operating margin of 27%) compared to Coke (22%), Pepsi (14.4%), Dr Pepper Snapple (18.2%), and FIZZ (10.7%). Growth profiles also diverge between standard soft drinks and energy drinks. The overall carbonated beverages industry has reached maturity in developed markets. Due to rising health concerns and more active lifestyle trends, soft drinks sales are in secular decline. But this is not so much the case for the energy drink segment, where market penetration is much lower. MNST has average compound sales growth of 16% over the past five years, compared to 2.6% for its soft drink peers, and there is still room for growth.
The biggest growth opportunities remain in emerging markets. Management intends to achieve long-term growth through continued international expansion and by increasing the size of the company's brand portfolio. Sales in the US account for approximately 80% of Monster's total revenues, but this share will decline as MNST deepens penetration abroad. While the firm's brands carry less weight in developed countries, the prospects for earnings growth is far better: According to Morningstar, MNST generates an operating margin in the "mid-single digits" in emerging economies, compared to a high 30% rate in the US. The disparity is mainly due to lower consumer incomes, which puts pressure on pricing. But lack of scale also plays a role, and the company isn't able to get products to market as efficiently as it can in the US as its distribution networks are less streamlined. Monster recently partnered with KO to expand its distribution capabilities abroad, which should help lower costs, but with growth sluggish in most emerging markets, international sales growth should be modest in the short term.
Monster is a great company with an impressive growth profile. The firm's ability to achieve rapid sales growth and consistently grow margins in a soft-drinks sector where sales volumes are slowing is a testament to some important competitive advantages. While we remain bullish on the long-term story, Monster is too expensive at current prices. There are substantial risks in the form of changing attitudes towards carbonated beverages, and increased regulations (such as sugar taxes). MNST strengthened its market position by acquiring Coke's energy brands, but the move made Monster's product portfolio more concentrated. The company no longer sells traditional sodas, juices, and teas, which further exposes MNST to any headwinds surrounding soft drinks. In addition, input costs can be volatile and Monster has benefited from a period of abnormally low oil and aluminum prices. Commodity prices will eventually rebound, putting pressure on margins. We love Monster, but the company is not a good investment at these prices.
Disclosure: I/we have no positions in any stocks mentioned, and no plans to initiate any positions within the next 72 hours.
I wrote this article myself, and it expresses my own opinions. I am not receiving compensation for it (other than from Seeking Alpha). I have no business relationship with any company whose stock is mentioned in this article.