Investors today have an abundance of investment options. We are bombarded both online and offline by ETF providers, mutual fund companies and even stock promoters.
Beyond the thousands of individual securities, we have over 26,000 mutual funds (including all share classes) and close to 2,000 exchange traded funds and notes. Beyond those, we have a "niche" of more than 600 closed-end mutual funds trading on the national exchanges. With so many investment options, is it a surprise that many great CEFs get either looked past or completely ignored?
I was recently at an educational dinner hosted by my Janus Capital (NYSE:JNS) contact. The star guests were the portfolio managers and heads of INTECH, a subadvisor to a number of 5 Star Morningstar-rated Janus funds, such as the INTECH Global Income Managed Volatility Fund (JGDAX, JGDIX, JDGTX), the INTECH U.S. Managed Volatility Fund (JRSTX, JRSAX, JRSIX) and the INTECH U.S. Core Fund (JDOAX, JRMCX, JRMSX). During my conversation with Dr. Adrian Banner, I was pleasantly surprised to learn that INTECH managed a fund for Nuveen Investments.
Even as someone who is interested in mutual funds I can't believe I completely missed this gem of a fund. While I will come back to take a deep dive into Janus Open End Mutual Funds, this is the story of the Nuveen Core Equity Alpha Fund (NYSE:JCE).
Fund Basics
Sponsor: Nuveen Investments
Managers: Sub-Advised by INTECH
AUM: $229.91 million, unlevered
Historical Style: US Equity
Investment Objectives: The fund seeks total return, primarily through long-term capital appreciation and secondarily through income and gains.
Number of Holdings: 209
Current Yield: 8.53% based on market price, Quarterly Distributions
Inception Date: 3/27/2007
Fees: 1.03%
Discount to NAV: 5.64%
Source: CEF Connect and YCharts
The Alpha
Looking at the fund holdings, it resembles that of many other US Equity funds. What makes it different is how the securities are selected.
INTECH Investment Management is an atypical firm. You are not going to find a focus on CFAs and fundamental analysis, but you will find mathematicians and physics experts. In fact, mathematics is the central focus of this management company. For over 25 years, INTECH has been managing investments on their proprietary mathematical model, applied to various indexes and investments.
For Nuveen and JCE:
The fund invests in a portfolio of actively managed common stocks selected from among the 500 stocks comprising the S&P 500 Index, using a proprietary mathematical process designed and implemented by INTECH, a sub-adviser of the fund.
Source: Nuveen Investments
After INTECH selects the portfolio, Nuveen then overlays an income strategy on top.
"The fund also sells custom baskets of call options covering up to 50% of the fund's equity portfolio in seeking to enhance risk-adjusted performance relative to an all equity portfolio."
By combining the expertise of INTECH and Nuveen, the fund seeks to achieve long-term returns in excess of the benchmark, with the same or lower volatility. In essence, generate alpha while taking market beta or less.
The mathematical process is proprietary, but the central focus is to take advantage of volatility. The models take a look at the individual securities and select entry and exit points based on the volatility. In essence, buy low sell high. You can read more about INTECH on their website.
So, how did the fund do?
The Numbers
Funds seeking alpha and lower beta? Heh, where have I heard that before, right?
Because the fund was launched in early 2007, we are lucky to get a great track record of a full market cycle, including launching at the peak, going through the volatility and then going on to recover. Let's take a look at its performance over the years.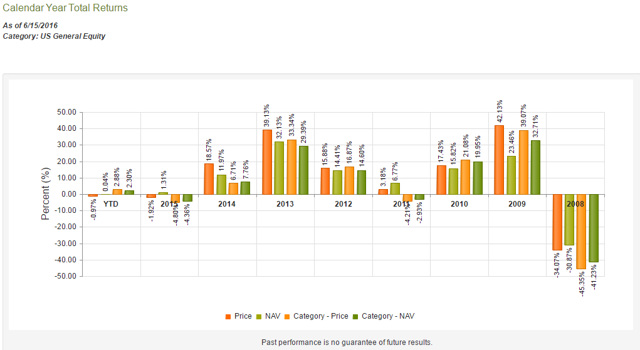 Source: CEF Connect
As we can see, in 2008 the fund was down, but a good bit less than the category peers. On the recovery in 2009, 2011, 2013 and 2014, the fund continued to outperform its category and peers.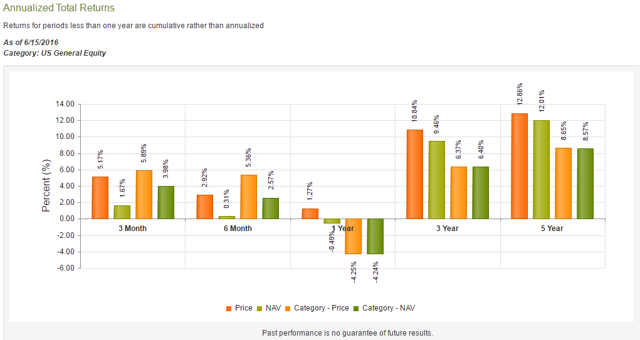 Source: CEF Connect
On an annualized basis, the fund outperforms in the 1-year, 3-year and 5-year periods.
Okay great, it beats it peers, but how about versus the S&P 500 itself. Let's take a look at JCE's total return compared to that of SPDR S&P 500 Trust ETF (NYSEARCA:SPY).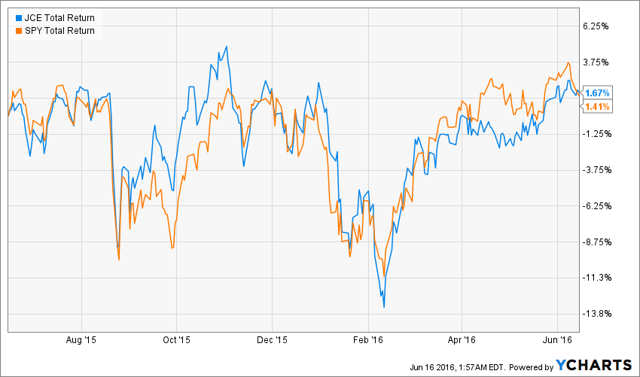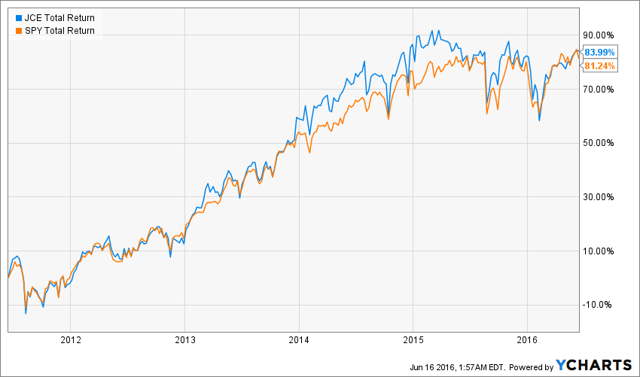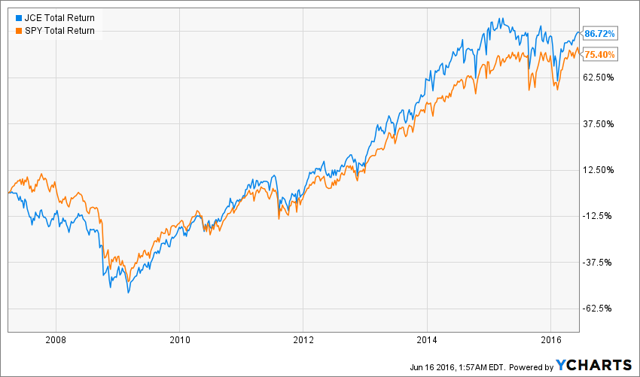 On a total return basis, the Nuveen Core Equity Alpha Fund outperforms SPY on a 1-year and 5-year basis, and bests the index by 11% since inception.
As per YCharts, the fund has generated alpha with a beta of .9605.
Our Take and Bottom Line
This is one of the few funds that actually delivers time and time again. What's interesting about it, talking with the managers at INTECH, they will be the first to tell you they do not know much about investing. For anyone who was wondering if quant or mathematical investing works... or technical analysis, for that matter, here is your proof.
Who is the fund for? Well, quite frankly anyone should be able to find a place for it in their portfolio. The people who would really benefit from the fund are investors looking for a managed income stream derived from equities, and/or anyone who may be a bit more risk-averse.
Because this strategy is wrapped by a closed-end fund structure, you do have the ability to essentially buy an index fund with a 5% or more discount to its net asset value.
Personally, I am impressed with the fund for two reasons. Since inception, not only has it beaten the S&P 500 over a complete market cycle by more than 10%, but during the same time frame, the fund also recovered its sizeable sales load. Buying it now, post IPO, should put you in an even better position going forward, especially when you consider that the fund is also trading at a discount to NAV.
One thing to note, though, is that the distributions of this fund are managed. Obviously, since there is no fixed income in the portfolio, income is derived from dividends, the moderate allocation to REITs and the covered call premiums.
The other aspect to keep in mind is that because it is a mathematical model that aims to take advantage of volatility, the portfolio does have turnover, and may have a better place in qualified accounts.
Personally, I believe this fund is worth a look, and I will likely be adding it to my portfolio in the near future.
A Few Resources:
Final Note: I hope you found this article helpful. I am a believer in active management that works and I am here to help you find those opportunities. Please follow me here on Seeking Alpha as we look for those opportunities and sort out the good managers from the mediocre.
Simply click the "Follow" button below if it appears for you, or click "Follow" next to my name at the top of the article. Alternatively, you can click the orange "Follow" button from my profile page.
Disclosure: I/we have no positions in any stocks mentioned, but may initiate a long position in JCE over the next 72 hours.
I wrote this article myself, and it expresses my own opinions. I am not receiving compensation for it (other than from Seeking Alpha). I have no business relationship with any company whose stock is mentioned in this article.
Additional disclosure: Maks Financial Services is a registered investment advisor and our Form ADV Part 2 is available upon request. We certify that the opinions and predictions in these articles are our professional beliefs at the time of publication and should not be construed as personal investment advice. Please consult your financial professional to see how anything discussed here applies to you. Furthermore this is not a solicitation to buy or sell any securities. This is not Tax Advice. Please consult your tax professional.