There's a lot to hate about high yield (NYSEARCA:HYG) right now.
The entire space has turned into a kind of gambler's paradise for people who either don't know any better or who simply have to buy to meet some kind of promise they made about returns.
I think it's worth looking at some of the charts I presented here and here, but rather than rehash those pieces, I'll let you read them on your own. I will, however, insert one here because anyone who gets the reference will get a good laugh: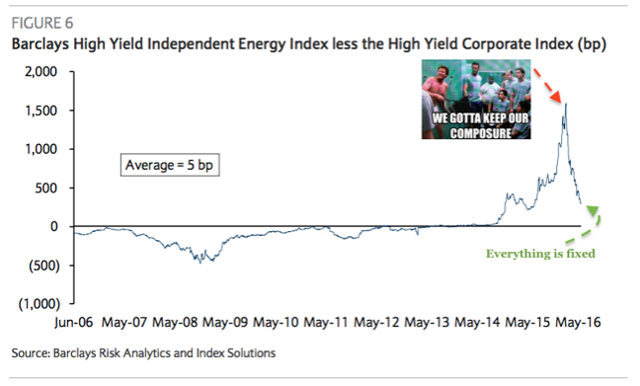 (Chart: Barclays with Heisenberg annotations)
So that's HY (NYSEARCA:JNK) energy spreads minus the spread on the broader HY space. As you can see, everything is now fixed apparently.
In short: these things are bid and I have no idea why. Actually, I take that back. I know exactly why. It's because oil has bounced. But that doesn't even begin to justify the kind of spread compression we've seen. In fact, the whole thing is a walking contradiction. That is, if the reason these businesses are in trouble is that crude prices are depressed, and one reason crude prices are depressed is oversupply, then keeping capital markets open to them isn't going to fix anything.
All you're going to end up doing is putting a cap on near-term price gains at whatever level it is that they start producing again. Ultimately, they are going to have to either go out of business or Saudi Arabia is going to have to get so close to having nothing in the SAMA reserves that they finally capitulate and slash output. Allow me to take a few excerpts here from Citi (who isn't necessarily bearish on the outlook for US production, by the way):
Record levels of oil in inventory should meet near-term imbalances but an increase in US oil production now appears to be a necessary requirement to avoid supply short-falls further down the line.

US crude production is already down nearly 1-m b/d from its peak of 9.7-m b/d in April 2015, a clear sign that at $30 or $40/bbl there is not enough replacement oil produced to offset the existing declining supply base at prior cost levels.

It is this dynamic, in conjunction with shale's "shortcycle" nature that means US production could be seen as a cap to excessive price rises rather than the big bearish weight that it has been over the past 2 years. The two major drivers of 2016/17 US crude production will be the number of DUC completions (expected to be accelerated at $50 WTI) and the rig count (where $60 WTI looks to be the main trigger) and both could well put bearish pressure on prices near term. Citi expects rig counts to continue to rise near term.
See what I mean? This is self-defeating. It's like a damn zombie movie. They keep getting killed only to abruptly sit up, struggle to their feet, stumble forward a few yards, arms outstretched at $50/bbl, then collapse again after the Saudis shoot them down.
This is why Citi's Matt King contends that ZIRP and the attendant hunt for yield has destroyed creative destruction and created zombie companies. Here's the diagram: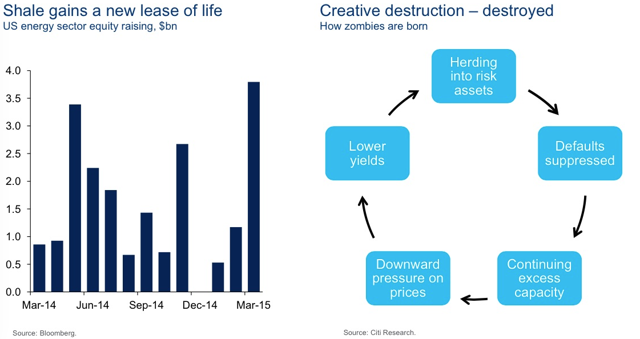 (Graphic: Citi)
And what you have to understand is, the whole time this is going on, it's embedding greater and greater amounts of risk into the system as the companies tap capital markets for cash from investors who think that just because oil is back close to the $50 mark that it's a good idea to lend these guys money (or worse, buy into a secondary).
And by the way, one certainly imagines that some of the very same banks that are underwriting these deals are also cutting RBL lines to these very same companies. Here's Citi again:
The Spring redetermination process is nearing an end as 39 high yield companies in our universe of 49 have announced borrowing base results (four have yet to announce and six do not have borrowing bases). The average borrowing base change has been down 24%, with nine borrowing bases affirmed (23%) and 29 decreasing on average 33%. RICE is the only E&P to experience an increase to its borrowing base so far.
Additionally, as I pointed out earlier this week, the bankruptcies are piling up and the TTM energy, metals, and mining default rate is soaring. Speaking of which, Fitch is out Thursday with a fresh look at the overall HY default rate in the US. Here's what they had to say:
The trailing 12-month (TTM) U.S. high yield bond default rate rose to 4.7% in mid-June, up from 3.8% at end-April and is heading closer to the 6% rate expected by year-end, says Fitch Ratings.

On a volume basis, $46.4 billion of defaults have been tallied through mid-June, more than halfway toward the $90 billion needed for a 6% rate. Of the expected default total this year, Fitch forecasts the large majority - $70 billion - will come from the energy and metals/mining sectors (or a little more than 4% of the anticipated 6% rate).

We're not quite at the midway point of the year, and the default volume has accelerated, evidenced by the nearly $28 billion recorded in April and May," said Eric Rosenthal, Senior Director of Leveraged Finance.

'Even though many of the large players in commodity price-dependent sectors have already succumbed to default, there are still a few big ones that could shake up the rate later this year,' said Rosenthal.
Now bear in mind, if we get any semblance of contagion in HY, there's going to be an exodus from HY ETFs and at that point, managers are going to have to find someone to sell to. And guess what? Wall Street isn't home. Here's an up to date look at corporate bond inventories via Deutsche Bank:

(Charts: Deutsche Bank)
And based on net positioning in CDX, it certainly doesn't look too much like non-dealers are looking to take on too much exposure to HY: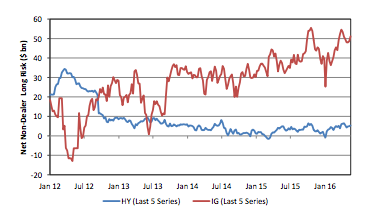 (Chart: Deutsche Bank)
I mean just look at this:

(Table: Deutsche Bank, Bloomberg as of May 31)
Talk about everything suddenly being fixed!
Anyway, just remember, it's a dangerous world out there and you should fear the zombies. Especially when there's virtually no secondary market.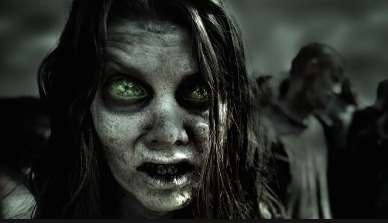 Disclosure: I/we have no positions in any stocks mentioned, and no plans to initiate any positions within the next 72 hours.
I wrote this article myself, and it expresses my own opinions. I am not receiving compensation for it (other than from Seeking Alpha). I have no business relationship with any company whose stock is mentioned in this article.