Our investing process involves following a group of Superinvestors who have track records of being right far more often than they are wrong. Each member of this group has significantly outperformed the market over long periods of time.
Their outperformance is due to process, discipline and intelligence. It is repeatable.
Jeremy Grantham is a member of that group. Over time investors would have been wise to listen to his market observations. Grantham has a knack for macro forecasting.
Grantham was very vocal about the double Japanese real estate and equity bubbles of the late 1980s. In the late 1990s his firm suffered billions of dollars of investor redemptions because he correctly refused to put his investor's money into incredibly overvalued technology stocks. He could have caved into that pressure, but he didn't.
Where he really won us over was in his July 2008 letter (see link below for all his letters) where he said that he was "officially scared" for the very first time as an investor. His parting words in that letter were:
"Don't be brave, run away. Live to fight another day".
What followed was a 1929 style market crash. Grantham has nailed major market turns time after time. We listen to what he says because it is usually accurate.
Grantham's Wish - A Huge Commodity Buying Opportunity
In April 2011Grantham penned his second quarter letter to investors with the following title:
"Time to Wake Up: Days of Abundant Resources and Falling Prices Are Over Forever"
Grantham's stated purpose in writing that particular letter was to persuade investors with an interest in the long term to change their entire frame of reference. He wanted investors to recognize that we now live in a different world where the shortages of raw materials will become common and commodity prices are going to rise.
Grantham noted that the accelerating demand from the developing world, specifically China had created an unprecedented shift in the price structure of resources. A shift that was not going to ever permanently reverse.
As evidence Grantham provided the visual below which details the world's population growth: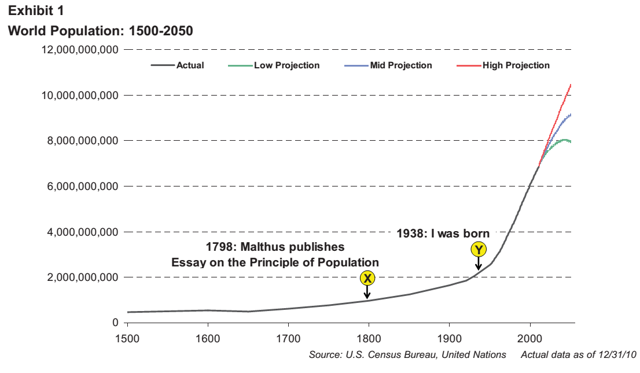 Source: GMO
The world had just over 2 billion people when Grantham was born in 1938. Over the course of his life the world's population has surged fourfold.
The chart that Grantham supplied shows that global population growth started accelerating around 1800 and then took off on a tear shortly after World War II. Grantham cites the work of Malthus from 1798 which details how the world's population will always be linked to the amount of food available.
The arrival of hydrocarbons and the step change in energy that came with it is what allowed us to exponentially increase our ability to provide food, which then caused the global population to explode.
With seven plus billion people in the world instead of 2 billion, Grantham's conclusion was that the demand for resources had moved permanently higher and so too had resource prices.
Then this happened to commodity prices over the past 18 months. A complete collapse.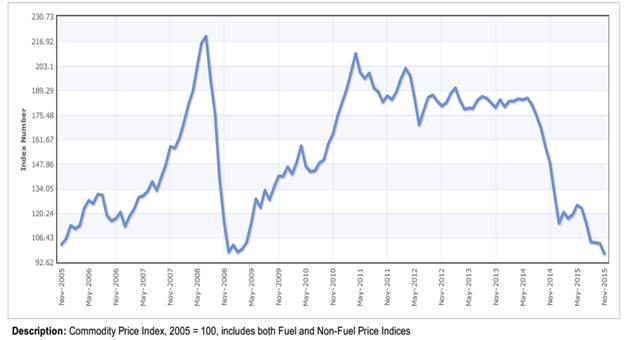 Source: International Monetary Fund Commodity Price Index
Interestingly, in his 2011 warning about a long term resource shortage Grantham suggested that such a collapse in commodities on the back of a slowing China was a real possibility.
If that happened, Grantham said he would grit his teeth, take a deep breath and quadruple his stake in commodities which he would then hold forever.
His Opportunity Arrives - But Grantham Changes His Tune
In 2011 Grantham told us that a China induced commodity price collapse would be the buying opportunity of a lifetime.
Now that the opportunity is here Grantham has changed his mind. Not exactly what we expected to hear but we would rather someone change their mind than have them refuse to admit a mistake. In his last quarterly letter Grantham admits to making a mistake about most resources. He now believes that there will be overcapacity on the supply side for a few years. A permanent plateau is not here.
Where Grantham went wrong was on China. He did not for a moment expect that Chinese demand growth would not only slow but completely stop and then reverse.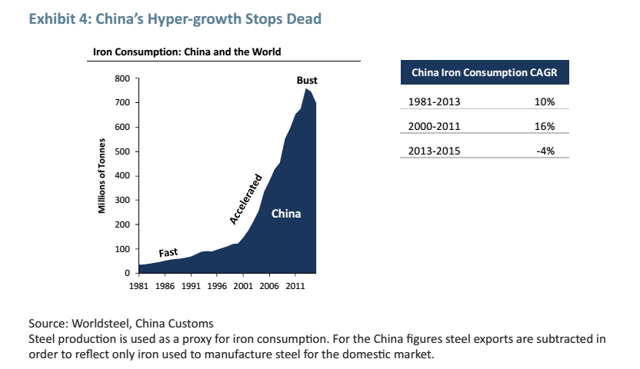 Source: GMO
However, Grantham is still very bullish on one specific commodity. That being oil (NYSEARCA:USO). He lays out in his letter that he expects to see oil prices again hit $100 within 5 years. His reasoning is for a major oil rebound is based on the following:
- The marginal cost of oil is high and prices will need to revert to it and beyond
- Shale oil which caused this disruption is not a large resource base relative to total world oil reserves and production
- Shale oil production has very high decline rates so that disruptive source of production is being reduced quickly
- There has been a massive drop in capital spending and new production will not be sufficient to keep supply up
Why Should We Believe Him On Oil? - He Is Right About Shale
Grantham admits to being wrong on his resource call so why should we believe him about a return to $100 oil in relatively short order?
We believe him because we agree with the facts that he is presenting.
In case you missed it North Dakota just alerted us to the fact that it had the biggest production decline in its history in the month of April. Production fell by 70,000 barrels per day to 1,041,000 barrels per day.
That is 6.7% of production gone in one month!
When you consider that the level of production in these shale plays is determined by the rate of drilling and completing wells in the preceding months then you have to think that there are more large monthly declines to come over the rest of 2016.
Here is what North Dakota is currently reporting for active rigs:

If you ever want to track that number you can do it here.
As of June the rig count is down to just over a third of where it was last year and is only 13% of where it was in 2012. The Bakken is going to keep declining for months to come and the Eagle Ford in Texas is declining even faster.
Our opinion is that when oil prices do keep creeping higher the rebound in drilling levels is going to be surprisingly slow. These companies were doing a huge percentage of their drilling with capital that banks were lending to them and through equity issuances that the market couldn't get enough of.
Those days of billions of dollars of easy to access capital aren't coming back to this industry for years. We believe that oil prices would have rebounded sooner if it weren't for Saudi Arabia being willing to crank production up into an already oversupplied market. With Saudi Arabia now pumping at close to full capacity that is not a trick that we would anticipate being repeated. Meanwhile significant producing nations like Nigerian and Venezueala are falling apart. How long until Iraq's production follows suit with that country's revenue crushed by low oil prices and the expense of fighting ISIS.
We are bullish on oil prices for at least the next couple of years and we are bullish on another opportunity we have uncovered.
From November 2000 until June 2008, when he shuttered his initial fund, "Big Short" legend Michael Burry returned 489% vs. 3% for the S&P 500. For our subscribers, we have just released a 20-page comprehensive report explaining Burry's most recent investment idea into which he has allocated 16% of his portfolio. For just $12 per month, you can get the highest conviction ideas from Burry and other investing greats each and every month. Just follow the link and get started:
Good luck with your investing. Thanks for reading.

Disclosure: I/we have no positions in any stocks mentioned, and no plans to initiate any positions within the next 72 hours.
I wrote this article myself, and it expresses my own opinions. I am not receiving compensation for it (other than from Seeking Alpha). I have no business relationship with any company whose stock is mentioned in this article.