"Optimism is the madness of insisting that all is well when we are miserable." - Voltaire

The main biotech indices have remain roughly flat since our last update on Wednesday and remain just above short term technical support.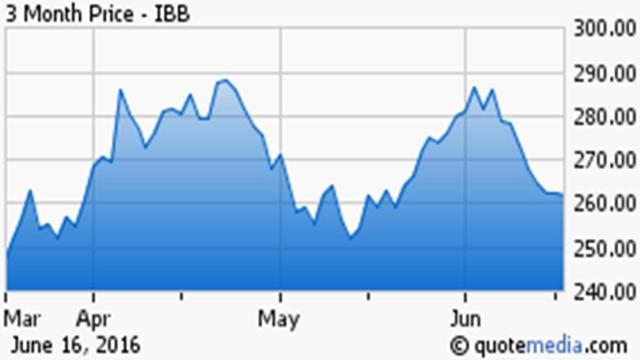 This is not to say the market has been stable in the last few days. After deep early losses yesterday both the market and the Pound recovered from those declines after the brutal murder of pro stay Labour lawmaker (the first UK lawmaker killed since 1990) Jo Cox. Both leave and stay campaigns have suspended campaigns for now due to this event. Investors interpreted this as a positive for a "stay" vote. Chances of a "leave" decision went from ~55% to ~35% at Ladbrokes.
For the markets sake, I hope we do get a vote to remain in the EU next week. Morgan Stanley stated yesterday the FTSE could drop some 16% on a "leave" vote in U.K. referendum next week and could rise around same amount is "stay" faction wins. Obviously this event will not have the same impact here regardless of outcome but a "leave" vote could rattle the high beta sectors of the market like biotech. Something investors will have to stay tune for next week.
Note: To get these Biotech Forum Daily Digests as soon as they are published, just click on my profile and hit the big orange "follow" button and choose the real-time alerts option.

Paratek Pharmaceuticals (NASDAQ:PRTK), which was the subject of a Spotlight feature here on the Biotech Forum Daily Digest earlier this month, rose 20% after the bell yesterday. The trigger for the after hours rally was Phase III trial results for its primary drug candidate omadacycline for the treatment of acute bacterial skin and skin structure infections had met its all of its efficacy endpoints.
Ariad Pharmaceuticals (NASDAQ:ARIA) has initiated a rolling submission of its New Drug Application (NDA) to the FDA seeking approval of Breakthrough Therapy- and Orphan Drug-tagged brigatinib for the treatment of patients with ALK+ non-small cell lung cancer (NSCLC) who are resistant to Pfizer's XALKORI. The company will request accelerated review of the filing, expected to be completed in third quarter. I have a small stake in this promising small cap concern and profiled the company here on SeekingAlpha in May.
Merck's (NYSE:MRK) Keytruda chalked up another key win yesterday as well. In a Phase III trial for the first-line treatment of patients with advanced non-small cell lung cancer who tumors express high levels of PD-L1 met its primary endpoint and showed to be superior to chemo as measured by progression-free survival and overall survival. Based on the positive results, the independent Data Monitoring Committee has recommended that the trial be stopped and the patients receiving chemo be offered the opportunity to switch to Keytruda.

Not surprisingly given its Phase III trial win, Paratek Pharmaceuticals received some positive comments from analysts today. H.C. Wainwright reiterated its Buy rating and $34 price target on PRTK. Cantor Fitzgerald did the same this morning with a slightly less optimistic $33 price target. As can be seen below, that implies quite a bit of upside from where the stock closed at yesterday and price targets are also above the stock's 52 week high of ~$30.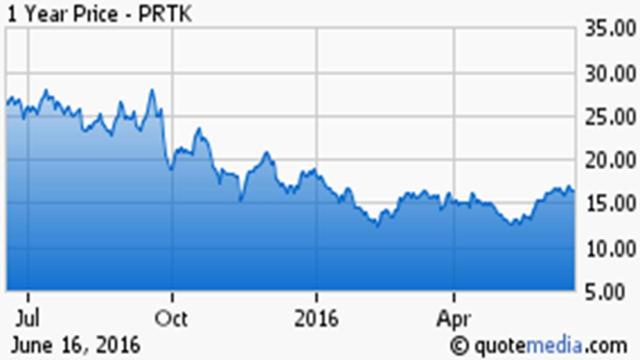 Also getting the attention of analysts late this week is small biopharma concern Relypsa (NASDAQ:RLYP). This is a "battleground" stock that I provided a rebuttal to a previous short thesis themed article yesterday.
Wednesday, Merrill Lynch and Cantor Fitzgerald reiterated their Buy ratings on Relypsa. On Thursday, BTIG reissued their own Buy rating on RLYP. Price targets range from $24 at Merrill to $41 at Cantor.
Summit Therapeutics (NASDAQ:SMMT) saw its first analyst action of the year on Thursday when both Oppenheimer and Cantor Fitzgerald reiterated their Buy ratings with Oppenheimer with a $28 price target while Cantor is at half that with a $14 price target.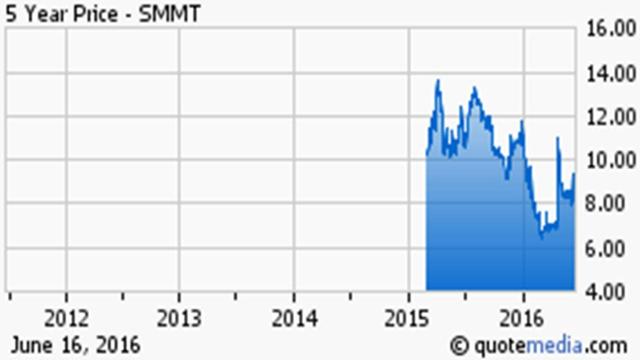 Summit is a small (~$100 million market cap) U.K. concern that is focusing on developing medicines to treat genetic and infectious diseases in the United Kingdom and North America. It came public in early 2015 and its stock has been all over the map. Taking a quick look at its balance sheet, I would not be surprised if the company might initiate a secondary offering in the near future. Summit appears to have a promising candidate in the very challenging Duchenne muscular dystrophy ('DMD') space.
Note: New analyst ratings are a great place to start due diligence, but nothing substitutes for deeper individual research in this very volatile sector of the market. Many of the small-cap names highlighted in the "Analyst Insight" will eventually appear in the "Spotlight" section, where we do deeper dives on this type of promising but speculative small-cap concern.

Today's spotlight feature to end the trading week is on Coherus BioSciences (NASDAQ:CHRS). The company recently received a favorable decision from the USPTO's Patent Trial and Appeal Board ('PTAB') instituting its petitions for inter partes review of AbbVie's (NYSE:ABBV) Humira in regards to its dosage regimen.
Company Overview:
Coherus is a late-stage clinical biologics platform company focusing on developing and commercializing biosimilar products worldwide. The company is based just outside San Francisco and came public in late 2014. Coherus has a market capitalization of just under $700 million and a stock price hovering around $16 a share. Biosimilars are generic versions of biologics which are much more difficult to replicate than the small molecule drugs that dominated drug development into the 90s. This is a growing area that should do over $30 billion annually in sales a decade down the road according to most industry analysts.
The company has three late stage biosimilars in development. CHS-1701, a biosimilar version of Neulasta that the company plans to file a BLA (Biologic License Application) for in the United States in the second half of this year. CHS-0214, a biosimilar for Enbrel that the company is projected to file a BLA for in the European Union by the end of 2016. Finally, we have CHS-1420. This is the compound that just won the patent decision and is a biosimilar version of Humira, one of the top selling drugs in the world. Coherus plans to file a BLA on CHS-0214 in United States by the end of the year and in the European Union next year.
Analyst Support & Balance Sheet:
Analyst support is relatively sparse given the company's size. Cowen & Co. did reiterate its Buy rating and $45 price target on May 10th. Its analyst noted that Coherus "has multiple upcoming triggers which could result in significant value creation for shareholders". Credit Suisse reissued their Buy rating and less optimistic $25 price target on May 16th. The four analysts that cover the company have a median price target in the high $30s on Coherus at the current point in time. The company had over $150 million in cash as of its last reported quarter and raised more than $50 million in additional funds via a secondary offer in May so should have no funding needs at least in the short term.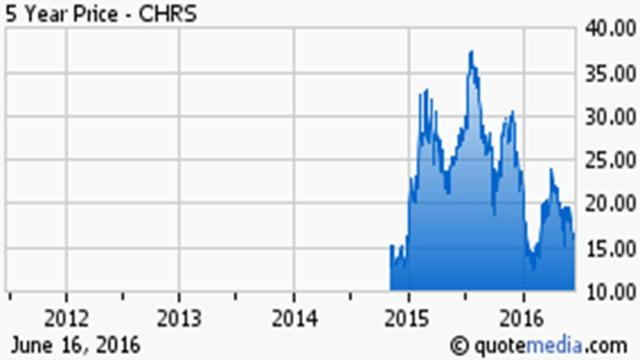 Outlook:
The company does not receive much coverage from analysts or here on SeekingAlpha. However, it does have multiple "shots on goal" within its biosimilar pipeline for blockbuster drugs in the market. Given several potential catalysts within its BLA filings in the next 6-12 months and solid cash balance, a small investment in Coherus seems warranted despite the lack of analysis available on it. It also seems a good offset to my substantial stake in AbbVie. I think I will pick up a few shares in trading today.

Thank You & Happy Hunting
Bret Jensen
Founder, Biotech Forum
Disclosure: I am/we are long ABBV, ARIA, MRK, RLYP.
I wrote this article myself, and it expresses my own opinions. I am not receiving compensation for it (other than from Seeking Alpha). I have no business relationship with any company whose stock is mentioned in this article.
Editor's Note: This article covers one or more stocks trading at less than $1 per share and/or with less than a $100 million market cap. Please be aware of the risks associated with these stocks.