As of now, potash seems to be in the situation of oil back in the 1970s mixed with the situation of oil now. The point is that a few years ago, potash was an oligopoly of a few suppliers all working in concert to keep prices high without competition. Everybody had high profits and was happy, until the end of the cartel, with the breakoff of Uralkali.
The cartel was made up of Belarusian Potash, Uralkali, and Canpotex [which is made up of Potash Corp. (POT). Mosaic (NYSE:MOS) and Agrium (AGU)]. During 2013 however, Uralkali decided to break off the agreement because Belarusian Potash was consistently getting better terms for its potash compared with Uralkali. The evidence of the breakup is evident: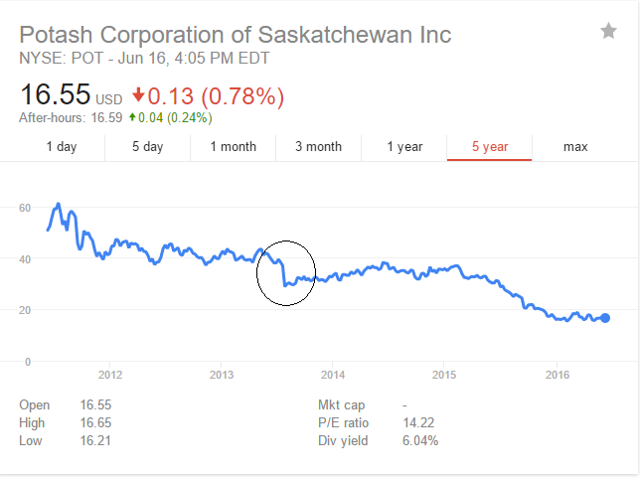 The significance of this is that price discipline is no longer enforced in potash selling prices, and profits will come down. Look at the price chart below.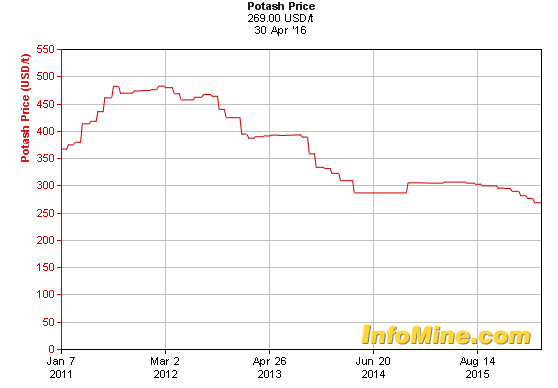 And I don't believe that the pain is anywhere close to ending. Remember oil producers during the early innings of the oil rout? Back when oil had just broke $100? In their price decks they put out, they had dropped their sensitivities to the 70s and 80s. But did anyone start including $40-$50 oil? No.
Potash is in a similar situation. As potash is a relatively a much slower moving commodity than oil, the price falling has been a lot slower, but I believe there is much more room to fall. Any oligopoly market does not have a true representation of where the true equilibrium price is until it has been allowed to stabilize and find its footing.
And yet, with the announcement that potash producers are cutting supply, I don't think we'll ever get to that situation. The supply cut will prop up competitors that are too high on the cost curve to survive normally, and fund more development into alternatives.
I think especially Potash Corp. is in the most danger as they pay out the highest dividend. They pay out $850 million every year, which is below their free cash flow for the trailing twelve months. They will either cut it further, or risk their balance sheet.
Time will tell what happens in the end, but I urge investors to stay away from Potash producers.
Disclosure: I/we have no positions in any stocks mentioned, but may initiate a short position in POT over the next 72 hours.
I wrote this article myself, and it expresses my own opinions. I am not receiving compensation for it (other than from Seeking Alpha). I have no business relationship with any company whose stock is mentioned in this article.