The Federal Reserve's Federal Open Market Committee (FOMC) met this week and issued new monetary policy Wednesday afternoon. Judging by the market's initial reaction and criticism, I get the feeling many of the expert pundits and reporters haven't actually read the Fed's comments carefully or fully understood the Fed's message. It's quite unfortunate, but it made for opportunity, and continues to do so. In this report, I review what the Fed really conveyed to us, versus what you've been led to believe by pundits, reporters and the market's initial reaction. And I lay out my expectations for the Fed moving forward.
Those closely following the Fed know that the FOMC Monetary Policy Statement didn't veer very far off the Fed Chair's preceding statement from the week before at all. I covered those Fed hints in my preview of the Fed decision. Notably, within that piece I also suggested investors wait until after the decision for better clarity, and to beware of following the initial reaction of the market and reporters of it.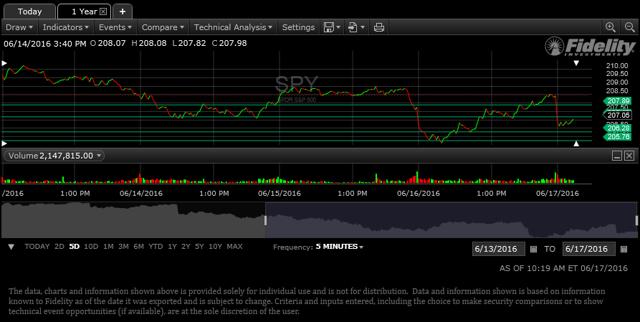 5-Day SPY Chart Post June Fed at Fidelity.com
I'm not always able to write an article fast enough to update followers in real-time, but I try to at least send out a tweet if I have strong conviction about something. Yesterday, at about the lows, I issued this note regarding the market's weakness and my expectation for a strong shift intraday. That proved prescient when the market abruptly turned sharply intraday thereafter. You will be pleased to know that I still see opportunity in various securities that I will be discussing here at Seeking Alpha near-term. In the near future I may consider a PRO Marketplace page here at SA, where followers could look to for real-time notices, but for now the best I can promise followers is to stay abreast of my opinion via the column and to also follow me on Twitter at minimum, and everywhere I am in order to always be appraised of my real-time thoughts.
There were many important points to note Wednesday, but this one stood out most for me: "We need to assure ourselves that the underlying momentum in the economy has not diminished. As I said, we will be carefully assessing data in the labor market to make sure that job gains are going to continue at a pace to ensure further improvement in the labor market… Every meeting is live and we could make a decision at any meeting to adjust the funds rate, but that is the kind of thing we will want to see to make such decisions."
Basically, the Fed Chair told us in that statement that the Fed did not act on interest rates in June due to the soft job creation seen in the important May Employment Situation Report. In her press conference, she again reminds us that other jobs data has been very positive. Thus, the Fed tells us that a July hike is possible (read likely) if May's data proves erroneous after revision or if June's data proves May to have been an aberration. She also makes a special point to notify us that July is a fine option for the Fed to make its next rate hike, as long as economic data supports it.
I suggest all investors read the FOMC monetary policy statement, review the economic projections and watch the Fed Chair's press conference. Do not take your lead from market reaction or from reporter or pundit interpretation. You can read my reports if you trust me, but I certainly discount the reactions of most others, and to be quite honest, wonder how many of the reporters and pundits have actually read and listened to the Fed versus just making statements based on the market's initial reaction to the Fed. You would be surprised how many so-called experts do not do their homework or take shortcuts in their due diligence. I was a Senior Analyst on Wall Street, and what I witnessed firsthand came as extremely shocking (like the room seemed to spin around me shocking). Coming out of grad school full steam toward my childhood dream of working on Wall Street I expected much more than what I found. So take my word for it and actually do your own homework along with finding well-trusted sources.
The market somehow determined the Fed was so dovish that it would not raise rates until December. Fed Funds Futures still show basically no chance for a rate hike until December, where the probability is still just 48%. This assumption is grossly in error, and it will change significantly when the June jobs data shows stronger job creation, in my opinion.
The Fed's economic projections go a long way toward understanding a July rate hike is probable, despite flaws in past projections. The Fed's projections, even including President Bullard's strangely defiant dot plots (this time on the dovish side), show consensus expectations for a 0.9% Fed Funds Rate. Currently, the Fed Funds Rate is about 0.5%, which means two quarter-point rate hikes are likely this year. The Fed's reductions in forward Fed Funds Rate expectations are simply the result of its experience this year, as it now better understands uncertainty and sees how events will likely slow its progress to three quarter-point rate hikes per year instead of four. By the way, there's no rule stating the Fed can't make larger rate hikes than a quarter-point if need be, and historically speaking it has done so before.
Apparently, markets were also dismayed by the Fed projections for GDP, if you believe the reporting. The Fed reduced its expectation for GDP growth this year to 2.0%, from 2.2% in March. Obviously, since March we received the depressing evidence of a Q1 slowdown. However, average economists' GDP expectations for the second quarter are for 2.7% growth, so swallow that. Looking beyond Q2, I simply do not buy that markets trust long-term Fed forecasts for the economy. The Fed continues to project about 2.0% growth over the next couple years, which is about what we have for this year, so it's not portraying much of an effort at projection. Even if it was, the Fed does not have a great track record at economic projection, based on my observations. Therefore, it is not something investors should be using for their own forward looking. The market revalues the economy on a monthly basis, and so this data is not going to be relevant to markets in the minutes, days or weeks post Fed meeting.
Inflation is not moving markets today, as most investors do not grasp it. The Fed further clouded that understanding by discussing the "neutral rate," which can be thought of as the natural Fed Funds Rate, in my perception. The Fed said that it is low versus its history, which is true, but investors should be aware that if/when fear fades, yields will rise again. The Fed also importantly noted that concern about the yield curve is overdone. Chair Yellen discussed the massive assets the Fed still holds leftover from its quantitative easing efforts. If it were to begin selling those assets, long-term yields would rise due to the impact the Fed would have on supply/demand dynamics. In other words, when the Fed says its current position is accommodative, it's absolutely true. It continues to keep long-term rates low (not just short-term rates), for now, to help the economy.
The Fed was also stymied by the volatility and fear in markets now due to the U.K. referendum. The issue raised the temperature in the room on Wednesday and made for an intensified reaction to a possible Fed action, should it have come. The Fed was right to hold off, as a severe disruption to financial markets could impact the economy, as we saw in Q1. Thus, I dispute reporters who refer to international issues as unimportant for our Federal Reserve to consider.
| | |
| --- | --- |
| Security Sector | 06-17-16 AM Trade |
| SPDR S&P 500 (NYSE: SPY) | -0.2% |
| SPDR Dow Jones (NYSE: DIA) | -0.1% |
| PowerShares QQQ (NASDAQ: QQQ) | -1.1% |
| iShares Russell 2000 (NYSE: IWM) | +0.1% |
| Vanguard Total Stock Market (NYSE: VTI) | -0.1% |
| Financial Select Sector SPDR (NYSE: XLF) | +0.4% |
| Technology Select Sector SPDR (NASDAQ: XLK) | -0.7% |
| Energy Select Sector SPDR (NYSE: XLE) | +1.0% |
| Health Care Select Sector SPDR (NYSE: XLV) | -0.8% |
| Consumer Discretionary Select Sector SPDR (NYSE: XLY) | +0.2% |
| Consumer Staples Select Sector SPDR (NYSE: XLP) | -0.7% |
| Utilities Select Sector SPDR (NYSE: XLU) | +0.2% |
| Materials Select Sector SPDR (NYSE: XLB) | +0.4% |
| Industrial Select Sector SPDR (NYSE: XLI) | +0.3% |
| iPath S&P 500 VIX ST Futures (NYSE: VXX) | -1.1% |
| SPDR Gold Trust (NYSE: GLD) | +0.9% |
| United States Oil (NYSE: USO) | +2.8% |
| PowerShares DB US Dollar Bullish (NYSE: UUP) | -0.5% |
| Widely Held Stock Apple (NASDAQ: AAPL) | -1.9% |
| General Electric (NYSE: GE) | +0.1% |
In conclusion, I call investors to do their own homework when it comes to investment matters of importance. Too often it seems reporters and pundits are taking their lead from the initial reaction of the markets, or on their memories of past reactions or discussions. In this case, I believe the Fed has given us a list of things to look to for evidence of an impending rate action. I believe that action will come in July after the U.K. referendum is behind us and after a likely better jobs data point for June. Investors interested in my regular coverage of the economy, markets, sectors and securities are invited to follow my financial column here at Seeking Alpha.
Disclosure: I am/we are long UUP.
I wrote this article myself, and it expresses my own opinions. I am not receiving compensation for it (other than from Seeking Alpha). I have no business relationship with any company whose stock is mentioned in this article.