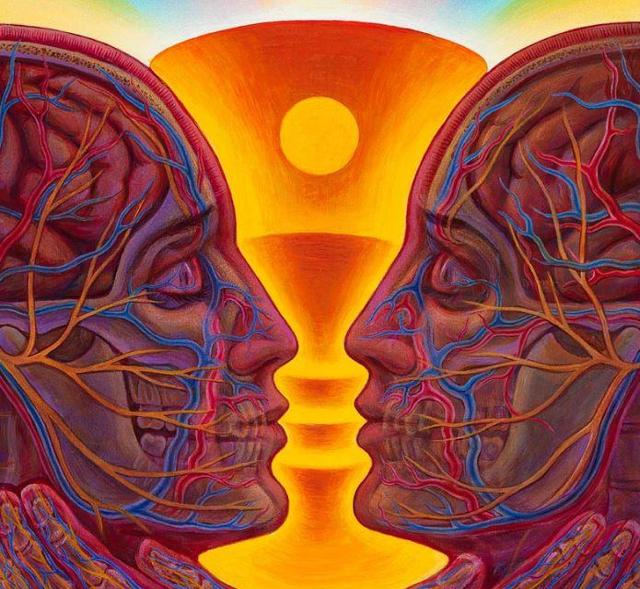 Great ideas happen every day, but few have the power to change the world. Genomics company Illumina, Inc. (NASDAQ:ILMN) can lay claim to one that did. By dropping the cost of sequencing a human genome to $1,000, Illumina made it feasible for genomics to enter everyday clinical use and changed healthcare forever.
Investors have had little or no opportunity to get a bargain price on this stock ever since. But due to a disappointing series of quarters, Illumina is now trading at $136, -44% away from the 52-week high mark of $242.
Why such a steep drop? Illumina is a victim of its own success. When a company that has grown its sales 20-25% per year for a long time doesn't meet quarterly expectations, shares are going to nosedive. But Illumina has taken steps to get back on track soon, as I'll address later. Meanwhile, this industry leader in genomics, whose machines generate 90% of all DNA sequence data today, is not resting on its laurels. It's about to seize a new opportunity potentially worth more than its entire market cap.
Inflection Point Coming from Major Expansion in Strategy
We'll look at Illumina's short-term issues later. What's being missed is that Illumina is laying the groundwork to reinvent itself. It is rapidly moving beyond providing fundamental sequencing technologies and consumables to focus on tests and services that mine genomic insights.
Here's how Illumina's new CEO, serial entrepreneur Francis deSouza, explains the new direction of the company.
"We spent a decade selling instruments to researchers who are experts and understand genomics. Now we're seeing applications take off, which is a much bigger market for us."
Illumina signaled the change when it bought prenatal company Verinata Health, Inc. for $350 million, maker of a noninvasive prenatal sequencing test to identify fetal abnormalities. That gave Illumina a service that consumers can buy (through their doctors), in a market that could be worth billions. More recently, it acquired NextBio, which is building a database of links between diseases and specific genes. Last year, it invested in Helix to create an app store for consumer genetic tests. Illumina owns a majority stake in Helix, which could be a $2-$7 billion market opportunity according to UBS' Jonathan Groberg.
Possibilities for other consumer tests will only increase as millions of people are sequenced. Illumina is in the perfect position to exploit all coming opportunities. And the payoff is only going to get bigger as genomic information moves through the practice of medicine to enter everyday life.
Blowing Open the Cancer Market: Base Case, $20 Billion - Bull case, $200 Billion
In January, Illumina announced a venture called Grail, in which Wall Street has shown very little interest. With Grail, Illumina plans to build a universal, early-stage test for cancer by sequencing tumor DNA fragments found in the blood. Backers include tech billionaires Jeff Bezos and Bill Gates, but Illumina will own the majority of Grail, including all intellectual property outside of asymptomatic screening.
The need for the test is crystal-clear. Currently, there isn't a way to screen for multiple types of cancer in otherwise healthy individuals. Therefore, diagnosis often doesn't come until the cancer is in a later, more dangerous stage. Grail raises the possibility of being able to screen individuals every two years or so for cancer. Tests would cost $500-$1,000, and early detection would save many lives.
Grail's self-set goal for the pan-cancer test is 2019, although early versions of the test could reach the market before that. Early detection of lung and breast cancer is expected to be among the first tests available.
Critics have called the venture a "moonshot" and claim payers would not reimburse. However, that remains to be seen. An early diagnostic test actually offers a much cheaper means of deciding what to do for a cancer patient, rather than waiting until the disease has advanced to the point where a long regimen of potentially useless medication is prescribed.
Illumina's "base case" for Grail - where it screens for tumor DNA in high-risk individuals at stage 2 or later - is a market worth $20 to $40 billion. In the "bull case" - where the technology could routinely detect cancer at stage 1 and pinpoint a tumor's location in the body - Illumina predicts Grail would achieve a $100 to $200 billion market.
It's a huge challenge, and there are plenty of naysayers out there. But if any firm has the expertise to make this work, it's Illumina. And here's the bottom line for investors that the overall market is missing. If Grail pulls this off, it will transform Illumina. The company will completely revolutionize cancer screening in just a few years.
It goes beyond that. Healthcare is currently in a state where different companies supply compartmentalized drug and device solutions, so the entrenched mindsets of Big Pharma (and many healthcare investors) are blind to a great opportunity. It is inevitable - given the emerging abilities in diagnostics, and how sequencing has led to an explosion of data points becoming available - that an era is approaching when diagnostics will begin to dominate healthcare.
There's no telling how fast that future will arrive - it depends on too many factors. But for now, look at it this way. Illumina has a vast amount to gain from working on Grail - even besides the test itself. As Illumina amasses the vast array of mine-able cancer data required to create the test, it is building a platform to find algorithms that could generate equal-to-innovative oncology drug outcomes using generics for many patients, thereby limiting the margins of drug suppliers and the upsides for new drug/discovery development.
Here's another possibility. It could take on pharmaceutical development directly- exploiting its informatics and data base advantages to avoid Big Pharma's typical upstream costs of oncology drug discovery and target validation. Or it could shortcut the process by buying important new drugs from smaller biotechs - extracting premium returns from acquisitions due to its superior knowledge base.
In short, we're approaching a whole new ballgame in healthcare, and Illumina stands out as a key beneficiary. The old notion of diagnostics was to find out whether or not a patient had a disease. Now we are on the cusp of diagnostics also characterizing the patient's response to the disease, predicting individual reaction to the disease, and monitoring the evolution of the disease. That ability notches this opportunity to $200 billion. It's why Bezos and Gates, with their interest in Big Data, likely jumped aboard. And it's why - if you're an investor in biotech - this is something you can't ignore.
Competition - Build it or Buy It
What about competition for Illumina? Fears of competition have weighed heavily on the stock price. In fact, the bear case on Illumina right now rests almost entirely on two assumptions.
The first assumption holds water - challenges to earnings growth and near-term profitability aren't over. Quarters will be choppy. The European market for sequencing will probably remain at low-to-mid single-digit growth rates. But that's not a retrenchment, that's just slower growth than the rest of the world.
The second bear-case assumption is that "disruptive" technologies will knock Illumina off its throne. Analysts citing this typically mention a competitor that offers slightly better technology in a certain small niche - such as reading super-repetitive plant DNA, for instance.
I don't find those kinds of threats particularly relevant to Illumina's future. Illumina overwhelmingly controls both the high and low end of the sequencing market. (Its newly released MiniSeq machines can be bought for small labs for around $50,000.) While machines from Pacific Biosciences (NASDAQ:PACB), Thermo Fisher Scientific (NYSE:TMO) and Qiagen (NASDAQ: QGEN) will fill useful small niches, they are just nibbling at the edges of the market.
Only one competitor, Oxford Nanopore Technologies, Ltd. - with its nanopore sequencing - may have an actual "disruptive" technology, meaning something groundbreaking that could create a completely new industry. Oxpore's MinION is literally handheld and can be operated with a minimum of training. But Illumina has also been working on nanopore sequencing for a long time. In fact, it had a partnership with Oxford back in 2009 to market a nanopore sequencer that never materialized.
It's possible; maybe even likely, that Illumina is narrowing in on its own nanopore sequencer. Either way, its recent lawsuit for patent infringement will likely throw a wrench in Oxford's progress for quite a while.
It's impossible to know the current state of all the multiple early ventures in sequencing technology, so perhaps there is something worrisome out there. But Illumina's management team is likely much more aware of these threats than anyone else, and it has a history of turning threats into opportunities. DNA sequencing has always been an extremely competitive market, but the company has achieved and kept its dominance following a strategy, which can be summed up in four words: Build it or Buy It.
In fact, that's how Illumina won the race for the $1,000 genome, through the acquisition of Solexa. Solexa was a small business, with just $2.5 million in revenue in 2006. After Illumina acquired it and provided the global distribution needed, it became a $100 million business in one year. For Illumina.
Here's what's really important to understand. At the time, Big Pharma Roche (OTCQX:RHHBY), which had bought 454 Life Sciences, was months away from achieving the first rapid readout of an individual human genome. Illumina was working on its own solution, but it saw the danger, and made use of Solexa and in-house technology to seize the victory.
What happened to Roche's competing effort? It eventually shuttered 454 and phased out its sequencers.
If you study the industry's history, you will see that Illumina has outflanked and outsmarted competitors repeatedly. And with former CEO Jay Flatley not leaving the company, but transitioning to executive chair, where he should still have considerable input into Illumina's strategic initiatives, and exceptional leader Francis deSouza, who has cofounded a number of tech companies, stepping into his shoes, Illumina's toughness as a competitor is not going to vaporize.
Nor is research spending on genome sequencing, by the way. While global macroeconomic concerns, especially in Europe and Japan, could continue to impact sales, that's a temporary issue. Research budgets will still ultimately refocus on genomic sequencing because of the huge advancements it provides.
Back of the Envelope Financial Projection
Last quarter Illumina did $572 million in sales (6% increase, but short of forecasts of $593 million). Management dropped yearly guidance from 16% revenue growth to 12%. That's a big ouch. According to Flatley, the shortfall came from a hiccup in booking revenue from orders received and sluggish demand in Europe, where sales dropped 2% in the quarter compared with a year ago.
It's clear management took its eye off the ball the last few quarters in Europe and the ongoing economic uncertainty across the pond didn't help. On the other hand, sales growth in Asia and US is still clocking in at mid-teens rates.
Operational missteps are not good news, but they are being addressed, with leadership being reshuffled to Europe. On the earnings call, Flatley said, "We've factored in the disappointing European outlook into the guidance numbers we've given, and obviously we'll be working to better those numbers."
Be that as it may, Illumina's stock price has now been reset. In fact, the chart below shows how it is offering an attractive entry point, simply viz-a-viz its usual P/E (TTM) over the past five years.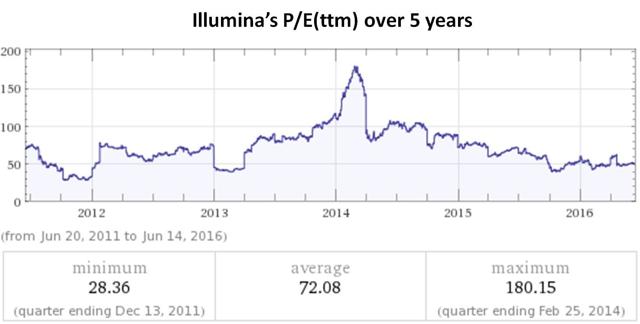 In terms of a price target, the median analyst target for Illumina is $165. Group think nets you that target - a simple model can calculate that price: target price equals current price X P/E divided by forward P/E. $136 (50/41) = $165.85.
On the other hand, lllumina's P/E of 50 is well below its 5-year historical average P/E of 72.08. Assuming the value of Illumina's earning returns to its historical average, apply a multiplier of 1.44, and with $136 as the current price, the price target would be $195.84 in the next 18 months, or 44% upside.
Does this company still merit its historical premium valuation? It depends on what you see as more significant - the short-term weakness, or the long-term opportunity. Flatley said, "while the market is focusing on $0.05 a share in a quarter or even $0.10 a share in a quarter, this company is pursuing...a gigantic opportunity, probably that single biggest market segment that we can imagine."
UBS's Groberg uses another approach to get to his most recent price target of $180. He values Illumina's core business at 38 times 2017 earnings of $4.30, which is in line with other med-tech companies growing at a similar pace. That puts the stock at around $165. He then adds $15 for Grail and Helix - thinking of it as an option on a potentially huge payout. I agree, but I'd put the option higher.
Bottom Line
Here's the bottom line investment thesis. Illumina has just begun work on what could be the next great idea in healthcare. The market is highly skeptical, but that was true when Illumina delivered its first great idea to change healthcare - the $1000 sequencing of the human genome. And we all know how that ended.
While many see Grail as a long shot, I'm more inclined to vote with Gates and Bezos. I think Illumina can pull it off, particularly the test for high-risk patients.
But what I find most intriguing is Illumina's current risk/reward skew. Every investment has some risk and some reward; it's the skew that matters. You want those investments that minimize the first and maximize the latter. With Illumina's share price badly lagging, you can get into this terrific stock at an excellent entry point. Your risk looks minimal. If Grail fails, you haven't paid anything for the opportunity.
If Grail succeeds, you're in position for extraordinary rewards long-term. And that's why, for those who can withstand some volatility, this industry leading company looks like an investment opportunity that should not be missed.
Disclosure: I am/we are long ILMN.
I wrote this article myself, and it expresses my own opinions. I am not receiving compensation for it (other than from Seeking Alpha). I have no business relationship with any company whose stock is mentioned in this article.