Subscribers to "Income From Covered Option Writing" had an advance look at this material.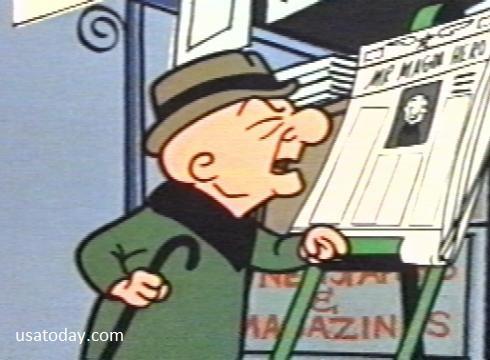 Myopia, nearsightedness, is a simple medical condition. I invented the concept of the Myopic Analyst to identify the risk of short sightedness and narrow focus in investing. My series introduction from 6/15/15 provides the following caution about such shortsighted analysis:
Myopia is a dangerous condition. It makes people blind to the reality around them. They flounder about, navigating on the basis of where they think they remember things should be instead of living in the present environment. Beyond visual myopia, narrow-minded thinking is even more dangerous when navigating the changing financial landscape. For your own financial health, beware of Myopic Analyst Syndrome.
Microsoft (NASDAQ:MSFT) began the week by announcing the acquisition of LinkedIn (LNKD) for $26.2 billion. This represents an expenditure of about $3.33 in MSFT's asset per share. Displeased Myopic analysts were quick to question the value of this deal. Shares plunged to $49.06 after having traded at $52.05 the prior Friday. This three-dollar drop negates the entire value of that $26.2 billion. Is Microsoft really worth $26 billion less today than it was last Friday? The answer is a resounding no. Myopic analysts have gotten it wrong yet again. Microsoft's shares are largely priced by income investors attracted to its safe dividends. The value of shares is primarily set by what income investors are willing to pay for that income stream (yield rate). This creates an opportunity for bargain savvy income investors today. My case is presented below.
Company: Microsoft Corp.
Current Price: $49.69
Dividend: $1.44 (2.9%)
Fair Value: YDP (2.75%) $52.36
Fair Value: P/FCF (13:1) $38.15
Analysts' Median Estimate: $60.00
Prior Research: 4/23/14
Two years ago, my 4/23/14 article, "Apple And Microsoft Share A Dirty Little Secret", posited that MSFT has become a safe and reliable dividend income equity with its share price largely driven by income investors seeking its quarterly distributions. Application of YDP Analysis & Appraisal provides fair value computed for Microsoft at its dividend distribution levels for each of the last five years. Results, shown on the chart below, overlain on the actual trading prices confirm MSFT to largely be driven by the market price correlation to dividend distributions (in accord with YDP modeling). In fact, share price tends to oscillate around the YDP fair value calculation with noise created by secondary pushes and pulls of both the micro- and macro-economic environments for the company. The center focus of the YDP fair value and trend to always return to YDP value exposes these secondary departures to be misdirected myopia by analysts out of touch with what really drives investor interest and shareholder value. A focus on YDP fair value is sufficient to reliably use for value investing in Microsoft (or any true dividend income equity).

At the current market price of $49.69, shares are $2.67 (5.1%) below fair value. A dividend increase of perhaps $0.27 to a total of $1.71 per annum can be expected November 2016. This would bring fair value to $62.18, 25.18% above current market trading price.
Note: YDP fair value has been computed using actual dividends and a projected 18.9% hike consistent with the five-year dividend growth rate. Historical yield rate is 2.75%, a very low volatility trend as seen on the chart below: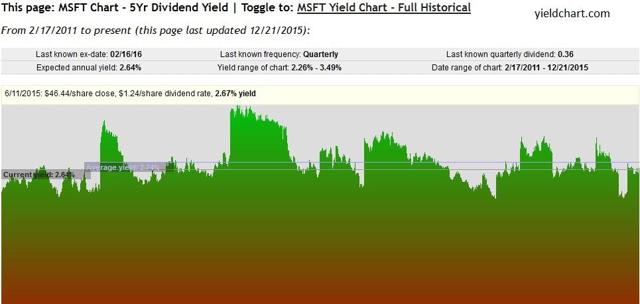 Health Checkup
Of course, dividend income is only safe if it is reliable going forward. Therefore, a check on the health and sustainability to generate those dividends is important.
A look at cash dividend payout ratio shows a sharp rise since 2012, but still a very comfortable 45%. Even with additional debt service for the LinkedIn purchase, free cash flow can be expected to easily cover dividends and dividend growth for many years to come.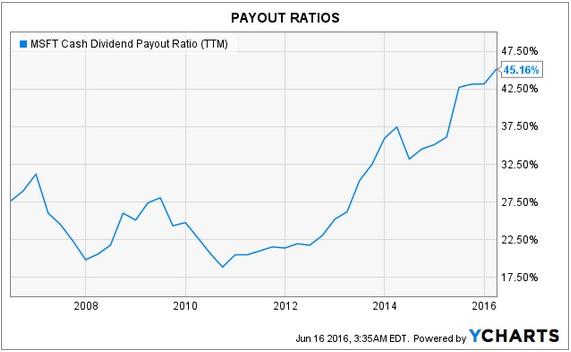 Probing deeper, a look at company health and sustainability provides a bit more disturbing picture. Free cash flow, the life blood of dividends, has remained fairly steady for the past five years. All other important health and sustainability metrics have been in marked decline. Although there is no near-term risk to the dividend from them (both due to current coverage ratios and huge cash reserves), these long-term trends will need to be reversed to keep this income investment viable as a cash cow beyond the next five years.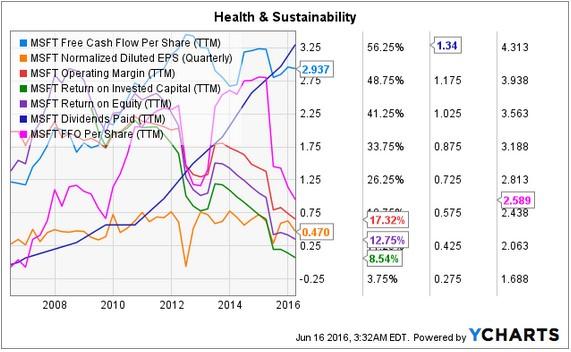 Will management be up to the task of restoring long-term health and sustainability? A look at management effectiveness leaves a lot of room for doubt. All measures other than FCF show steady declines for the past five years, indicating management is ineffective at allocating resources to enhance and protect shareholder value in the long run. I believe a new management team, both executive and operating, will be needed before the long-term ability of Microsoft to grow and transform to a true 21st century company can be achieved.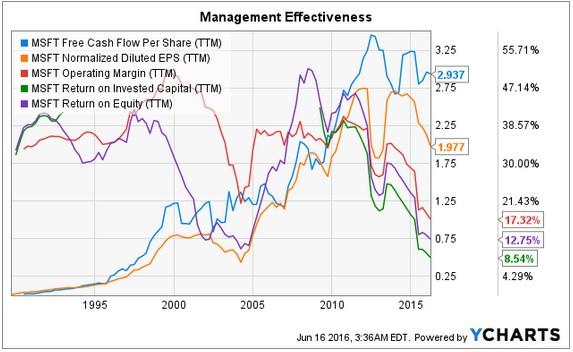 Nonetheless, with adequate cash flow along with a pile of cash to backstop it, the dividends that investors are pricing shares for are secure for at least five years prior to triggering any potential concerns beginning. Today's strategy is, acquire the shares for the current bargain prices and income along with a 25% capital appreciation likely over the next 12 to 16 months, driven by price correlation to dividend distributions mediated by the 2.75% historical yield rate trend. Keep an eye on cash flow metrics to sustain dividends and turnaround by management, either the current team or a new one. Given the current lackluster performance of the existing team and a strong pile of cash to aid realignment and restore health, I predict an activist investor will be attracted soon. Any such move will probably immediately boost share prices well above current YDP fair value, which is dictated by the dividend income stream alone
Covered Option Boost Opportunities
With shares trading >5% below fair value, it is a good time to enter or own MSFT. For those wanting an entry, I suggest a buy-write at $49.69 market and using the covered call leg on the 127-day 10/21/16 $55.00 @ $0.82 premium for a net debit of $48.87. This provides an absolute gain of 1.68% (4.82% annualized yield rate) and allows you to start capturing dividends with the 8/16/16 distribution. The combined option boost and 2.9% dividends give an annualized yield rate of 7.72%. In the event of call-away, the intrinsic gain of $5.31 adds an additional absolute 10.87% gain (31.23% annualized yield rate).
Those who already own shares should consider the covered call leg of the above buy-write.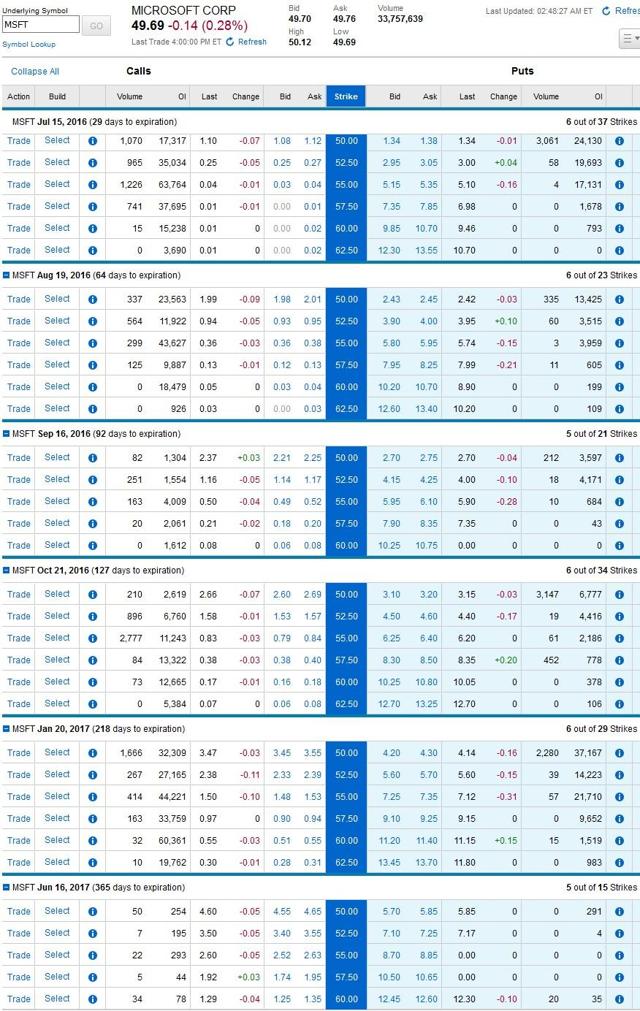 If you find this article thought provoking, please consider becoming a follower by scrolling back to the top and clicking the <FOLLOW> link next to my name. This insures you get a notice of all my work as it is published and gives me feedback to know what readers find of interest. Thanks for taking the time to read. Join the comments section below to continue this discussion and share your thoughts and experience.
I am not a licensed securities dealer or advisor. The views here are solely my own and should not be considered or used for investment advice. As always, individuals should determine the suitability for their own situation and perform their own due diligence before making any investment.
Disclosure: I am/we are long MSFT.
I wrote this article myself, and it expresses my own opinions. I am not receiving compensation for it (other than from Seeking Alpha). I have no business relationship with any company whose stock is mentioned in this article.