Since it is starting to get mighty warm outside in most of the country and spring is set to end, it seems to be the proper time for a "hot" investment idea. That idea is Pool Corporation (NASDAQ:POOL). The pool, despite its numerous aggravations and faults, remains deeply engraved in Americana. While no one likely enjoys the upkeep involved in having one, nearly everyone at least likes the idea of sitting in a backyard poolside, cool drink in hand, on a hot summer's day.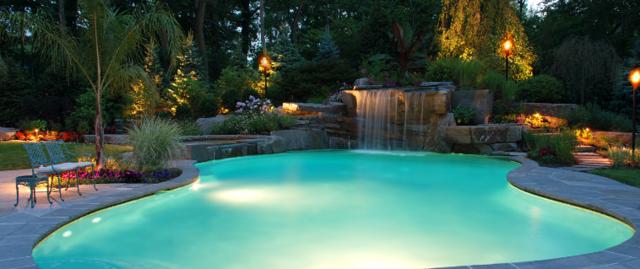 Pool Corporation first and foremost is a story of scale and lack of viable competition. According to management estimates, Pool believes it is larger than its 50 largest pure-play competitors combined. That is a massive advantage when it comes to operational leverage within the business. Often, one of the simplest ways to outperform markets is to identify companies that are growing in fragmented markets and gaining market share. If economies of scale are present in those markets, the leverage from the growing size simply boosts margins well above the rest of market norms, meaning economic profits. This situation is exactly the one Pool Corporation is in.
The company has built up an extensive distribution network in order to leverage its size, now owning more than 200 sales centers. Further bolstering the long case, the company believes a large part of its business is relatively non-discretionary spending by pool owners, such as chemicals, cleaners, and other various maintenance and upkeep parts that are needed to keep pools running properly.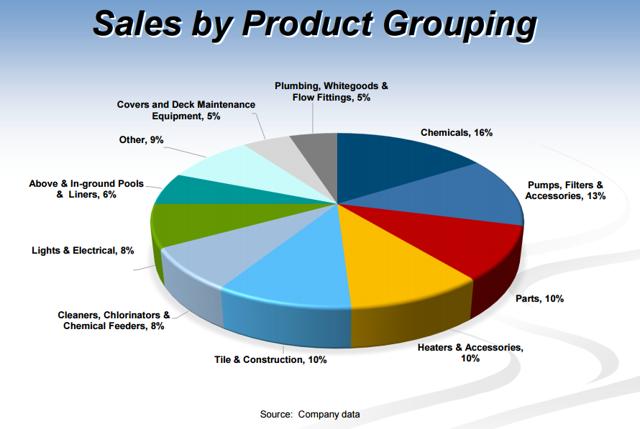 Source: Pool Corporation Investor Presentation
So while overall sales might depend in some part on total pools in force (more pools = more maintenance), the need for maintenance should keep revenues from crashing during moderate economic downtrends. This isn't a new construction business - far from it. Earnings per share did fall from 2006 to 2009 from $1.74 to $0.93/share (excluding impairment charges), but unlike many companies exposed to housing, Pool Corporation did remain profitable in that time period. Given the rampant shareholder value destruction during the period, I'd take the company's results over most of the rest of the industry.
Numerically, the company believes 58% of its sales to be non-discretionary, 29% somewhat discretionary, and 13% discretionary. Consumers tend to neglect even non-discretionary maintenance when their finances are under pressure. Just like when consumers pushed off necessary car maintenance during the recession like tire or brake replacement for as long as they could, consumers have been doing so when it comes to pool spending. Eventually, those chickens come home to roost, requiring catch-up spending to bring the pool back into working order. Given that 60% of pools by company estimates were originally constructed in 1999 or prior, refurbishment and replacement will continue to be a key driver of sales.
Moat?
While the knee-jerk reaction here is to say "Non-discretionary items like pumps? Can't you buy those on Amazon (NASDAQ:AMZN)?", there is a little more to the story than that. Consumers love pools. Consumers, unfortunately, have a poor understanding of how they work and their upkeep. Just like specialty parts stores like Advance Auto Parts (NYSE:AAP) stay open and thrive because of consumers that need a resource and assistance in procuring the right parts, direct-to-consumer sales at specialty shops are likely to remain in place in this industry as well. Consumers, even well-off ones, want to make sure they are doing things properly when they are dumping thousands of dollars into the maintaining a finicky asset. As long as the company maintains its high standard of employing knowledgeable staff, there really shouldn't be a large shift towards other sources of parts in my opinion.
Long Thesis Assumptions
15% (or more) contribution margin (operating leverage off new business). This is above the current operating margin for the consolidated business (9%). Annual market growth in installed pools driving revenue (2-4% tailwind to revenue annually). Continued market share gains (2-3% annual). Inflation/spend growth from existing customers (2-4% annually).
If you buy into management's guidance on these facets, revenue is set to increase 6-11% annually, and earnings per share growth could climb to between 15% and 20% based off contribution margin guidance. Such growth isn't out of line historically - earnings grew at an 8% CAGR from 2004 to 2014, which included the 2006-2009 period, which saw earnings get cut in half. Remember, the total U.S. pool installed base over that time frame only increased roughly 15% in total.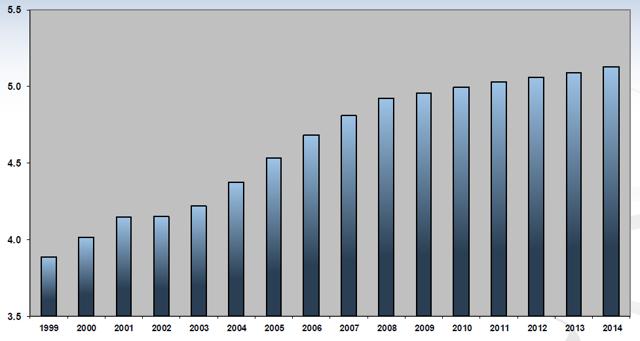 Honestly, the pool market has been marginal at best, yet the equity has still returned 460% from 2006 to 2016, which includes the stock getting cut by 66% from 2006 to 2009. This solid market outperformance is a testament to management's execution in what has definitely not been the easiest end market to be competing within. Long thesis assumptions above are in line with current management guidance. A company that looks incredibly expensive today (17x TTM EV/EBITDA, 28x trailing P/E) looks much different when growing at that 15-20% earnings rate.

On a base level, assuming 20x GAAP P/E as a normalized level in 2020 (multiple contraction due to slowing growth prospects beyond 2020 and the maturing of the business), the company is worth $93.40/share in 2020 on the bear case, $116.60 on the base, and $144.40 on the bull case. Discounting 8% annually, it appears the market is currently pricing in roughly 16% annual growth in the shares based on the company's assumptions. Given improving market conditions in pool construction domestically and new housing builds, I don't believe those estimates are truly out of line. Shares likely trade close to fair value today.
While many value investors have a tendency to buy on dips, they are exceedingly rare here in this name. The opportunity to buy may not present itself, but it is definitely a company I'll continue to monitor for opportunities.
For more research like this on small/mid cap companies perpetually under-followed by Wall Street and under-owned by retail investors, consider following me (by clicking the "Follow" button at the top of this article next to my name) to receive notification when I publish research. Feel free to ask any questions in the Comments section below.
Disclosure: I/we have no positions in any stocks mentioned, and no plans to initiate any positions within the next 72 hours.
I wrote this article myself, and it expresses my own opinions. I am not receiving compensation for it (other than from Seeking Alpha). I have no business relationship with any company whose stock is mentioned in this article.