"Not really (chuckling)! I mean it doesn't do anything the phone doesn't do and most people cringe when I tell them I have to charge them for another data plan on the same bill and another connection charge. Trying to get another $50 out of a customer to upgrade is hard enough for us. Trying to convince them to add all those other charges for the Gear has been almost impossible. Only time we've sold them is if someone has come in specifically for it. Doesn't happen much at all though."
That was the response from the AT&T (NYSE:T) branch manager I interviewed when asked if the Samsung Gear Classic 2 has gotten a good response from customers. This was Samsung's first untethered smartwatch and big, second generation push with the smartwatch device. Not that I didn't know what the response would be prior to asking the question above, but confirmation always is comforting.
I've articulated some of the biggest reasons why the smartwatch, as developed by Samsung and Apple Inc. (NASDAQ:AAPL), would never disrupt or displace the smartphone. My dissension from the smartwatch proponents was the first of its kind and I published my dissension for the first time back in March of this year. It was met with a massive backlash even though my sales forecast for the Apple Watch was proven most accurate in the following months and as disseminated through Apple's "Others" sales category. The biggest obstacles facing the smartwatch be it by Apple or Samsung are as follows:
Smartphone does everything a smartwatch does and so much more.
Smartwatch is not applicable for photography.
Smartwatch is not applicable for mobile gaming.
Screen size is not optimal for mass-market appeal.
Battery life will improve, but remain subpar for a smart device.
Watches are not a preferred or necessary accessory, as might have been in past.
Will have two smart devices in need of charging.
Will have to increase monthly data charges by plan.
Doesn't solve any problems that may exist with existing smart device.
Smaller is perceived more "gadgety" and unnecessary therefore less likely to see adoption through iterations.
Already launched a predecessor Watch with huge returns to vendor and disappointment to consumers.
Fellow Seeking Alpha contributor Mark Hibben has previously stated that the Apple Watch will disrupt the smartphone, even as sales trends suggest to the contrary.
If the smartwatch is going to become our principal communications device, where does that leave the smartphone? Well, pretty disrupted, although it may take time (years) to become apparent. Yes, people will still need a larger portable screen, but here consumers will have a range of choices to suit their needs from larger tablets to smartphones. In effect, the smartphone will become just another tablet option. Traditional voice calling will fall by the wayside, although cellular connectivity will be an option, just as it is now with iPad.
In my two-part series, I clearly outline with logic why the smartwatch by Apple or Samsung will never disrupt the iPhone… or smartphone for that matter. The two articles are noted below.
In the past I've demonstrated an understanding of product concept and development as it pertains to forecasting the product's future and/or potential in the marketplace. Whether it was Skullcandy (NASDAQ:SKUL) or SodaStream's (NASDAQ:SODA) early days and hunt for market saturation or Keurig Kold's nonsensical product development, I've offered readers and investors a glimpse into the future of products. Most successful, mainstream products address a problem the consumer has and/or adds a critical benefit to the consumer's life. None of the products mentioned have either characteristic and the smartwatch is just another gadget hoping for mass-adoption without addressing a problem.
Keurig Kold has been one of the most "investor anticipated" and media hyped products in the consumer goods space over the last two-plus years. As Keurig dominated the single-serve coffee market since 2003, investors believed the Keurig Kold would be the next product leading Keurig to long-lasting growth once Keurig's Hot platform found stagnation and declines. But Keurig Kold was fundamentally flawed from day one. Over a period of three years I articulated, during the Keurig Kold product development cycle and before it launched in the marketplace, the obstacles for the Keurig Kold. I offered it would be challenged from many aspects and likely not perform to investor, analysts or company expectations.
I presented on radio for the public in Keurig's home state of Vermont why the product was likely doomed:
Even with expert understanding of the technology never articulated to the public before my publications, investors and analysts remained positive on the product. Warning after warning after warning as to why the Keurig Kold would not perform to expectations went unheeded. I even published an article titled "The Keurig Kold Folly Will End Badly For Many" when the product finally launched. After less than a year in the marketplace, last week Keurig discontinued the Keurig Kold beverage machine. Both Coca-Cola (NYSE:KO) and Dr. Pepper Snapple Group (NYSE:DPS) offered their brand products on the Keurig Kold platform. Coca-Cola had billions invested in Keurig Green Mountain and the Keurig Kold…but it was all for not. Keurig Kold failed because it didn't solve any consumer problem and it offered not to perform that fundamental product issue at a premium price point.
The explanation surrounding my analysis of Keurig Kold serves to alert investors and readers of my early concerns for the Apple Watch and smartwatches in general. A gadget is only as good as its form and function that enable the product to solve consumer problems or provide benefits that can't be found in existing products. If a product does not exhibit these characteristics, it will likely not be a mainstream product that finds long-lasting growth. Akin to the iPad tablet, which did not solve any problems and has been in decline for 10 quarters now or the Keurig Kold that failed from the genesis of the idea, smartwatches are ripe for disappointing the masses. In other words, regardless of the smartwatch's continued development, it will likely render itself in the likeness of the Keurig Kold or iPad performances. Smartwatches will not be disruptive in any way.
So with Samsung Gear Classic 2 already out and ahead of the upcoming Apple Watch OS3, what can we expect from the next Apple Watch? Very simply put, we can expect improvements and compromise. The Apple Watch, like the Keurig Kold, found extremely poor sell-through results when they launched. If it weren't for retailers buying inventory, unit sales would have been negligible. It's why Keurig never released the total number of units sold for the Keurig Kold and likely why Apple will never tell how many Apple Watches have sold to consumers. Keurig reduced the price of the Keurig Kold from $369 to $199 within four months of the product launching and Apple was found reducing the price of the Apple Watch from $349 to $299 shortly after the smartwatch launched. Retailers will not sit on stagnating inventory, they will not! Apple has compromised already on Apple Watch pricing and they will likely continue to do so.
The next iteration of the Apple Watch will likely boast an expanded distribution network as cell connectivity will now be independent of the iPhone. This will serve to boost sell-in results sequentially and as I previously forecasted. It won't help sell-through to consumers however and be found wanting for greater sales come time to comp. The new Apple Watch will require ownership of an iPhone in order to own and operate an Apple Watch as intended. In that sense it is not untethered. For more details on the Apple Watch OS3 device The Verge offers a nice review of the upgrades as follows:
Apple's new Watch software, watchOS 3, isn't just new software, it's an admission that Apple had it all wrong when it came to interactions on the first-generation Apple Watch. It's less of a revamp and more of a rescue of the Watch, an attempt to deconstruct the old software and to focus on the stuff that people actually care about.

It's a rare thing for Apple to admit that it was wrong on something product-related, even subtly. But that's what it did onstage yesterday during the company's annual developer's conference: Kevin Lynch, a vice president of technology at Apple, actually used the previous version of Apple Watch software as a benchmark for how fast the new software is. Collectively, the crowd of 6,000 watched while Lynch opened a third-party soccer app on an Apple Watch running last year's watchOS 2 software; the app took nearly seven seconds to load.
Both native apps and third-party apps will load much faster on watchOS 3, since favorite apps will be kept on the device's memory.
Apple Pay will work in third-party apps, such as Lyft, on the Watch. There's an SOS function for making emergency calls.
There will be shorter shortcuts to text message responses and a new scribble-to-text function.
Other changes were around health and fitness since that's one of the most popular use cases for the Watch. There will be a watch face made up entirely of Apple's colorful activity-tracking rings and another that offers a shortcut to the Workout app. People can share their activity data with other Watch wearers, so there's finally a social component.
You can now just swipe, edge to edge, to change a watch face.
It's still not a perfect smartwatch - if such a thing exists - but the demo of watchOS 3 offers a better explanation for why you might want to use an Apple Watch.
"It's still not a perfect smartwatch - if such a thing exists." Pretty much aligns with my understanding of the efficacy or usefulness of a smartwatch. But millions of women won't break a fingernail digging into their pocket for their smartphone, which means…nothing! The Apple Watch will unfortunately not become mainstream and disrupt the smartphone as some suggest. More than likely, and here it comes folks…The Apple Watch folly will end badly for many. All you have to do, like with the Keurig Kold, is wait for it.
My understanding of the wearables category and the smartwatch are becoming increasingly adopted. Yesterday, JPMorgan Chase came out and cut their price target on shares of AAPL from $125 down to $105 a share. Within Rod Hall's research notes the analyst cuts his target for Apple Watch market share and sales by more than 50 percent.
Mr. Hall projects that the Apple Watch will only be able to break through 7% of its total addressable market (TAM) during the next eighteen months compared to a prior estimate of 17%. Apple is expected to launch the next generation Apple Watch by the end of this year. According to a recent report on Digitimes, a well renowned publication due to its insight on Apple's supply chain, the Cupertino based company is aggressively making components and chips for the Apple Watch. Orders are implying shipments of 2 million units per month.
Mr. Hall also presented his bearish case for Apple Watch on CNBC on Thursday afternoon citing that the demand simply hasn't been there for the product and wearables are a tough category where consumers largely have difficulty understanding the use case scenario for such devices. In the past, Fitbit's (NYSE:FIT) CEO James Park identified the reasons they launched a more simplified version of a smartwatch to address the concerns of consumers regarding complex smart devices. In doing so, the Fitbit Blaze has surpassed sales of the Apple Watch since it launched in early Q2 2016.
What I hear a lot from Apple Watch/Smartwatch bulls is that the next one will be better and therefore consumers will buy it increasingly. The problem with that argument is that it only works when first generation products do well. Who is going to care if the next Apple Watch has a better this and a better that if they didn't care enough to purchase the first Apple Watch? The "next one" will sell better because it is better and has a direct correlation to how the first iteration performed i.e. Apple's iPhone. Let's face it, if I don't like spinach and don't order spinach at restaurants just because the menu says spinach with sprinkles on top won't make me order the spinach...it just won't. This is essentially the bull argument in favor of the next Apple Watch iteration. Just because you didn't like the first Apple Watch, we don't care. Now the Apple Watch will have sprinkles and sprinkles make it better so you should care now and buy it now. This is not what made the iPhone great.
Moreover, it's not just that the latest product development of the Apple Watch is fraught with obstacles, but the Apple flagship iPhone also is floundering. There really was such a minimal product development put forth by Apple at the WWDC last week regarding improvements to the upcoming iPhone 7. Mark Hibben denoted the event was quite underwhelming in his article "Apple's Underwhelming WWDC." What can also be viewed as a negative for the flagship Apple product was a recent order from the Beijing IP regulator.
Beijing's intellectual property regulator has ordered Apple Inc. to stop sales of the iPhone 6 and iPhone 6 Plus in the city, ruling that the design is too similar to a Chinese phone, in another setback for the company in a key overseas market.
It would appear Carl Icahn indicating the troubles that lay ahead for Apple in China have been proven, to some degree, accurate and ongoing. Having said that, CNBC reported that the ruling from the Beijing IP regulator has been appealed by Apple and any injunction of Apple iPhone products has been staid. China is the largest market for Apple outside of North America.
As I've stated previously, there isn't much Apple or any smartphone maker can do to up the game in the smartphone industry at this point. Greater memory and battery life, clearer imaging for photographs and easier search capabilities is about all we need presently from a consumer vantage point. Unfortunately, those improvements have already captured the greatest market share and something else will have to bring in new users to the smartphone category. As Apple tries desperately to include more creative apps and functionality within the smartphone it becomes apparent that true ingenuity is lacking. HomeKit is a perfect example of this issue with Apple presently. Take a look at the following narrative by Apple regarding the HomeKit app for your iPhone or Apple Watch.
HomeKit lets you create scenes to connect and control appliance settings in different combinations. For example, you can create a scene named "leaving home" that turns off the lights, locks your doors, and lowers the thermostat - all with one command.
Besides identifying themselves as an imitator of existing applications and technologies once again, why does Apple think my appliance settings is such a problem in need of a solution? Don't get me wrong, HomeKit will be competing against other similar apps and technologies already in the marketplace with equal uselessness, but HomeKit essentially shows how far downstream Apple has headed. The average consumer needs HomeKit as much as they needed a Keurig Kold or a smartwatch. And the average consumer needs to upgrade their existing hardware to function with HomeKit like they need Beats By Dr. Dre headphones, which have seen countless quarters of sales declines. Want to be able to lock or unlock your doors with HomeKit, you better be prepared to shell out another $229 for a HomeKit enabled Schlage Sense Smart Deadbolt as depicted below: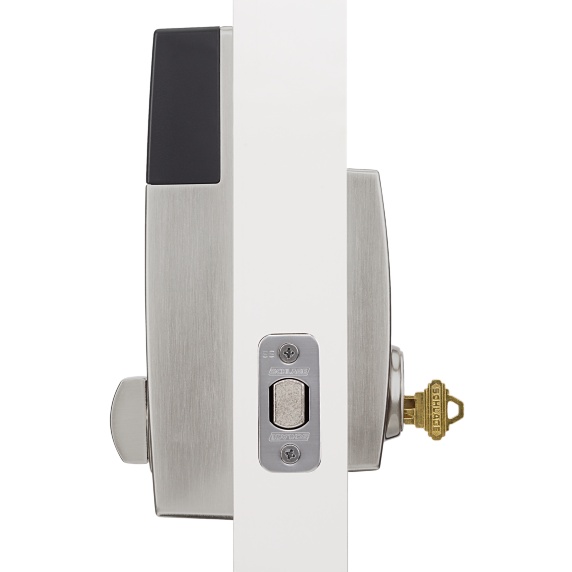 In fairness, HomeKit is not really about need, it's about fulfilling a niche consumer market segment, but again nothing that will ever move the needle for Apple. It's hard to see the value in an application that forces you to spend even more money to use it as intended. Which reminds me, how is Nest doing with Revolv and the internet of things applications? The internet of things technologies has been awesome in theory and horrible in practice. But here comes HomeKit anyway. I can appreciate all the features and applications Apple is adding to its hardware products, but deriving a value from them may prove futile.
I was recently quoted in a Forbes article by contributor Neil Howe as stating the following:
Now, the company can't afford any more letdowns, according to Seeking Alpha analyst Seth Golden: "The iPhone 7 - and any other iteration for that matter - is a 'have to' occurrence for Apple from here on out."
To better understand this quote what I'm articulating is that nothing Apple will be doing in the near to mid-term will be desired by Apple to a great degree, but rather a factor of force. Apple is forced to continue to deliver new iterations of iPhones, Macs, Apple Watches and iPads not because it will eventually hit on a greater total addressable market, but because it can't render the brand obsolete and surrender market share. I don't see a golden arrow in the quiver of Apple that will suddenly bring about a groundbreaking technology or new product for mass adoption. Apple needs to get back to what made the iPhone so great and that is the convergence of technologies. Apple needs to take a good look around them and ask what can it create that is mobile and serves a consumer need in most every situation. Here's a hint, for all the swimming downstream Apple is now doing with the Apple Watch in making it more health and fitness oriented, swimming entails the usage of water. What does the world need any more than H20? Apple needs to figure out how to converge water and mobile technology for the betterment of consumers and Apple shareholders. Until Apple shows a clear path to growth, I'm avoiding shares of AAPL in favor of other investment vehicles.
Disclosure: I am/we are long FIT.
I wrote this article myself, and it expresses my own opinions. I am not receiving compensation for it (other than from Seeking Alpha). I have no business relationship with any company whose stock is mentioned in this article.