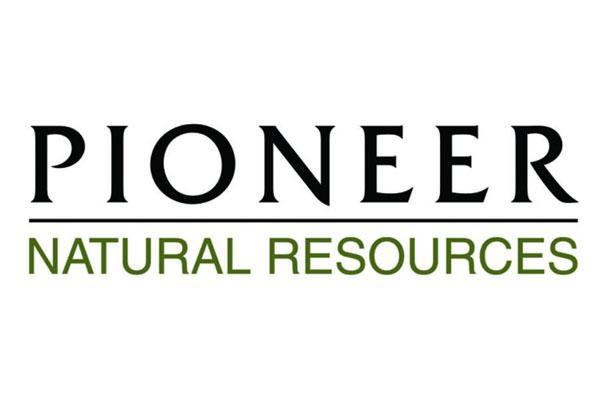 Pioneer Natural Resources (NYSE: PXD)
Pioneer is a shale oil and gas producer with operations in the Permian basin, Midland Basin, Eagle Ford, and other prime shale oil prospects. Their income, and stock price, have taken a hit along with the oil and gas industry as a whole.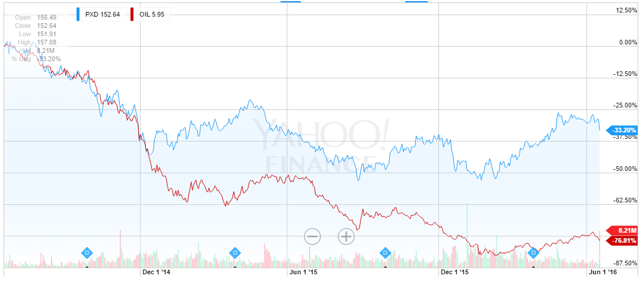 Yahoo
The company pays a regular dividend, albeit a small one at $.08 annually during this down market.
In this article we will review the company's status as a going-concern, to ensure that it will survive to enjoy any further rally in oil and gas prices.
Financial Position
While certain other oil and gas companies are sinking fast with zero or negative free cashflow and enough cash to cover three quarters of interest payments [EXCO (NYSE: XCO), I'm thinking of you 10-Q page 20, 22], Pioneer Natural Resources has cash to cover over a decade's worth of interest payments on their long-term debt.
Pioneer's balance sheet shows $16.1B Assets $6.4B Liabilities. A common concern among many oil and gas producers is whether they can survive the interest payments on their debt load during these tough times. Pioneer, with $2.4B in cash, equivalents, and short-term investments have good coverage of their quarterly interest expense of $55M. Their cash assets compare well with their total debt of $3.6B
Overall, the company is in a good position to survive and ramp production up when cost-effective.
A Recent Well-timed, Well-Executed Oil & Gas Rights Acquisition
The company's stock has been traded on the public markets for decades. On June 15th the company announced a public offering of 5,250,000 shares of common stock. That's fewer than 3.5% of their outstanding shares, so the dilution of existing owner's positions is minimal. The newly minted shares will likely be sold for a price near June 16th's closing price of $152.64.
With the $750-$850 million the company will raise with this public offering, they intend to expand their footprint in the Spraberry/Wolfcamp play of the Midland Basin, West Texas. These assets being purchased from the struggling Devon Energy Corporation (NASDAQ: DVN), this is a classic example of the stronger company consolidating its opportunity in the market while the weaker firm tries to keep its head above water.
This is well-timed because oil and gas assets are trading at what will likely be considered "depressed levels" four or five years out from now. It's a well-executed transaction because by using a public offering to raise the funds, they preserve their cash balance. They need that cash in order to deploy rigs and increase production where profitable across their new and extant properties.
Takeaway
With India and Africa's development, I believe worldwide oil products demand will pick-up and create upward pressure on oil's price during the next five years
Pioneer Natural Resource's strong balance sheet, including conservative debt levels and lots of cash, coupled with their property rights to significant proven shale oil reserves are the ideal combination for success in a recovering oil market. Importantly, the firm has the financial wherewithal to survive for as long as it takes for oil to continue its rally.
They will not only survive, they will also not have to "Rob Peter to pay Paul" by selling their proven oil and gas reserves in order to stick around long enough to sell their oil and gas product.
The company's acquisitions of proven oil reserves during a down-market are bullish indicators for the company's common stock given that oil's price increases in future periods.
Disclaimer: This article is intended to provide information to interested parties. As I have no knowledge of individual investor circumstances, goals, and/or portfolio concentration or diversification, readers are expected to complete their own due diligence before purchasing any stocks mentioned or recommended.
Disclosure: I/we have no positions in any stocks mentioned, and no plans to initiate any positions within the next 72 hours.
I wrote this article myself, and it expresses my own opinions. I am not receiving compensation for it (other than from Seeking Alpha). I have no business relationship with any company whose stock is mentioned in this article.