Bloomberg reports the Beijing Intellectual Property Office issued a decision Apple (NASDAQ:AAPL) violated the design patents of the Baili 100C phone. This was because the iPhone 6 and iPhone 6 Plus show similarities to the Baili phone.
Apple is appealing the decision which means it doesn't need to pull phones. The images below show the two phones side by side: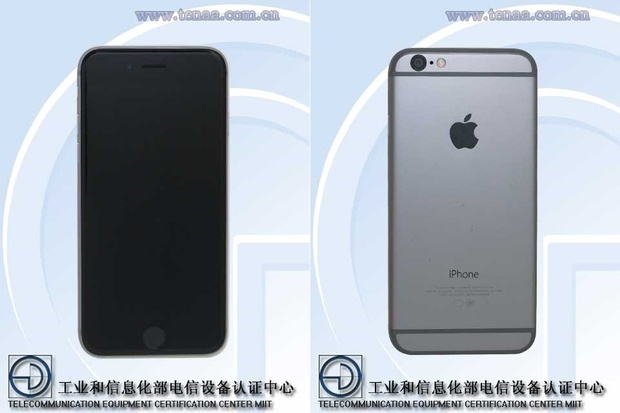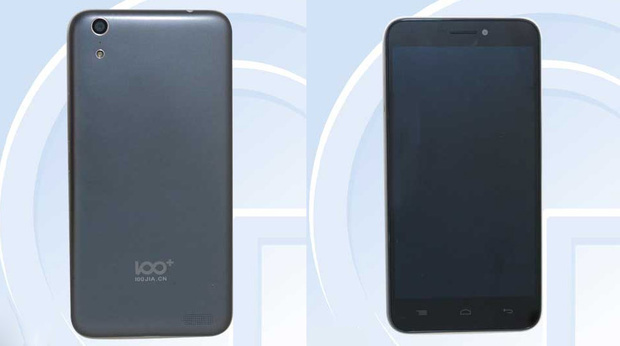 Source: Tweakers.net (tenaa.com.cn is unreachable)
If you ask me, they look alike as many smartphones do. You could argue the 100C phone looks like the iPhone 5 just as well.
In any case, the direct consequences of the ruling to Apple are non-existent. The ban is limited to Beijing and it isn't taking effect because of Apple's appeal.
Yet, it is extremely worrisome because the PRC appears to want to send a message to Apple, if it doesn't want to slow it down outright. As I wrote in Apple's China Problem:
I'm not worried about Apple's lost revenue from iBooks or iTunes movie service for a second. I'm worried about the PRC consistently undermining Apple's competitive position.
First the iBooks and iTunes movie services were shut. Then a Chinese court ruled a small leather goods company could sell its wares and brand them IPHONE.
Subsequently, we saw Apple invest a billion dollars into Chinese ride-hailing app Didi Chuxing (DIDI). With Tim Cook explaining:
We are making the investment for a number of strategic reasons, including a chance to learn more about certain segments of the China market
"Strategic reasons" like getting more clout with the PRC? It may or may not have worked but now we are faced with an actual attack on Apple's core product. The iPhone is Apple's moneymaker that is absolutely critical to its cash flow. This is clearly a shot across the bow. The tricky thing is it is hard to ascertain (even for the companies involved) what the PRC wants exactly.
Let me repeat a key quote from Steven Levy's In The Plex which chronicles the problems between the PRC and Google (NASDAQ:GOOG) (NASDAQ:GOOGL), ultimately resulting in the withdrawal from China by the U.S. search giant:
It was as if the government was sending Google a message: you can be in our market, but you must not be the leader. As Google's market share inched into the twenties and approached 30 percent, some Google executives believed the number was hitting an artificial ceiling: the government would never allow Google to accumulate more than a 35 percent share.
There are many similarities in the struggles between Google and the PRC and what is going on now between Apple and the Chinese government. The Google history is very interesting because it is one of the few companies that did really withdraw from China and is consequently not as guarded about how the relationship developed.
As I speculated before, it could be Apple is simply too successful of a foreign company by taking too much market share, and PRC regulators don't like it: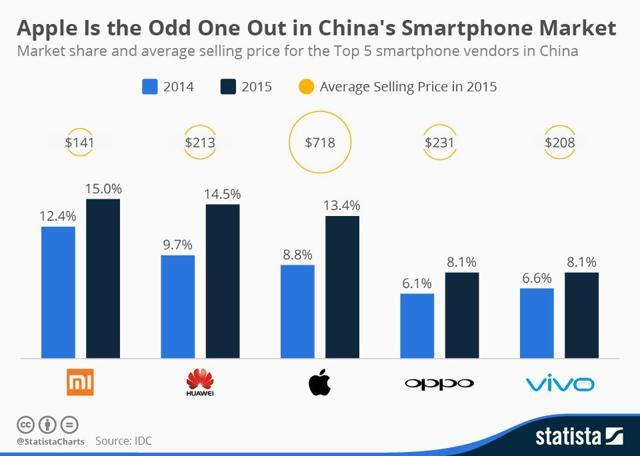 You will find more statistics at Statista
When the PRC wants to cut back on a company's market share, there is not much the company can do. Many foreign companies experienced problems over the years. Not just Google who had their service slowed and blocked on purpose and even redirected straight to Chinese competitors Baidu (NASDAQ:BIDU). Coca-Cola (NYSE:KO) has had a plant shut because its coke contained less chlorine than drinking water...
What can Apple do? Is there a fix? Craig Bouchard and James Koch offer the following insider's edge in The Caterpillar Way:
To conduct business in China, one must become Chinese. This means man things, but there are a few key concepts: (1) operate at the scale of your Chinese competitors (small is usually a bad idea), (2) understand the motivation of Chinese political leaders, which is first to feed the people, (3) digest China's five-year plan and build into it because it really does provide a road map, (4) make sure you have senior employees who are also senior members of the local Communist Party and have guanxi, (5) develop an internal culture that understands and respects the Foreign Corrupt Practices Act, and (6) understand that your intellectual property could come under assault.
Perhaps Apple can learn more about the motivations of the Chinese leaders and develop a better relationship? The billion dollar investment in Didi apparently wasn't enough. We may see additional Apple investments to build on its relationship. However, there is a risk the PRC will just not allow the company to gain a dominant market share. That risk casts a shadow over the release of the iPhone 7. Alternatively, as a form of damage control Apple could respond by raising its prices, which would keep its market share down, so as not to offend the government, but at least allow it to capture monstrous margins while further fortifying its premium brand.
Apple's stock has run up 3.25% since my May article, but I am still of the opinion it is preferable to run the risk of missing out on Apple's stock appreciating a bit while monitoring how the relationship between Apple and the PRC evolves. This recent news indicates there are still problems and if Apple were to withdraw from China, like Google did, the effect on its share price would be profound.
Disclosure: I am/we are long GOOGL, BIDU.
I wrote this article myself, and it expresses my own opinions. I am not receiving compensation for it (other than from Seeking Alpha). I have no business relationship with any company whose stock is mentioned in this article.