Fees and yields are the two themes that seem most relevant to the new retirement landscape. It would be great to hand one's money over to a financial professional, but even a responsible professional's fees can offset much of a retiree's investment returns.
So that leaves self-management, but in a low yield world the traditional bond-heavy retirement strategy leaves a lot to be desired. With Treasury rates approximating inflation, the traditional model is largely allocated to hoping-to-break-even assets, with no guarantee even of that low bar.
What is a self-managed retiree to do? Let's navigate the terrain and come up with a new retirement strategy that can be customized for individual retirees.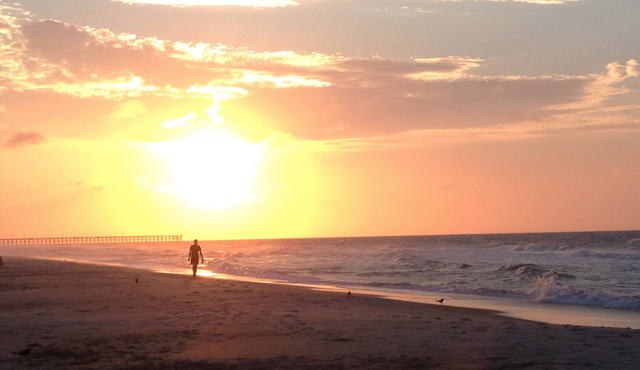 The First of Two Needs: Risk-Free Income
Most retirees need two things: risk-free income, and a return on their money.
Something like the traditional 60/40 model looks too rigid when it comes to the need for risk-free income. 40% in Treasuries is arbitrary and does not address an individual's own risk tolerance, nor take into account the amount of income one needs. It also guarantees that a large portion of one's savings will get virtually no return.
A better model would allocate risk-free (except for inflation) money by time, guaranteeing income for a period that one is comfortable with, rather than allocating relative to overall assets.
In addition, if that 40% is in bond funds instead of actual bonds, the money is not risk-free less inflation, but will have capital gains and losses as interest rates move.
Climb the Ladder
One excellent way to allocate by time while eliminating the capital risk problem is with a ladder -- owning a series of Treasuries with maturities at one year out, two years out, three years out etc. for as many years as one likes.
Depending upon one's tax profile a ladder of Certificates of Deposit may be the best choice, as CDs at FDIC insured banks are just as safe as Treasuries (amounts over $250,000 can be spread to other banks), and usually pay slightly higher rates. There are also Government issued I Savings Bonds for amounts up to $10,000 per year which offer some inflation protection.
With a CD ladder in place, a retiree can invest the rest of their money in equities, looking to get a return that fixed income is not providing.
Warren Approved Strategy, But Not One Time Frame Fits All
How long should that CD ladder be? Let's have a look at Warren Buffett's instructions for his widow and for the average person:
Well, I didn't lay out my whole will. . . . I did explain, because I laid out what I thought the average person who is not an expert on stocks should do. And my widow will not be an expert on stocks. And I wanna be sure she gets a decent result. She isn't gonna get a sensational result, you know? And since all my Berkshire shares are going to philanthropy, the question becomes what does she do with the cash that's left to her? Part of it goes outright, part of it goes to a trustee. But I've told the trustee to put 90% of it in an S&P 500 (NYSEARCA:SPY) index fund and 10% in short-term governments. And the reason for the 10% in short-term governments is that if there's a terrible period in the market and she's withdrawing 3% or 4% a year you take it out of that instead of selling stocks at the wrong time. She'll do fine with that. And anybody will do fine with that. It's low-cost, it's in a bunch of wonderful businesses, and it takes care of itself.
Warren Buffett counsels the average person that is withdrawing 3% or 4% a year -- i.e. the average retiree -- to be almost entirely in equities, with cash and fixed income only acting as a buffer to let time pass if the market sells off. And he thinks that about 3 years is enough of a buffer.
So if he had substantially less money and could make use of higher yielding CDs, Warren Buffett might advocate a CD ladder of just 3 years. Is that enough time to recover from a sell-off? Usually, but not always.
Over the last ten business cycles dating back to 1950, there have been thirteen times when the S&P 500 took more than 1 year to recover from a sell-off. Four times it took more than 3 years to recover, and in 1973, 2000, and 2007 it took substantially more than 3 years:
Year - Max Loss %, Max Months Until Gain
1953 - 14.8%, 15 months
1956 - 14.8%, 26 months
1959 - 13.6%, 18 months
1961 - 26.9%, 21 months
1966 - 22.2%, 15 months
1968 - 36.1%, 40 months
1973 - 48.2%, 90 months
1980 - 27.1%, 23 months
1983 - 14.4%, 15 months
1987 - 33.5%, 23 months
1994 - 8.9%, 13 months
2000 - 49.1%, 86 months
2007 - 56.8%, 66 months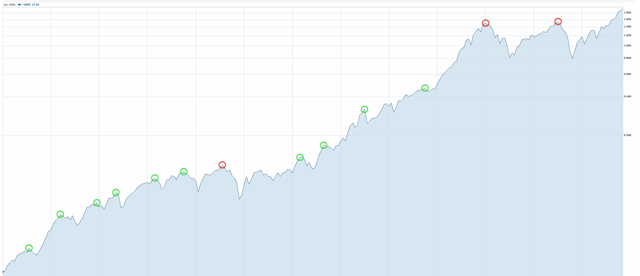 So for the self-managed retiree, a CD ladder is likely to do its job of smoothing out stock market returns even if it is as short as 3 years.
For a more conservative retiree, a ladder as long as about seven or eight years should provide sufficient time for the market to do its job, sell-offs and all.
The Second of Two Needs: Return
One of the best things a CD ladder can do for a retiree is free up their remaining funds to go to work in equities. Equities have the dual benefit of higher expected long-term returns than bonds, and an inherent degree of protection from inflation -- the prices of goods and services the companies sell rise with inflation.
Which equities should retirees own? For passive investors that don't want to pick stocks, Warren Buffett's recommended S&P 500 is fine. But he needs an index fund large enough to absorb his billions -- for the smaller passive investor, there are some market anomalies worth taking advantage of, and some moderate risks worth taking.
Passive Return: Anomalies and Moderate Over-Weights
Quality ETFs capitalizing on persistent market anomalies deserve a place in a passive investor's portfolio. These anomalies include the persistent outperformance of small-caps, momentum stocks, and low volatility stocks.
In addition, retirement vehicles like IRAs and Roth IRAs make income generating assets more valuable, and worth moderately over-weighting. Equity REITs as an asset class are one of the best income generating assets, and worth moderately over-weighting as part of a retirees income portfolio. These have an additional layer of tax benefit because of their structure, and the underlying real estate is a relatively steady business and suitable for retirees.
Finally, currency risk is an unnecessary risk for US investors, and staying domestic and over-weighting the world's number 1 economy is a moderate risk worth taking.
With that in mind, we suggest five ETFs for the passive self-managed retiree's equity portfolio:
PowerShares S&P 500 High Dividend Low Volatility ETF
This is a yield-weighted fund, with the highest yielders regularly reshuffled to the top. That keeps its yield high, and operating strictly in the high quality low volatility universe, the fund has a good chance to generate better long-term returns than the broader market (by about 5%).
This ETF also puts 3% individual caps on stocks and 25% caps on sectors, so it stays diversified. And it does all of this for an expense ratio of just 0.30%. This fund will do best in an IRA because of its high yield.
iShares Residential Real Estate Capped ETF
We also like the Vanguard REIT ETF (NYSEARCA:VNQ) and PowerShares KBW Premium Yield Equity REIT ETF (NYSEARCA:KBWY), but the iShares Residential Real Estate Capped ETF is our favorite REIT ETF.
REITs in an IRA are a terrific idea for a retiree. Real estate is steadier than most business sectors, and the tax advantaged REIT vehicle can send lease payments to retirees IRAs in the form of untaxed dividends. In a Roth, those lease payment dividends are never taxed.
One potential killer for the sector is Amazon (NASDAQ:AMZN), which is why we like the Residential ETF. It is comprised of residential, healthcare, and self storage REITs, eschewing retail clients that might be in for tough sledding at the hands of the online behemoth.
SPDR S&P Dividend ETF
This fund is yield-weighted like the PowerShares fund, so it has a nice high yield for a dividend growth fund. It has also more than doubled its annual dividends in the last five years, while many of the dividend growth funds have lagged.
For an income fund the ETF does pretty well with taxes, but it still throws off income and will do better in an IRA than a taxable account.
PowerShares S&P SmallCap Low Volatility Portfolio ETF
Low volatility small-caps have been shown to consistently provide outperformance. This ETF looks like the best way to take advantage (click the link for the full report).
iShares MSCI USA Momentum Factor ETF
Momentum is an established source of alpha -- stocks that rise for a year or so tend to keep rising. It would be a lot of work and trading fees to continually identify and trade momentum stocks -- an ETF is a great way to take advantage of the phenomenon
There are not many Momentum ETFs in the market, and the iShares fund looks like the best one hands down. It beats the other momentum ETFs, has beaten the broad market in its three year history, and does its work for an expense ratio of just 0.15%.
These are not traditional retiree businesses -- Amazon, Facebook, and a never ending parade of Wall Street darlings. But the outperformance is real, and the fund is spread over more than 100 names. Nevertheless, the fund could be hit hard in a market route, and a smaller allocation or no position may be right for conservative investors.
This fund will never be much of a dividend payer, and is thus a good one for long-term holding in your taxable account.
Putting it All Together
So for retirees that need a degree of guaranteed income and a degree of return, it seems a CD ladder and an equity portfolio are the best allocations to have.
The basic philosophy is that equities are where to find returns, and a CD ladder can allow retirees to maximize their equity holdings.
Depending upon Social Security, pensions, other income, and overall risk tolerance a person may be comfortable with a shorter or longer period of time to smooth out market returns.
Warren Buffett seems to think that about 3 years is the right amount of insulation from market volatility, and historically most people will be fine with that. A more risk averse retiree may want to build a CD ladder of 7 or 8 years.
Rebalancing
Warren Buffett calls for annual rebalancing, which is fine. The most important part of rebalancing is the discipline to stick to it, and not try to out-guess the market.
Financial services market research firm DALBAR releases an Annual Quantitative Analysis of Investor Behavior, and it documents investor under-performance. The latest numbers are poor as always, with individuals getting 3.79% returns versus 11.06% broad market returns.
People tend to get excited about the market when it is running, and get fearful when it is selling off. This leads to buying high and selling low, of course, and broadly speaking individuals are consistently poor market timers.
So the rebalancing should be done on a schedule, whether that is quarterly, semi-annually, or annually.
As an example, let's say that a retiree is comfortable with a five year CD ladder, and spreads the rest of their portfolio evenly over the five ETFs above.
After one year, the retiree has the money needed to live as the first CD has matured, a four year CD ladder, and five ETFs which are no longer evenly allocated. If the equity portfolio is up over the last year, the retiree sells some of their winning ETF holdings, buys a CD that matures in five years, and buys the losing ETFs up to the point of parity. And once again, our retiree has a five year CD ladder, and an equity portfolio evenly spread over the five ETFs above.
If the portfolio is down, the retiree rebalances the ETFs, and then waits until next year's rebalancing date. Next year, with a gain over the last two years, the retiree replenishes the CD ladder, and rebalances the ETFs. With no gain, the retiree rebalances the ETFs again, and waits until next year.
Dividends from any of the ETFs can be reinvested, or be put into the worst performing ETF, doing some pre-emptive rebalancing. Either is fine, the more important part is the policy should be decided upon ahead of time and stuck to.
Summary
Retirees can avoid fees by being self-managed, but in a low yield world the old model of a bond-heavy portfolio is less appealing than it used to be. For retirees that prioritize guaranteed income and getting a return, a CD ladder with an equity portfolio looks like the best strategy.
A CD ladder of between three and seven or eight years looks right for most retirees. For a passively managed equity portfolio, retirees may consider taking advantage of market anomalies like small-cap, low volatility, and momentum, and moderately over-weighting yield, REITs, and domestic assets.
For the Active Investor
If you like this strategy and are an active stock investor, check out our newly launched Resolving Retirement letter, where we track our favorite individual stocks.
Please follow us by clicking "follow" next to "Premium Research" at the top of the page under the article's title.
Disclosure: I/we have no positions in any stocks mentioned, and no plans to initiate any positions within the next 72 hours.
I wrote this article myself, and it expresses my own opinions. I am not receiving compensation for it (other than from Seeking Alpha). I have no business relationship with any company whose stock is mentioned in this article.