The market is highly unpredictable. Time to make some money!
My previous two articles were about the current deteriorating market conditions on both a fundamental and technical level. Those articles can be read here and here. Now you know where I stand given this entire situation.
Making money can be hard in a market like today. Stocks have been range bound with little spurts of bull and bear signals showing through at different points, confusing investors and traders alike. People who have gone long on the market have been let down in the last 18 months with the market not continuing its push higher. Some seasoned investors I know, have rotated their portfolios, and that has lead to decent gains from jumping between sectors. Today I am going to share a little idea that may resonate with some readers.
Only in a dream world could you make a trade that had a predefined maximum loss, you received your profit upfront, and the only thing you had to do was sit back and wait with a success rate of close to %90? Well guess what, you do! Enter the bear call spread. This trade is often used when someone is feeling bearish on a certain stock or ETF. You can structure the trade to have a higher strike price than the markets current price to give you some extra cushion in case of an unexpected rise in the underlying stock price. I always do this as it gives me some more breathing room.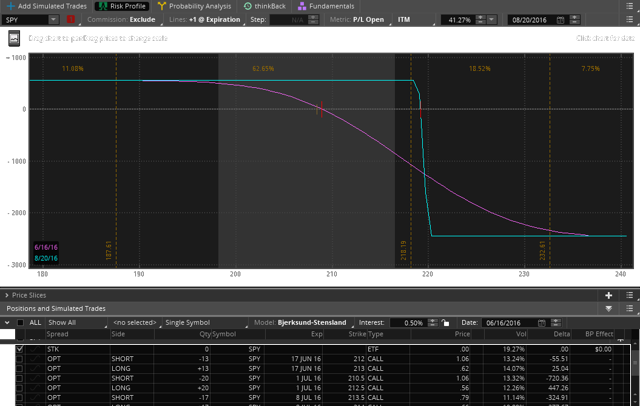 The chart above is the structure of the bear call spread I opened just last week. The high probability trade we are performing here is a SPY 219/220 bear call spread with an expiration on August 20th. Before taking market fundamentals and technicals into account, the trade has a probability of max profit of %73.67 as of today. Not too shabby for a trade that has a gain of %22.6. After taking current market situations into play I can comfortably say that this trade has close to a %90 success rate. The best thing is I already have been paid on the entire trade. Now I just sit back and wait until the entire spread expires worthless. In this case we are a net seller of options, which I believe is the best way to go. You save yourself money on commissions by not having to close out winning trades and time is on your side. Having time decay work for you instead of against you is a wonderful feeling.
To open this trade you first sell to open a OTM call at a strike price of 219. At the same time you buy to open a OTM call at a strike price of 220. Make sure both options have the SAME expiration date. Most online trading platforms will have a pre-programmed setup for this trade which makes it much easier to execute. In the case of the trade above I opened 30 option contracts to get a maximum profit of $554 after commissions paid. My maximum loss is $2446. Not a bad way to still make money if the market crashes, stays flat or makes all time new highs (and then some). This trade can be done on any stock or ETF that offers options. Some tips would be to trade options on stocks that you have already heavily researched and understand. Also, stay away from illiquid options in case you need to hatch an escape plan.
In summary this may be a new idea for some, while for others this is just another day in the park. Option trading has the ability to make massive returns with very low risk when played correctly. On the flip side, it also has the ability to make your portfolio vanish in the blink of an eye. Remember to always do your research before making any trades in the market. The current environment may not be for everyone and that is perfectly OK. Sometimes being heavily in cash is not a bad thing. I myself have close to %80 of my portfolio in cash, and the rest in options for my main trading account. For now, I will perform trades like this until it is time to buy some dividend stocks and write covered calls.
Be safe out there and happy investing!
All comments and questions are welcomed and encouraged.
Disclosure: I am/we are short SPY THROUGH BEAR CALL SPREADS.
I wrote this article myself, and it expresses my own opinions. I am not receiving compensation for it (other than from Seeking Alpha). I have no business relationship with any company whose stock is mentioned in this article.