On May 16 2016, I wrote a positive article about Flextronics (NASDAQ:FLEX) after being impressed with the Analyst Day webcast that I listened to on May 12th. The centerpiece of their strategy to return capital to shareholders is the large and consistent amounts that have been spent to repurchase shares over the past several years. One statistic from the Analyst Day Presentation by CFO Chris Collier was that $2.5 billion has been spent over the last 6 years to repurchase 335 million shares (33% of net shares outstanding) at an average cost of $7.46 per share.
The prevailing view on Wall Street is that share buybacks are a tax-efficient way of "returning capital to shareholders" versus paying a cash dividend which is usually considered as taxable income to the share owner. Income that is distributed as a cash dividend was taxed (in most cases) at the corporate level and then again when it is received by the shareholder it is taxed for the individual - this is called "double taxation of dividends."
Share buybacks or repurchases have become quite common for many companies, especially in recent years. Some companies refuse to pay cash dividends on the principle that they don't want their income to be "double-taxed." By reducing the total amount of shares outstanding the value of each individual share will increase. FLEX is based in Singapore which has a relatively low corporate tax rate of 10%. That is one reason I like them as a potential investment. Some companies have relocated their headquarters to a low or no tax jurisdiction to minimize the burden of US taxation.
Another practice of Corporate America is to locate operations in lower tax rate jurisdictions overseas to avoid paying tax on the income earned. If the earnings are reinvested in the overseas operations then usually no tax is due to the US government. As a result many companies have substantial amounts of cash sitting outside the USA. In the past there have been special rules passed by Congress to allow the overseas cash to be repatriated to the USA at a special low tax rate, but the last time that happened was many years ago. This whole discussion about tax policy is to show how adverse corporations in general are of paying taxes to the IRS which helps to explain why share repurchases have become so popular on Wall Street.
After I posted my article on FLEX (my first article published here on Seeking Alpha), one question posted in the comment section was from Seeking Alpha user davesilb, who posted the following:
"You mentioned the buy back and how much it reduced outstanding shares but you did not tell us how many shares were put back in by the options and compensation. How close is it to a wash? I really feel the profits are really going to the CEO, Board and others who get share options at the expense of share holders. The CEO has exercised a lot of his options in the last year only to sell them back into the market at great profits. This keeps the outstanding shares at the same level."
I replied using information from the Analyst Day presentations that showed shares being reduced from 813 million in fiscal 2011 (FY 2011) to 545 million at the end of FY 2016, which is a net reduction of 268 million shares. The difference between the total shares repurchased and the net reduction is probably from stock options and other Incentive Stock Awards (335 million - 268 million = 67 million shares or 20% of total shares repurchased). Roughly $400 million has been spent each year since FY 2011 to repurchase shares, which amounts to 75% of Free Cash Flow (F.C.F.).
When I started looking through some old FLEX Annual Reports, I noticed that in 2009 there were 43 million stock options granted with an average exercise price of $6.11 per share. However when I read the notes in the FY 2009 Annual Report (copies are available on the Flextronics website) it is now clear that the effects of the financial meltdown of 2008 spilled over into the end of FLEX's fiscal 2009. When FLEX ended FY 2009 on March 31st, 2009 the share price was at $2.89. It had been as low as $1.23 in FY Q3 2009 and the price range for Q4 of FY 2009 was $1.86 - $3.23. A lot of stock options were issued to senior management of FLEX at a price of $2.22 per share and CEO Mike McNamara was the biggest beneficiary.
The stock price had been in the $10 - $12 area for most of 2006 and 2007, but after the Solectron acquisition in October 2007, as fiscal 2008 progressed, the stock price dropped sharply. The Board of Directors decided to issue a large amount of stock options to senior management to incentivize them. CEO McNamara received 4 million stock options at two separate instances and CFO Paul Read received 1.4 million.
In total by the end of FY 2009, 19 million stock options were granted at an average strike price of $2.22 although only 3 million were exercisable. Some of these options would only become exercisable if the market price of FLEX shares rose above $12.50 and the options had a 7 year term. By FY 2010 there were 16.3 million stock options outstanding at strike prices ranging from $3.35 - $5.75, although most were not exercisable at the end of FY 2010.
The Solectron acquisition did cause dilution from 222 million FLEX shares being issued along with 7.4 million Solectron stock options being converted to FLEX options, but that happened in FY 2008. At year-end FY 2008 there were 52.5 million stock options outstanding at an average exercise price of $11.67 which included the Solectron stock options assumed in the business combination. Looking through a number of FLEX annual reports it's clear that a "normal" amount of stock options outstanding was around 50 million, with roughly 10 million options being granted each year.
The end of fiscal 2009 was in March 2009 when the overall stock market was still reeling from the late 2008 financial crisis. In FY 2009 FLEX wrote off all goodwill and took a one-time charge of $6 billion. Stockholder's equity was reduced from over $8 billion at end of FY 2008 to $1.8 billion at end of FY2009. This was a tough time for FLEX and the share price was severely depressed at the end of FY 2009.
CEO Mike McNamara (who currently holds 2.9 million shares of FLEX common) has been selling a lot of shares (as per Yahoo Finance). He has been CEO since 2006 and is a long term FLEX executive. In the 2011 Annual Report it shows that CEO McNamara had approximately 10 million shares of options that were presently exercisable as of March 31, 2011 (end of FY 2011). Most option awards vest over a 3 or 4 year period to encourage key employees to remain employed, and most of FLEX's senior management have been with the company for many years.
Altogether in FY 2009 a total of 43.6 million stock options were granted, with 2.2 million exercised and 12 million forfeited - and at the end of fiscal 2009 82 million stock options were outstanding. The usual amount of stock options granted was around 10 million per year prior to FY 2009 and usually around 50 million stock options were outstanding at any given time. It is true that the CEO has been able to "cash-in" a lot of low priced stock options that were issued around the end of fiscal 2009 when the stock price was severely depressed.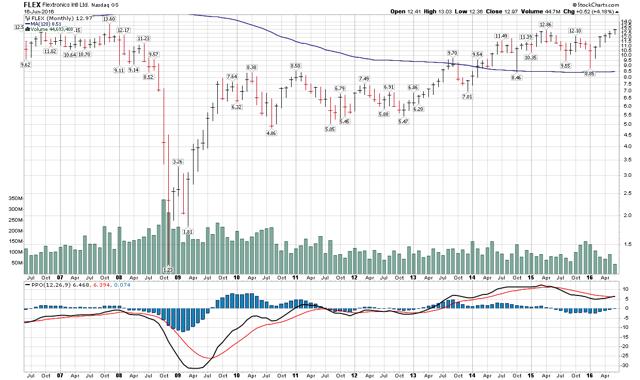 On July 14th, 2009 FLEX launched an exchange program for 30 million shares worth of "out of the money" options and on August 11th, 2009 28 million shares of options were tendered in the exchange offer and 17 million replacement stock options were issued at an exercise price of $5.57 and a contractual life of 7 years. All of those options are now solidly in the money or have already been exercised. This was another result of the sharp drop in the FLEX stock price, from over $9 to under $3 in a matter of months. FLEX was not the only company to "reprice" stock options, but the result is that option holders traded "out of the money" options for new options at a strike price of $5.57.
Conclusions
Fiscal 2009 and the sharp drop in FLEX stock price to under $3.00 resulted in a windfall for CEO McNamara and other senior management from the large amount of stock options granted in FY 2009. However the FLEX 2015 Annual Report shows that the amount of outstanding stock options has been reduced from 34.4 million at the end of FY 2013, to 23.6 million at end of FY 2014 and to 16 million at end of fiscal 2015.
There are still 4.66 million options outstanding at strike prices between $1.94 - $2.26 but these expired during FY 2016. The result is that there will still be dilution going forward but the large amount of options at strike prices below $5.75 will be expiring soon (or have already expired or been exercised). This is one reason why FLEX executives have been such heavy sellers of the shares over the last several years.
Overall dilution has been calculated by me at roughly 67 million shares or 20% of the amount that have been repurchased since fiscal 2011. That is a reasonable amount, in my opinion, and the low priced stock options issued around March 2009 have either expired or been exercised.
In recent years FLEX has stopped issuing stock options and is granting "share bonus awards" instead. See pages 64 and 65 of the FY 2015 annual report for more information. The share bonus awards vest depending in part on how the stock price does against the S&P 500 Index and an Extended Electronics Manufacturers Services (E.M.S) Index, so they are more aligned with shareholder interests.
Disclosure: I/we have no positions in any stocks mentioned, and no plans to initiate any positions within the next 72 hours.
I wrote this article myself, and it expresses my own opinions. I am not receiving compensation for it (other than from Seeking Alpha). I have no business relationship with any company whose stock is mentioned in this article.