Note: Although there is indeed a U.S. listing for Nichiwa Sangyo on the grey market under ticker OTC:NCWAF, this ticker has almost no liquidity; therefore, I strongly encourage interested readers to buy shares directly in Japan under ticker 2055. You can buy stocks in Tokyo very cheaply through Interactive Brokers, Fidelity, and some other retail brokers.
This will be a fairly short write-up, as the investment thesis is straightforward, compelling, and there are surprisingly few concerns attached to it. Nichiwa Sangyo (OTC:NCWAF) was stablished in 1924 as Nippon Kachiku Shiryo or Nippon Livestock Feed Co. The language barrier is admittedly very annoying in analyzing Japanese companies, but one of the great things about Japanese financial reporting is that companies are required to post their history since inception in tabular format. For Nichiwa Sangyo, it looks like this using Google Translate:
| | |
| --- | --- |
| 1924 | In Kobe, Hyogo-ku, start the production of the first of the various types of compound feed in Japan. |
| 1927 | Become Japan's first bonded factory as a feed factory. At the same time Ministry of Agriculture and Forestry designated mixed feed factory branch in Dalian received the designation of, it opened a branch in Shimonoseki. It strives to ensure the continent raw materials. |
| 1939 | With the Second World War broke out, leading to the Dalian branch, the closure of the Shimonoseki branch. |
| 1948 | The company name change and Nichiwa Sangyo Co., Ltd. Corporation. |
| 1951 | Refinery Co., Ltd. to absorb the merger Hyogo. |
| 1952 | Construction of a factory in Kobe, Hyogo-ku Misakihon the town, moving the headquarters to Kita-ku, Osaka. |
| 1961 | Osaka Stock Exchange Second Section opened a stock exchange listing at the same time. |
| 1963 | Mihara, Hiroshima Prefecture in Mihara factory completed. |
| 1968 | At the same time move the head office to further promote the company rationalization in the land than Osaka. |
| 1971 | Shimabara branch opened. |
| 1974 | Kagoshima factory completed. |
| 1975 | Established Towa Livestock Corporation. (Currently, its consolidated subsidiaries) |
| 1977 | Kagoshima factory stockpile silo construction. |
| 1978 | Mihara factory stockpile silo construction. |
| 1983 | Hachinohe plant completed in Hachinohe, Aomori Prefecture. Miyazaki farm opened. |
| 1986 | Kihoku farm opened. |
| 1987 | Mihara new plant completed. Unzen farm opened. |
| 1991 | Transfer Shimabara branch. Name change to Nagasaki office. |
| 1995 | Sakaide plant opening. Selection of the Osaka Securities Exchange loan stocks. |
| 1999 | Miki farm opened. |
| 2003 | Established a cattle-only feed factory "Michinoku feed Co., Ltd." in Snow Brand Seed Co., Ltd. Co., Ltd. and Marubeni Nisshin Feed Co., Ltd., a joint venture. |
| 2013 | Along with the market integration shares listed on the Second Section of the Tokyo Stock Exchange. |
I think US companies should be required to report their history in the same way.
Note from the table that the company has been exchange-listed since 1961. It was traded on Osaka until 2013 when the TSE and Osaka merged. Some retail brokers in the US only offer trading on TSE stocks, so for many US investors, you couldn't really buy Nichiwa Sangyo until a few years ago. Nichiwa Sangyo's Japan listing has a minimum share trading unit of 1,000 shares. At 200 yen/share and 106 JPY/USD, that means the minimum amount you can buy/sell of this stock is 200k yen or $1.9k, which may be too large for smaller accounts.
The company operates in two segments: feed and livestock. The Feed segment is manufacturing feed for raising livestock that it sells to farmers and industrial livestock farming companies in Japan. The Livestock segment is the company's own vertically integrated operation engaged in production of chicken eggs and piglets, and the rearing of pigs.

I don't attach much meaning to what the company does. It's a boring business that's probably a little cyclical based on my cursory knowledge of big US companies like Tyson (NYSE:TSN), Pilgrim's Pride (NYSE:PPC), and Sanderson Farms (NASDAQ:SAFM). I do, however, especially like that this isn't a construction company as I noticed recently that I own several of those in Japan and want to be diversified. You can own 20 stocks but if they're all in the same industry in the same country, you're not diversified at all.
Some other facts:
The company's president has been with the company for 43 years.
A breakdown of the company's employee base:
| | |
| --- | --- |
| Number of employees | 178 full time, 58 part-time/temporary |
| Average Age | 44.1 |
| Average length of service | 19.2 years |
| Average salary | 4.74mm yen ($44.8k) |
This is interesting to me because neither 1 nor 2 is atypical of Japan. Employees stay with their companies for a really, really long time in Japan and executives are often promoted internally from the oldest and most experienced of these "lifers." In the US, average employee tenure is probably at least half the 19.2 years shown and for CEOs, it's got to be even less as there are many professional managers that bounce from company to company chasing the paycheck. There are pros and cons to the differences but as an outside investor, it's important to understand that this is how business is done in Japan.
Why I Like the Stock
I shamelessly approach research and analysis mechanically. I use a checklist of objective criteria and when I like a company, it's because it's cheap and checks the boxes. In the case of Nichiwa Sangyo, many boxes are checked.

The company has a history of profitability and cash flow generation, having generated 8.1B and 3.2B yen of FCF and operating income respectively over the last 9 years.
They've got a strong balance sheet with a net cash position and liabilities / assets under 40%.
There's been capital return. The dividend yield is currently 1.5% and 7.2% of shares are in the treasury.
The stock is small ($36mm USD market cap) and under-the-radar (no coverage on Seeking Alpha, Corner of Berkshire and Fairfax, or Value Investors Club) among US investors
There's no customer concentration - no customers account for more than 10% of revenue
Executive compensation is reasonable at 101mm yen or just over 10% of FCF over the last 9 years. Don't be surprised to find in excess of 50% among microcaps in the US.
The stock is at a multi-year low

Valuation
…And most importantly, it's cheap. The stock doesn't trade for much more than net cash and trades at 41% of NCAV and 23% of tangible book. One of my favorite metrics is enterprise value against a long-term average of free cash flow and in this case that 800mm yen against 900mm yen. The enterprise value is less than average annual free cash flow!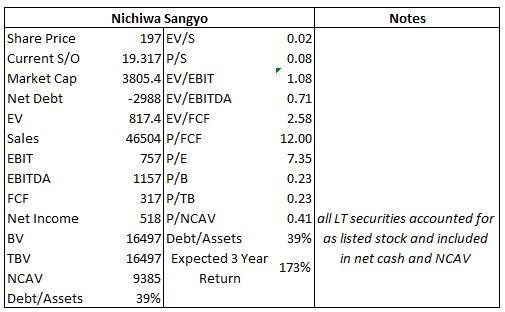 Using a back-of-the-envelope calculation, I expect the stock to double or triple over the next 3 years. Simplistically, you could come to the same conclusion by assuming it will trade up to NCAV.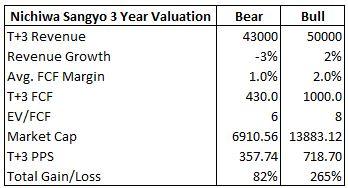 The numbers speak for themselves. This is really cheap.
Concerns
I have many checklist items and it's very rare that a stock checks them all off. Every company has problems and risks. In this case, they are literally all checked, but that's not to say there's zero risk here. For one, the company has had trouble in the past collecting receivables from customers, already has allowances for over 3B yen of uncollectible receivables on its balance sheet related to customers that are in bankruptcy, and just issued a press release saying they are writing off another 300mm. The long-term financials should take this into account as the write-off losses in one year offset the revenue and profits recognized previously, but it's something to consider.
Also, the company imports most of its raw materials (grain and corn) from the US, so depreciation in the yen or increases in commodity prices would hurt the company. They have some forward contracts, but are not fully hedged.
Other than that, the biggest risk is obviously this being a Japanese stock with exposure to the Japanese economy and changes in USD/JPY. The CME offers a mini future contract on the USD/JPY if you are not comfortable taking the currency risk.
Conclusion
In my mind, Nichiwa Sangyo is as straightforward a value as they come and one of my best ideas in Japan right now. There is no rhyme or reason for why these insulated microcaps in Japan should be so cheap. If no one else wants to buy them, I'm happy to.
Disclosure: I am/we are long NCWAF.
I wrote this article myself, and it expresses my own opinions. I am not receiving compensation for it (other than from Seeking Alpha). I have no business relationship with any company whose stock is mentioned in this article.
Additional disclosure: I am long Nichiwa Sangyo via TSE:2055.