Healthcare REITs are my favorite REIT sub-sector right now. The population in the U.S. is aging, and life expectancies are rising... all of which makes for a fantastic investment opportunity over the long haul: Growing demand for senior healthcare. Skilled nursing facilities, senior living communities, and hospitals are all going to profit from a growing share of elderly in our society. Healthcare REITs exploit this growth opportunity and are aggressively investing in a portfolio of healthcare-related properties.
One healthcare REIT that is doing that is LTC Properties, Inc. (NYSE:LTC), and the company has built a national presence over the last couple of years. LTC Properties runs a portfolio of skilled nursing, assisted living, and range of care properties.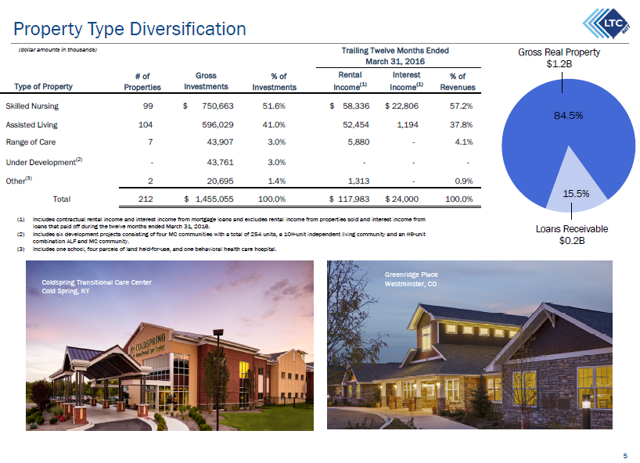 LTC Properties has made a substantial commitment to growing its real estate portfolio and expanding geographically, and invested more than a billion dollars in its growth.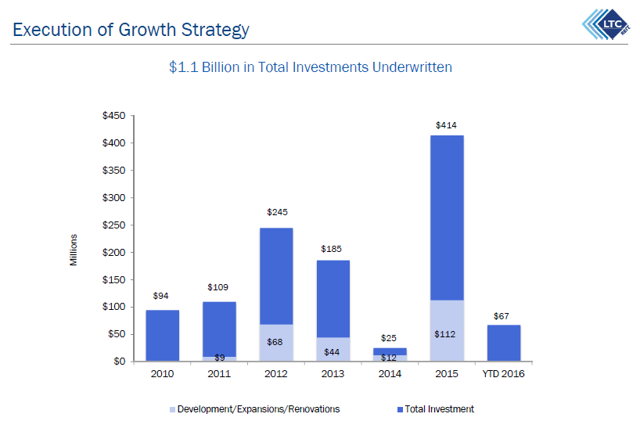 Valuation Is Key
I have covered LTC Properties a few times here on Seeking Alpha, most recently two months ago, but I think the REIT's share price has now reached a level at which buying the company may not be so beneficial over the long haul.
In my last piece on LTC Properties, entitled "LTC Properties: This 5% Yielding Monthly Dividend Payer Is Worthy Of Attention", I contended that quality has its price. Higher-quality REITs with clear dividend visibility should sell for higher multiples than REITs that have not yet earned that reputation yet. That being said, though, valuation is always a key concern for REIT and income investors.
LTC Properties said in May that its first quarter normalized adjusted funds from operations hit ~$24.7 million, up ~19 percent from the first quarter a year ago. On a per-share basis, LTC Properties raked in $0.66 compared to $0.58 a year ago. On a run-rate basis, therefore, LTC Properties' shares are selling for ~19x adjusted funds from operations.
LTC Properties hit a 52-week high two days ago, too, trading as high as $50.14. But the REITs shares are not only getting a little two expensive in my opinion, but they are also overbought, according to the Relative Strength Index, which flashes a value of 76.63.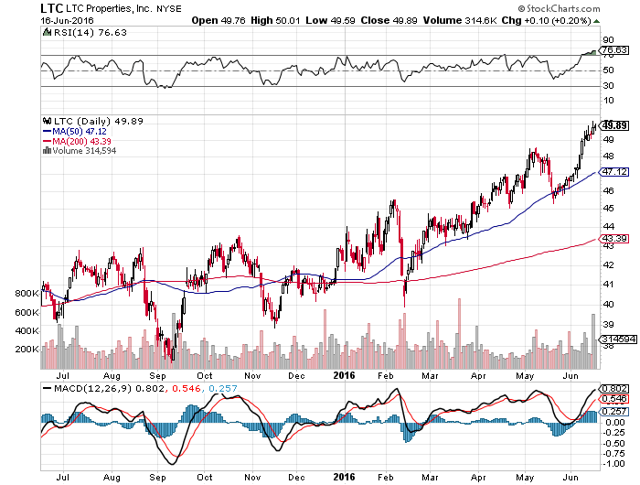 As a result of the increase in LTC Properties' valuation, the dividend yield has compressed to 4.33 percent, which is another reason to hold off on buying the healthcare REIT for the moment.
Negative Catalysts
A Brexit vote on June 23, 2016 could be a negative catalyst for the stock market. Weak economic data points, including disappointing job growth, could further weigh on shares in the weeks ahead. As far as I am concerned, LTC Properties is worth buying on the way down, not on the way up.
Your Takeaway
Healthcare REITs including LTC Properties ride one of the greatest trends of our lifetime: Growing demand for skilled nursing and assisted living facilities due to rising life expectancies. LTC Properties has grown aggressively, but the REIT's valuation is getting rather stretched at this point. My recommendation is that if you already own shares of LTC Properties, stay invested and collect a solid monthly dividend. If you are not yet invested, hold off for now and wait until shares correct and are no longer overbought.