In this newsletter, we reflect on which asset class, bonds or equities, may be the better asset in which to position one's portfolio today. We first look at the bond markets then U.S./European equity markets.
Bond Markets
This week marked another milestone in the on-going saga of Central Bank-induced market distortions. The 10-year German Bund yield traded for the first time at negative nominal yields. The German Bund is the European bond market benchmark, equivalent to the U.S. 10-year T-Note (NYSEARCA:IEF). Like the T-Note, the Bund is considered the safest of European government credit due to the strength of the German economy and sound fiscal policies in Germany. Therefore most spread product throughout Europe is priced off the 10-year Bund yield, meaning yields are being distorted throughout the whole spectrum of rate products.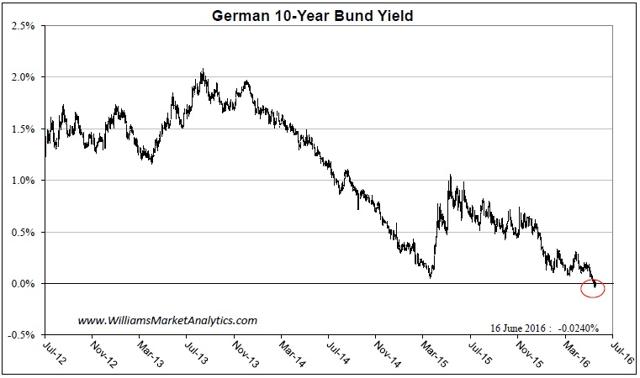 So who would buy 10-year German paper to gain the "right" to make interest payments for 10-years to the Bundesfinanzministerium? That's right, Mario Draghi. The largest investor today in the European bond market (sovereigns and corporate) is the European Central Bank, representing over half the bond market. It should seem unusual for the central bank to be the largest investor in any market. This is official manipulation of financial markets at its finest.
However, a "for profit investor" would not touch a German 10-year Bund yielding -0.024%; a Swiss 10-year Government Bond yielding -0.50%; or a 10-year JGB at -0.18%. While developed nation central banks have done everything possible to kill savers and force investors further out on the risk spectrum, there may still be some blood to squeeze out of this turnip. The U.S. 10-year T-Note and 30-year T-Bond are currently yielding 1.6% and 2.4%, respectively. Both are already over-valued, according to most market pundits. On the face of it, Treasurys are not, and should not seem to be, a "screaming buy". But we are not in ordinary times, and we don't believe that the Fed will be able to get many rate hikes in before the U.S. economy turns back down into recession. The Federal Reserve has succeeded in"Japanizing" the U.S. economy, following the Bank of Japan's QE playbook from the 1990s. Since 1995, the Japanese discount rate has been essentially stuck at zero. The same causes, the same effects. We do not see the FOMC being able to "normalize" the Fed Funds rate for many, many years. Moreover, if the major central banks of the world are resorting to negative interest rates, how long can the U.S. hold out? Betting on a negative Fed Funds rate as the U.S. economy dips into recession would seem a certainty. This will pull down the long end of the Treasury yield curve, offering still more potential for capital gains in U.S. Treasurys.
Looking at the world sovereign debt yields, the U.S. 10-year T-Note (below) at 1.6% stands out like a sore thumb. Who would look at two bonds, with similar credit risk, and choose a -0.024% yield over a 1.6% yield? Forget the theory of interest rate parity, which is particularly irrelevant in central bank manipulated rate markets. If U.S. rates were to join those of Germany, Switzerland, and Japan, the upside potential of the T-Note would be enormous. Or are we to believe the sell-side market analysts who are telling us that the curve below would turn up (10-year rates rise, T-Note prices drop) even if the U.S. economy falls back into recession?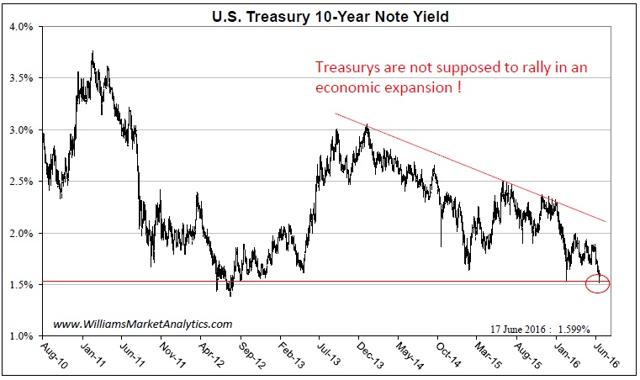 The next best thing for to risk-free sovereign yields for a risk-averse investor is a AAA corporate bond (NYSEARCA:LQD). Here too, yields are relatively paltry…especially in light of the risk taken.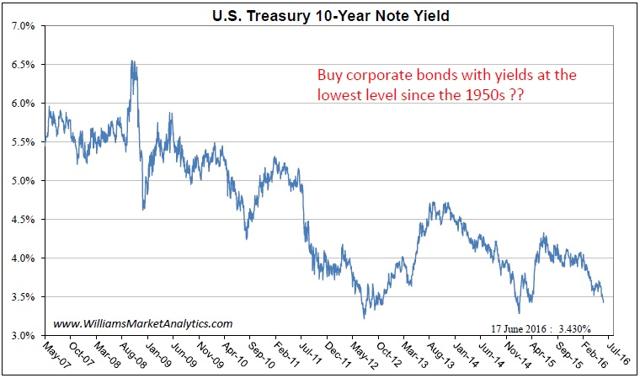 We won't even discuss high yield bonds, which behave similarly to small cap stocks. We have already voiced our opinion on small cap stocks.
Another rate product the still offers yield is Emerging Market debt. We prefer buying EM debt in local currency rather than hard currency (NYSEARCA:USD). The best product is the VanEck Vectors J.P Morgan EM Local Currency Bond ETF (NYSEARCA:EMLC). Looking at the allocation, the Van Eck managers have spread the allocation evenly across major emerging market nations. The fund has 90% in sovereign and 10% in corporate debt. Looking the country allocation, we see the Brazil 10-year yield around 12.7%. In 2013, Brazilian paper was yielding 9.5%. Significant room for spread compression…barring another EM crisis. Poland 10-year sovereign debt is yielding 1.2%. In 2015 yield were 0.60%. Mexican 10-year sovereign debt is yielding 6%. In 2013 yields were under 5%. Indonesian 10-year sovereign debt is yielding 7.6%. In 2013 yields were under 6%. In sum, outside of developed bond markets, yields are still positive and not yet at cycle lows. Emerging sovereign debt, however, can NOT be considered a risk-free alternative to Treasurys or Bunds. The risk is that the global economic slowdown is not fully priced into these bond markets. EM bonds will likely perform somewhere between a Treasury bond (NYSEARCA:TLT) and the Russell 2000 index (NYSEARCA:IWM).
To sum up, the reason government bonds are not attractively valued today (that is, have higher yields) is again due to central bank monetary policy dragging down the entire yield curve. With growth slowing in developing nations and the likelihood of recession on the horizon, this is typically the time when investors have resorted to bonds. The U.S. economy has been in expansion for 8 years, which is longer than the average expansionary period. It is absurd to argue that the Fed can stave off recession by keeping interest rates low forever. Low interest rates are not the miracle cure to suppress the business cycle. Investors must decide today if, being in "extraordinary times", rates will exceptionally back up even if the economy continues to slow or if Treasurys will remain the trade in recessionary environments, meaning overvalued Treasury will just keep getting more overvalued.
Equity Markets
The rest of our Commentary (continued on our website), revisits the question of stock market valuation, macro fundamentals, negative seasonality, and Election year uncertainty (see also The 4-Year And 8-Year Presidential Cycles).
Conclusion
While equities do tend "Climb a Wall of Worry", as some point the worries become real. We have real concerns about the proximity of the next recession phase of this economic cycle as well as excessive stock valuations. Once investors decide collectively that central banks really don't have unlimited power to manipulate financial markets, more relevant factors will once again be used to determine assets prices. On this day, you do not want to be left holding cyclical equities or other risk assets bid up by policy errors.
There are no attractive asset classes today in the U.S/European equity or bond spaces. When assets prices disconnect from valuations to the extent we are currently witnessing, the financial markets essentially become a casino. In this environment, don't form strong conviction on any asset and don't plan to invest for a long-term horizon. Preferred asset classes for investing should remain to be all the things that central banks distort.
Disclosure: I/we have no positions in any stocks mentioned, and no plans to initiate any positions within the next 72 hours.
I wrote this article myself, and it expresses my own opinions. I am not receiving compensation for it (other than from Seeking Alpha). I have no business relationship with any company whose stock is mentioned in this article.