Speculations just by their nature require a lot of management experience and usually a tight-rope act that other companies don't need. Lower returns and safer plans usually require less expertise to be successful because there are usually more ways to be successful. So if the investor wants to speculate for a large return, then that same investor needs to have hard evidence that management has that extra experience necessary for the required return.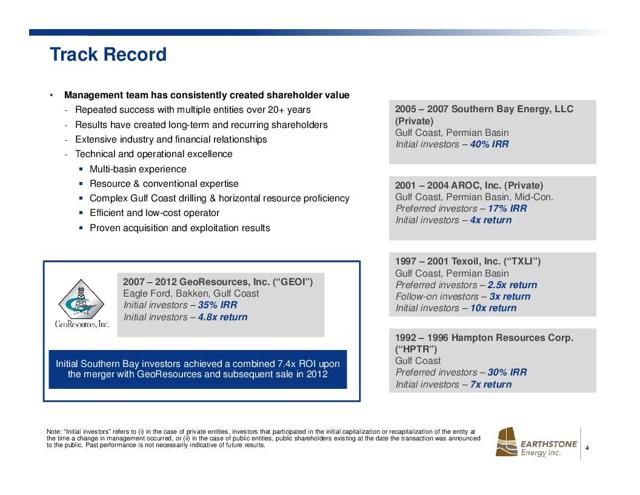 Source: Earthstone Energy June 10, 2016 Presentation
Sometimes the analysis is relatively straightforward because management advertises their track record. Not many managements can make the claim that they have built and sold several companies before the present attempt. Plus the returns are clearly quite good. Also look at the timing of (for example) Southern Bay Energy sale about a year before one of the more traumatic stock market and economic crashes in modern times. The balance sheet for the current company (Earthstone Energy (NASDAQ:ESTE)) has relatively low debt and the company just sold more stock to keep that debt low. So whatever returns are going to be achieved will be achieved without using financial leverage to get those return. Having owned shares of predecessor GeoResources Inc. (NASDAQ:GEOI), that company also was not very leveraged, so there is a good chance that Earthstone Energy will not be very leveraged ever.
So management is obviously earning its great returns through a combination of good execution and good timing. There are far riskier ways to earn a return than Earthstone Energy. Plus later the company lists the investors that have participated in several of the other successful attempts, so the investor has a ready list of organizations that the management reputation can be verified. Management also lists in the presentation how long the key executives have been part of the team, so a lot of the hard work is done.
Lastly, the company's many investors have stuck with the company through the stock price declines of the last year. So a purchase at the recent stock sale is roughly half of what the backing institutional investors paid. The fact that the company sold stock at such a discount suggest that the company will not only get an above average return, but management expects that as a result of that above average return, the stock price will substantially appreciate. Discounts like this tend to disappear for the small investor.
A company that is attempting above average returns using leverage would be Lonestar Resources (LNREF). A list of the executives and their experience is provided on the company website. But the real story here is the founder and the financial backing:
"Lonestar Resources, Inc.'s founder, "Dub" Stocker, has a legacy of building and successfully exiting oil and gas assets in the State of Texas. Dub was a founding investor and limited partner of Stroud Energy, a Fort Worth-based oil and gas company focused on acquisition, exploration, development and production, which was formed in 2001. Stroud Energy was sold to Range Resources for $465MM in 2006. Dub then founded Fort Worth Energy and Fort Worth Pipeline Company in 2006, pioneering urban mineral leasing, mineral rights and well site acquisition in the Tier I of Barnett Shale."
The founder has quite a bit of valuable experience, as do several board members. In fact for a company this size, the experience is unusually heavy. So general and administrative costs are currently running a little high. Then there is the financial backing which is also a little unusual but definitely not unprecedented:
"The Company is supported by a major shareholder in EWPO, a specialist energy and utilities investment trust that is listed on the main board of the London Stock Exchange.

As at September 30, 2015, EWPO had net assets of approximately £293 million and gross assets of £464 million. EWPO is managed by Ecofin Limited, a US$1.6 billion global funds management company specialising in the energy, utilities and infrastructure sectors.

EWPO's investment objectives are to achieve a highly secure dividend yield and realise long-term growth for the benefit of shareholders, whilst taking care to preserve shareholders' capital. EWPO considers that its investment objectives of long-term value creation are aligned with other Shareholders.

EWPO currently has a 55.5% interest in the issued share capital of Lonestar Resources Limited, which is one of its largest investment, accounting for approximately 6% of its total assets at 30 September 2015.

EWPO has been supportive of the growth objectives of Lonestar and intends to remain a major shareholder of the Company with a view to participating in substantial further value creation."
So even though the company is highly leveraged, there is ample evidence that the company has the personnel to handle that financial leverage and the company has substantial financial backing (just in case). This company has been growing its production throughout the downturn to partially offset profit and cash flow declines. There have been other signs, such as the initiation of a joint venture that has actually drilled wells during the downturn and thereby supplied the company with some production without needing a lot of cash. This also allowed the company to spread its overhead and some other fixed costs over more activity, thereby decreasing some costs and increasing efficiency.
Financial leverage is risky, so the average investor needs extra assurance that management can handle that leverage even when there is a commodity price collapse. So far this management fits the bill and stands an above average chance of making that leverage work for the investor.
I have written about so many other companies that tried to make leverage work and failed (Sandridge Energy (OTCPK:SDOC), Energy XXI (NASDAQ:EXXI), and Linn Energy (LINE)). The other interesting thing about Energy XXI and Linn Energy is that both claimed they "got a deal" purchasing properties from Exxon (NYSE:XOM). Exxon has a long list of companies that claimed they got a great purchase from them and then ran into financial trouble or just plain did not survive. Whenever a management purchases from a well known and well managed company such as Exxon and claims they got a great deal, that should be warning to shareholders. The company probably needs some extra investigation. Such purchases may work out, but as the examples above demonstrate, there is a fair amount of times that those deals were not successful in the long run for whatever reason.
The last example involves Penn West Energy (PWE). Management on Monday announced that they were going to work (click on the June 13, 2016 webcast) with the auditors to remove the "going concern clause" from the financial statements. Back in 2013, this company had more than $3 billion in debt and really inadequate cash flow to handle that debt. The latest announcement and supporting slides show the debt reducing to about $600 million upon the closing of the latest sale. Management still wants to reduce that debt by another roughly $200 million.
Most companies would have given up and filed for reorganization or liquidation. But this company has a CEO who had built Suncor (NYSE:SU), and he has clearly put that experience to good use. The removal of the going concern clause because the company's situation has improved is a rare enough event that one would think the market would take notice. While the stock rallied significantly upon the announcement of the sale, there is only scant evidence to support the idea that the current stock price has a "management premium" to verify what this management has accomplished over the last three years. Plus, once the initial problems are solved, the investor can bet that management of this stature is going to grow this company in a very profitable way. Pullbacks from the current price (as the annoucement fades, price increases often retreat significantly) may be a very profitable buying opportunity for the speculative investor.
I have written a lot of articles, and the comment section on the speculative articles is filled with comments about how management is "doing the right things" or how the execution is great. But if as a result of this execution or doing the right things is inadequate or non-existent returns, then management needs to step up its execution and "doing the right things - game plan" or the investor loses. Speculations in particular demand a focus to results oriented evaluations on a very strict timetable, or the speculator loses. So its a necessity to have not just good management but great management that one seldom sees to help insure that the speculation is successful.
Disclaimer: I am not a registered investment advisor, and this article is not to be construed as an offer to purchase or sell stock. All investors are recommended to read all the filings of the company and the press releases to assess for themselves whether or not this company fits their investment risk profile.
Disclosure: I am/we are long SDRXP.
I wrote this article myself, and it expresses my own opinions. I am not receiving compensation for it (other than from Seeking Alpha). I have no business relationship with any company whose stock is mentioned in this article.
Editor's Note: This article covers one or more stocks trading at less than $1 per share and/or with less than a $100 million market cap. Please be aware of the risks associated with these stocks.